Tap.in2
has signed up the Cincinnati Bengals as its second big-league client for its mobile-app service that enables in-seat food and beverage service in stadiums, with a deal to bring app-based deliveries to 8,000 club-level seats at Paul Brown Stadium this season.
Expected to be formally announced today, the deal has actually been in place all season, according to Tap.in2 representatives. The deal follows Tap.in2's breakout contract with the NBA's Cleveland Cavaliers to bring similar services to the lower bowl of Quicken Loans Arena. A product of a Cleveland-area startup incubator, Tap.in2 partnered for the second time with Aramark to facilitate the delivery service, which offers a full menu of stadium food and beverage for in-seat delivery.
And while the Bengals are no longer undefeated (losing 10-6 to the Houston Texans on Monday Night Football) select fans at Paul Brown can at least enjoy in-seat concession delivery for the remaining games this year by ordering directly from the team's stadium app. To our knowledge it's only the second NFL team to offer app-based food and beverage delivery services, following the San Francisco 49ers and their VenueNext-powered app which supports in-seat delivery to every seat in the 68,500-seat Levi's Stadium.
Let the food-delivery app battles begin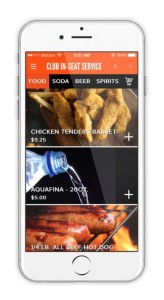 What's interesting about the Bengals deal is that it has Tap.in2 melding its services with an app built by sports-app giant YinzCam, which does not offer a food-delivery option in the current version of its app used by many NFL teams. However, YinzCam did just sign a big deal with the NBA to re-do 22 NBA team apps, with the option of adding concession delivery services mentioned in the press release; however, YinzCam has not yet stated publicly how it would add such services to its core stadium-app product. Could more deals with Tap.in2 be on the YinzCam horizon?

The well-funded VenueNext, meanwhile, has signed new deals with the NBA's Orlando Magic as well as the New York Yankees and the Dallas Cowboys, to bring more VenueNext features (possibly including food delivery) to those teams' stadium apps. While some VenueNext features have already crept into the AT&T Stadium app for this season, food ordering and delivery to seats is not yet available at that venue. VenueNext will also provide the app for Super Bowl 50, which will be held at Levi's Stadium in February.

Though Tap.in2 has not released any actual figures about how many orders were actually taken at games this season, it does claim to have positive feedback from the fans who have used the service, and did claim that orders were being delivered in less than 5 minutes, on average. VenueNext, which did release some food-delivery numbers from Levi's Stadium last season, is no longer making those statistics available. However the company did say that its app brought in nearly $800,000 in revenue last season, which may give you some idea why this service is hotter than a hot dog when it comes to increasing revenue inside stadiums.

Startup