Available Archive Reports:

STADIUM TECH REPORT WINTER 2018-19
Texas A&M scores with new digital fan-engagement strategy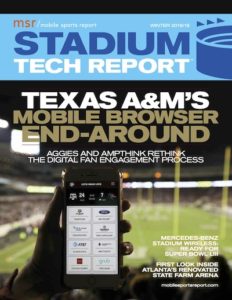 In the short history of in-stadium mobile fan engagement, a team or stadium app has been the go-to strategy for many venue owners and operators. But what if that strategy is wrong?
That question gets an interesting answer with the lead profile in our most recent STADIUM TECH REPORT, the Winter 2018-19 issue! These quarterly long-form reports are designed to give stadium and large public venue owners and operators, and digital sports business executives a way to dig deep into the topic of stadium technology, via exclusive research and profiles of successful stadium technology deployments, as well as news and analysis of topics important to this growing market.
Leading off for this issue is an in-depth report on a new browser-based digital game day program effort launched this football season at Texas A&M, where some longtime assumptions about mobile apps and fan engagement were blown apart by the performance of the Aggies' new project. A must read for all venue operations professionals! We also have in-person visits to Atlanta's Mercedes-Benz Stadium and the renovated State Farm Arena, the venue formerly known as Philips Arena. A Q&A with NFL CIO Michelle McKenna-Doyle and a report on a CBRS network test by the PGA round out this informative issue! DOWNLOAD YOUR REPORT today!
STADIUM TECH REPORT FALL 2018
Nebraska's Memorial Stadium profile, Wrigley Wi-Fi and more!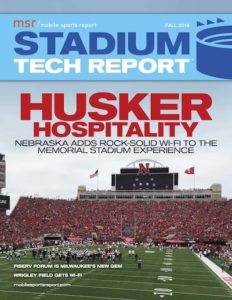 MOBILE SPORTS REPORT is pleased to announce the Fall 2018 issue of our STADIUM TECH REPORT series, the ONLY in-depth publication created specifically for the stadium technology professional and the stadium technology marketplace.
Our string of historical in-depth profiles of successful stadium technology deployments continues with reports from large collegiate football stadiums, a new basketball arena, an old baseball stadium and a soccer stadium hosting NFL games! Download your FREE copy today!
Inside the report our editorial coverage includes:
— A full in-depth profile of the Wi-Fi network at the University of Nebraska's Memorial Stadium, where network crews overcame challenges posed by historic architecture to bring connectivity to 90,000 fans;
— A 'sneak peek' inside Fiserv Forum, the new home of the NBA's Milwaukee Bucks (and Marquette University);
Wrigley Field Wi-Fi: An in-person tour of the new Wi-Fi network being rolled out by Extreme Networks and the Cubs;
— StubHub Center DAS: An in-depth profile with in-person testing of the DAS at StubHub Center in Los Angeles, temporary home of the NFL's LA Chargers.
Download your free copy today!
STADIUM TECH REPORT SUMMER 2018
DAS deployments rule, with new networks at Wrigley Field, AT&T Park and Amalie Arena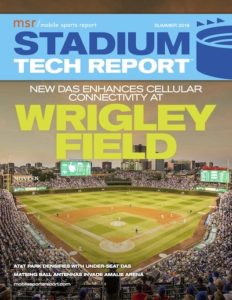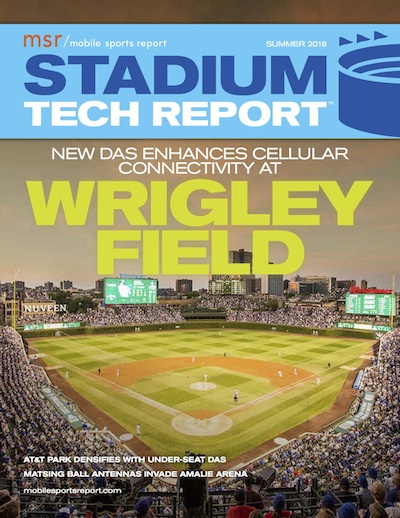 Call it the 'Connect the DAS' issue — our latest STADIUM TECH REPORT is heavy on DAS news, with new deployments at Wrigley Field, AT&T Park, and Amalie Arena — all of them breaking news, as in you heard it here first!
At AT&T Park, the home of the San Francisco Giants, there is a brand new upgrade to the stadium's DAS network, an AT&T-only deployment of DAS antennas inside the same under-seat enclosures used for stadium Wi-Fi. An experiment at first, just a few months into the season it has surprised both the team and the carrier with how well it's doing. Get the details by DOWNLOADING OUR FREE REPORT right now!
Second at bat in the news-scoop arena is another DAS deployment, this one just getting underway at Amalie Arena in Tampa, home of the NHL's Lightning. The twist on this new network — also being installed by AT&T — is that it will exclusively use MatSing ball antennas, those quirky-looking "big ball" antennas that you may have seen used in a temporary fashion at outdoor events. What's bringing them inside? DOWNLOAD THE REPORT and read our exclusive story!