Corning's Jess Koch and Art King talk CBRS for venues on the Mobile Sports Report Podcast!
We're excited to continue our renewed series of podcast conversations with this meeting of the minds from Corning, where Jess Koch and Art King join Mobile Sports Report to talk about CBRS, and how the new spectrum might be used to support private networks and other new applications for stadiums and other large public venues.
In our conversation, we start with a brief recap of what CBRS (Citizens Broadcast Radio Service) actually is, and then quickly delve into how the new spectrum might be used in stadium and public-venue situations. As a vendor in the space on multiple levels (including solutions from SpiderCloud, which Corning acquired in 2017), Corning has some good ideas on where the CBRS market might be headed, so please listen in!
For more information from Corning about CBRS and venues, please visit this site. Thanks for listening!
Jessica Koch is the Business Development Director of Sports & Entertainment at Corning Optical Communications. Jessica focuses on expanding the adoption of future-ready infrastructure in Sports, Entertainment and other large public venue environments. After spending 15 years in various telecommunications and technology consulting and sales positions, her passion for connecting people and their devices led her to Corning, where she accelerated next-generation connectivity efforts in the Western U.S. Her current role is a vertically focused, national role in Market Development working with stadiums, arenas, convention centers and large multi-use developments. She also sits on the Advisory Board for The Los Angeles Sports & Entertainment Commission (LASEC), a non-profit organization officially designated by Los Angeles Tourism to attract, secure and support high-profile sports and entertainment events in Los Angeles. Jessica holds a BA in Organizational Leadership from Chapman University. As part of the IBN Technologies team, Mr. King leads the development of enterprise services definitions and business case propositions for customers and partners. Mr. King is Vice Chair of the Services Working Group in the Small Cell Forum. He came to Corning via the SpiderCloud Wireless acquisition and was formerly a lead in IT architecture and operations for Nike Inc. where he held various global roles over 10 years. Prior to Nike, he led the build out of two multinational engineering and consulting organizations for an IP services network vendor in the service provider industry.
Aruba's Chuck Lukaszewski talks Wi-Fi 6 and venues
Welcome back to the Stadium Tech Report podcast! We are extremely happy to kick off the new series of recorded chats by welcoming Chuck Lukaszewski to talk about the new Wi-Fi 6 standard and how it's going to help networks inside large public venues like sports stadiums. If you don't know Chuck, he is Vice President of Wireless Strategy & Standards at Aruba, a Hewlett Packard Enterprise company, and has been working with Wi-Fi for a long, long time.
Chuck has also been a fantastic contributor to MSR's ongoing attempt to educate our readers — his essay on LTE over unlicensed spectrum is always worth a read — and this conversation continues on the learning path. We open up with some general descriptions of what Wi-Fi 6 is, and then dive down into what its new features mean for venues specifically. About halfway through, you can even hear Chuck give me a lesson on the misconceptions I had about security comparisons between Wi-Fi and LTE networks — click above and start listening!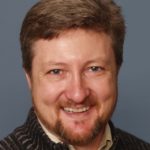 Chuck Lukaszewski is Vice President of Wireless Strategy & Standards at Aruba Networks, a Hewlett Packard Enterprise company. For over a decade he has engineered and deployed large-scale 802.11 networks, joining Aruba in 2007.
Chuck has built Wi-Fi systems in stadiums, seaports, rail yards, manufacturing plants and other complex RF environments, including serving as chief engineer for many stadiums ranging from 20,000 to 100,000 seats that provide live video and other online amenities. He is the author of six books and design guides including Very High Density 802.11ac Networks and Outdoor MIMO Wireless Networks.
The MSR Interview: David Payne, University of Oklahoma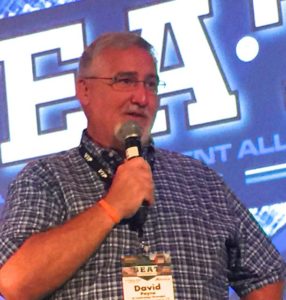 Welcome to the new season of MSR Podcasts! We are thrilled to start off this season of interviews with one of our favorite people from the realm of stadium technology deployment and operation — David Payne, who is the senior technology strategist at the University of Oklahoma. With "school in session," join us as we talk with David about how a patient, steady approach to technology deployments allows you to keep the focus on the fan, and improving the fan experience instead of just looking at the next shiny object in wireless tech.
Here is an older story about part of the process David went through:
Wi-Fi to the RV: Oklahoma brings Wi-Fi services to RV parking lot
SUBSCRIBE TO THE PODCAST:
Here is the link to the podcast on iTunes!
The MSR Interview: Bill Schlough, San Francisco Giants
Who better to talk about stadium Wi-Fi than the guy who was there when it all started? Our guest for our first MSR Interview (part of our Stadium Tech Report Podcast series) is San Francisco Giants senior vice president and chief information officer Bill Schlough, who goes old-school talking about stadium Wi-Fi back in 2004… and brings it to the current day with stats from the most recent season at AT&T Park. Plus, his thoughts on game-day apps and why great connectivity is the real winner. Listen in now!
Hear Bill talk about:
— New Wi-Fi records set… during the Warriors' playoff run
— Why going under-seat with Wi-Fi was a necessary thing to do
— How the Giants are experimenting with virtual reality
— Why he thinks great connectivity matters most (even more than stadium-app features)
Some story links that offer some history about AT&T Park's networks from MSR:
S.F. Giants add more Wi-Fi, 'virtual reality experience' to AT&T Park for 2016 season
SF Giants fans used 78.2 TB of Wi-Fi data at AT&T Park during 2015 season
Stadium Tech Report: World Series set new wireless records at AT&T Park
Stadium Tech Report: San Francisco's AT&T Park lives up to its wireless reputation
Giants: NLCS stadium Wi-Fi usage at AT&T Park quadrupled since 2012
Bill Belichick's very thorough takedown of the Microsoft Surface slapped a fried egg on the face of Microsoft's $400 million deal with the NFL to use the tablets on game-day sidelines. In the latest STADIUM TECH REPORT PODCAST, co-hosts Phil Harvey and Paul Kapustka explore why the deal was flawed from the beginning, and whether or not wireless technology can be counted on to perform in NFL sideline environments.
Twitter's debut in live-streaming NFL games had good video, but the accompanying Twitter feed — which users couldn't configure — left many observers wanting more. Will Twitter ever be able to deliver, or will physics keep Twitter from being able to add anything special to mobile-device sports streaming? In the latest STADIUM TECH REPORT PODCAST, co-hosts Phil Harvey and Paul Kapustka dissect Twitter's streaming issues, and wonder when people will realize that AT&T and Verizon may be the eventual winners in the NFL streaming battle with their Sunday Ticket and NFL Mobile platforms. Listen now!


The drop in prime-time TV viewership for the recent Rio Olympics was a bit of a head-scratcher for many, especially in light of the soaring numbers for online viewership of the same games on various streaming outlets. In the STADIUM TECH REPORT PODCAST episode 7, hosts Phil Harvey and Paul Kapustka explore and explain why this shift from scripted to live happened, and what it means for all types of live sports content going forward. Give it a listen now!
Why are stadiums testing out virtual reality (VR) technology for fans, and what is the goal of giving event attendees a "virtual" experience to go along with the one they're getting in person? Episode 6 of the Stadium Tech Report Podcast takes a look at VR use in stadiums, with hosts Phil Harvey and Paul Kapustka breaking down the reasons behind the trials, and whether or not VR will succeed or flop in stadium situations. Listen now!

Epsiode 5 of the STADIUM TECH REPORT PODCAST is off and running, in which hosts Phil Harvey and Paul Kapustka examine why the Kentucky Derby doesn't need Wi-Fi but instead uses DAS to serve the wireless needs of its 170,000 race-day guests. With more than 12 terabytes of data used on race day and 20-plus TB used over the weekend, the Derby DAS was a winner… listen in and find out why!

Episode 4 of the STADIUM TECH REPORT PODCAST is live, in which hosts Phil Harvey and Paul Kapustka go to the mats to figure out if WrestleMania and the associated WWE operations are the perfect storm for mobile-content creation. We also discuss why WrestleMania and events like it are capable of creating massive demands for in-stadium bandwidth, like the latest big wireless day at WrestleMania 32 at AT&T Stadium. Listen now and let us know what you think!
Episode 3 of the STADIUM TECH REPORT PODCAST is live, in which hosts Phil Harvey and Paul Kapustka discuss the NFL's Thursday Night Football streaming deal with Twitter, and what that deal means for both team stadium apps in particular and for mobile video use in general. Take a listen and let us know what you think!
Episode 2 of the STADIUM TECH REPORT PODCAST is live, in which hosts Phil Harvey and Paul Kapustka bite into the topic of in-seat food ordering and delivery, wondering if it's the next big thing in stadium services, or something that needs to get better before it gets bigger. Take a listen!
Welcome to the inaugural episode of the STADIUM TECH REPORT PODCAST, with Mobile Sports Report editor Paul Kapustka and host Phil Harvey. In this first show Phil and Paul talk about the Wi-Fi and DAS records set at the recent Super Bowl 50 at Levi's Stadium, exploring what those numbers mean for stadium tech professionals who are deploying their own networks — and whether or not there will ever be an end to the continuing explosive growth in demand for in-venue bandwidth.
SUBSCRIBE TO THE PODCAST: Here is the link to the podcast on iTunes!