By Chuck Lukaszewski, Aruba Networks, a Hewlett Packard Enterprise company
There's much excitement around the coming of "unlicensed LTE" and for good reason. In our anytime, anywhere world the last device many of us use at night, and the first one we pick up in the morning, is a mobile phone, tablet or computer. Although much of the time our devices connect via Wi-Fi, when we're in transit we depend on cellular.
With consumers quick to express their disappointment when their apps fail to respond – or don't respond fast enough – on a wireless network, cellular providers are keenly aware they must keep pace with rapidly escalating user experience expectations. Research suggests mobile data traffic will grow by 47 percent annually through 2021. Combine the two and the drivers for expanding network capacity are clear.
While the lure of more bandwidth can be attractive, stadium and venue operators need to carefully evaluate the technological impact and operational overhead unlicensed LTE introduces.
Gigabit cellular coming soon
Editor's note: This post is part of Mobile Sports Report's new Voices of the Industry feature, in which industry representatives submit articles, commentary or other information to share with the greater stadium technology marketplace. These are NOT paid advertisements, or infomercials. See our explanation of the feature to understand how it works.
To provide gigabit speeds, the cellular industry has enhanced LTE technology to bond multiple channels together, called "carrier aggregation." Although originally designed only to combine different licensed frequencies, it has now been extended to aggregate licensed spectrum with 5 GHz unlicensed spectrum (where Wi-Fi operates). Two competing technologies for doing so have emerged, with notable differences when deploying in high-density environments like stadiums in the U.S.
LTE-U (LTE in the Unlicensed Spectrum) is a proprietary technology, developed by the LTE-U Forum, a consortium of several cellular-related companies. It enables simultaneous operation of LTE over both licensed and unlicensed spectrum by aggregating the bands together, resulting in a performance boost. However, the way LTE-U takes control of a channel – while legal in the U.S. – is controversial and may significantly degrade performance of Wi-Fi equipment using the same channel. The Wi-Fi and cellular industries worked together to produce a coexistence test plan, but so far none of the test results for LTE-U equipment authorized by the FCC have been made public.
LAA (Licensed Assisted Access) can be thought of as the standardized version of unlicensed LTE, designed to meet European "listen-before-talk" (LBT) requirements, so it can be deployed anywhere on the planet. It was developed through the 3rd Generation Partnership Project (3GPP) worldwide standards organization, with wide participation including input from the Wi-Fi community.
Think of LBT like the telephone party lines of yesteryear, where multiple customers share a communal phone line but only one person can use it at a time for their conversation while others wait. When there is no conversation happening on the party line and two or more people try to speak at once, other customers of the party line graciously "back off" to allow one person to go first. In cellular terms, this makes LAA a more "polite" technology than LTE-U, as it waits to transmit until a channel is clear. The back-off method it uses is compatible with Wi-Fi at least on paper, although 3GPP does not require vendors to perform or publish any kind of test results.
The Road Ahead
Of course what you want to know is how the advent of LTE-U/LAA impacts your stadium and whether to add gigabit cellular to the connectivity mix.
As a robust, stable and mature technology, Wi-Fi's strength and ability to handle exceptional stadium data traffic loads is well established. To make informed decisions about whether to consider LTE-U/LAA technologies alongside Wi-Fi, here are five essential technical considerations.
Spectrum Availability. The unlicensed radio spectrum is comprised of 24 channels in the U.S., which is analogous to a 24-lane freeway. Until now, only Wi-Fi traffic traveled on that roadway, with many years spent developing technologies to ensure steady traffic flow, particularly in stadiums. Wi-Fi includes its own LBT solution, which helps assure data merges smoothly onto the freeway. It's been proven at six Super Bowls plus countless other concerts and sporting events.
Most stadium Wi-Fi networks are already spectrum-constrained, meaning they are just managing to carry the existing load – much less new fan technologies like AR/VR. A large body of evidence demonstrates that stadiums and arenas need 20-24 fulltime-equivalent channels to make a 5 GHz system work (regardless of technology). These Wi-Fi networks are carefully optimized to eliminate all unnecessary transmissions.
Adding one or more LTE-U or LAA systems will reduce available capacity for Wi-Fi operations. As of this writing, there are no public technical measurements of deployed systems so the actual impact is unknown. If four separate unlicensed LTE networks are actually deployed, the impact will be even greater.
Number of LTE-U/LAA Networks Required. Visitors to your stadium likely utilize each of the four U.S. cellular operators: AT&T, Sprint, T-Mobile and Verizon. Therefore, to offer gigabit cellular connectivity, you'll need to permit all four to deploy an LTE-U, or LAA, network. Because the technologies are so new, they lack a "neutral host" methodology, so each operator will require its own separate physical network and spectrum.
Compatibility with Existing DAS.
Most stadiums and arenas have either separate antenna systems for each major cellular operator or a converged neutral-host DAS. Although LTE-U and LAA are intended to support "dual connectivity" to a separate macro base station (or "eNodeB") on paper, the products currently being shipped are intended as co-located small cells that contain two paired LTE radios – one licensed and one unlicensed. Stadium operators should validate whether their DAS systems are compatible with an expansive LTE-U/LAA small cell deployment where the primary cell (or "PCell") is the DAS and each PCell has dozens of secondary cells (or "SCells") providing 5 GHz service.
Cost vs. Benefit. Of no small consideration is the added amount of equipment, and the costs, in a hybrid Wi-Fi/cellular situation. If every cellular operator requires a separate LAA/LTE-U overlay, this implies up to four full new sets of equipment must be deployed under seats or on handrails. For a 60,000-seat stadium at typical under-seat densities, it would only require about 850 Wi-Fi access points (APs). In contrast, for LAA/LTE-U stadium operators would need over 3,000 additional small cells– with each one requiring a sturdy waterproof housing, a 30-watt POE connection, Cat-6 cabling, conduit and, of course, a hole drilled in the concrete. Meaning, LTE-U/LAA small cell deployments would require essentially the same physical footprint for each carrier as Wi-Fi which is likely already installed and is inherently a neutral host technolgy.
Risk. It's also critical to consider the corresponding risks of adding up to four cellular unlicensed LTE networks to your Wi-Fi environment. It took about seven years and three full generations of radio designs for Wi-Fi vendors to perfect high-capacity stadium systems whereas LTE-U/LAA equipment is only beginning to ship. In short, it may be wise to delay comingling Wi-Fi and LTE-U/LAA networks until unlicensed LTE equipment becomes proven in less mission-critical settings than your venue.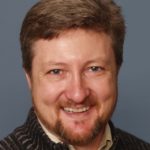 Chuck Lukaszewski is Vice President of Wireless Strategy & Standards at Aruba Networks, a Hewlett Packard Enterprise company. For over a decade he has engineered and deployed large-scale 802.11 networks, joining Aruba in 2007.
Chuck has built Wi-Fi systems in stadiums, seaports, rail yards, manufacturing plants and other complex RF environments, including serving as chief engineer for many stadiums ranging from 20,000 to 100,000 seats that provide live video and other online amenities. He is the author of six books and design guides including Very High Density 802.11ac Networks and Outdoor MIMO Wireless Networks.