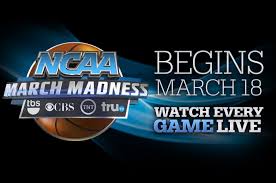 March Madness, one of the sports world's iconic events is on the horizon and no doubt fans are already plotting out strategies to get out of the office or school to watch their favorite team attempt to advance in its bracket. However thanks to Turner Sports there is an alternative.
It has released NCAA March Madness Live, an app that will provide portable access to all of the games in the tournament, with a total of 150 hours available during the event. Even better the app will now be supported by three platforms, Apple's iOS, Android and for the first time Microsoft as well. Now fans can use a smartphone or tablet as a second screen if at a bar or as a primary device if at work.
To use the app a fan and watch all of the matchups that will be broadcast on TNT, TBS, and truTV a fan needs to log in with their TV service provider information. Games will also be available online at various sites, including This year, NCAA March Madness Live will launch from more platforms than ever before including the NCAA March Madness page, CBS Sports, and Bleacher Report. There is no registration required for games on CBS. The app will also provide a temporary preview period giving fans access to live game streaming before login is required.
The app, Developed in partnership with the NCAA, Turner Sports and CBS Sports is a follow up to previous years' offerings but it has made several major enhancements to the app since last year, aside from the Microsoft support.
Of importance to the fans of bracketology and seeing if they are winning in their office pool the app has a new interface that has been designed for work with the smaller screens that smartphones feature as well with the slightly larger screens on tablets. It allows users to go directly from this feature to a live game and includes broadcast times and schedules. It also has additional view modes for brackets.
The heart of the app might be the GameCenter, one of the features that has been redesigned. It is the central [point to find which games are currently live streaming as well as pre-game matchup analysis, live in-game stats, key social moments and fan chat.
To complement the enhanced features in the bracket area there is the almost obligatory bracket for fans, this one entitled Capitol One NCAA March Madness Bracket Challenge. The app developers have enhanced its social media functionality as well as supporting computers as well as smartphones and tablets. It allows for the formation of groups, sharing brackets and chat via Facebook.
There is also a general chat forum called the Coke Zero NCAA March Madness Social Arena that enables fans t converse about games and other events as well as follow game tweets, post and view Instagram photos and Vine videos. Fans can participate in the social commentary by using the hashtag #marchmadness.
Understanding that some fans might want to set up schedules to just see specific matchups the app now includes a TV Schedule that helps with planning. This feature can be accessed from various other features such as game schedule or bracket and provides the round, date, time and network for each game. Also new this year is a Tournament News feature that provides news and updates as well as highlights, recaps and additional information each day.
Following the broadcasting of all of the just concluded Winter Olympic events online by NBC hopefully this is the wave of the future. While MLB enables fans to watch a huge number of games either online or on their television via a subscription model the NBA and NFL trail well behind it.