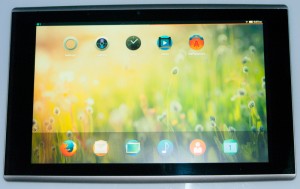 The specs for the first tablet that has been designed to run Mozilla's Firefox operating system have been published this week by project head Asa Dotzler as the OS prepares to give Apple's iOS, Microsoft's Windows 8 and Google's Android a run for their collective money.
The blog posting says that the tablet will feature an ARM Cortex A7 quad core processor running at 1GHz with a PowerVR GPU and 2GB of RAM. It will have 16GB of flash storage that presumably can be upgraded via its MicroSD slot.
The tablet, called the InFocus New Tab F1, will feature a 10.1 inch 1200 x 800 touch screen and have dual cameras, a 2megapixel and a 5MP camera as well as support 802.11b/g/n Wi-Fi but no cellular support, at least in the first go-around.
The tablet is not a surprise since the company showed the OS for mobile phones a year ago at the Mobile World Congress in Barcelona and has been talking about the tablet since last summer when it said that it would partner with Foxconn to build the device. The interesting thing will be what impact it will have, if any, on its rivals.
The Firefox operating system has taken a big chunk on market share in the PC browser space, which along with Chrome has given Microsoft's Internet Explorer much more competition that it could have wished for.
A number of handset developers use the mobile Firefox OS in offerings for emerging markets and now we will see if tablet developers will follow suit. There are an increasing number of low-cost offerings that offer primarily Android OS but along with the OS there are already a huge number of apps, probably as important as the OS.
It looks like an uphill battle for the OS, but it is also a hill that the development team has surmounted in the past. I could see purchasing a low-cost tablet that could be dedicated for single use. However for fans who want a tablet to serve as a second screen option, slow, low resolution offerings will not make it, but could serve to free up a primary, higher quality tablet for a more dedicated use as well.