Any doubts about whether the network reports were too optimistic were quickly laid to rest the first moment we took a Wi-Fi speedtest. While waiting outside the main right-field gate of SunTrust we got a Wi-Fi speed reading of 96 Mbps on the download and 136 Mbps for the upload, a level of connectivity we would see often during our visit. In addition to the ballpark the Braves also built the surrounding mixed-use neighborhood, called The Battery Atlanta, a mix of office space, mall-like retail and residences, a sort of instant neighborhood with superb connectivity at its core.
Both before and after our stadium tour MSR walked around the Battery, getting speed tests anywhere between 40 Mbps and 140 Mbps, depending usually how close you were to any of the numerous Wi-Fi APs mounted on buildings along the streets, walkways and public areas like the Braves fountain or on balconies of the close-by sports bars.
Having such good connectivity made tasks like getting an Uber ride a snap, since the Wi-Fi coverage extended out from the ballpark exits through the Battery streets to the designated Uber pickup zone.
Inside the park, Gatti first showed us (through a glass door) the Braves' new data center room, which reminded us of the similar facility at the Sacramento Kings' Golden 1 Center. If there's any commonality for new stadium builds, it's that the geeks usually get a nice, clean, efficient looking room for their gear instead of some dusty concrete dungeon in the venue basement. And though we're not network engineers here at MSR on our walk around the visible AP mounts and other equipment installs looked sharp, well constructed and smartly hidden, placed when possible out of the normal fan's line of sight.
Instead of listing all the speed tests we took I will simply say that in almost all places the speeds we saw were between a low of 62.29 Mbps / 65.84 Mbps (taken in the Home Depot balcony club area above the left-field bleachers) and a high of 88.17 / 101.54, in the upper deck seats along the right field line. A quick test of the Verizon Wireless DAS saw a reading of 106.36 / 25.18 in the upper deck concourse behind home plate; we didn't have an AT&T phone with us so more thorough DAS testing will have to wait for another day.
Beer coolers a 'cool' idea
On beyond connectivity, the Braves clearly kept technology in the forefront when they made other innovations throughout the park. One that resonated with us were the electronic beer coolers we saw in several premium seating areas. Basically, these are cup-holder holes cut into a countertop with coolers inside, which keep your beer ice-cold when you're not holding the cup.
The IPTV operations at the park were also impressive, from the tablet-based TV controls in suites (software provided by YinzCam) to the touchscreen directory kiosks in The Battery. For some of the premium seats right behind home plate, there are interactive televisions mounted between seats; another new premium area just above the first bowl of seats behind home plate has tables with four high-top chairs, which are sold as sort of very-small suites. The tables have a small TV in the middle which can be used to watch programming as well as to order food and drink to be delivered in club-seating fashion.
Several other club-type areas like the Home Depot suite, a Comcast-sponsored bar area in the upper deck near the right field foul pole and a club at field level in right field with a chain-link fence cutout view of the field give the Braves multiple options to give premium seating to groups of many sizes, along with the traditional suite areas.
In many of the premium seating areas the Braves have also installed USB charging ports, another nod to the ubiquity of mobile devices being brought to games. There are also numerous
Big Ass Fans
installed on concourse walkways, a nice amenity that takes into account the sometimes stifling humid heat in Atlanta.
If there was one snag to the game-day experience at SunTrust Park we'd say that the traffic situation of getting to and from the venue needs some more thought. Even though the park sits right by a major freeway, the exits and entrances don't seem to offer a quick flow in our out for anyone who is arriving from, say, downtown Atlanta, which is about 10 miles away. Unfortunately, Atlanta's good MARTA subway service doesn't go anywhere near the park, making all transportation a wheels-based necessity.
The designated Uber dropoff area is a good example of an idea that needs some experience-based tweaking, with pickup and dropoff zones on the opposite side of a street that seemed congested from well before the game to afterward. While having a clearly signed place for ride-share activity is smart, the attempt to do dropoffs on one side and pickups on another led to several confusing U-turn attempts even in our small number of interactions. There's also no oversight or on-site assistance or staffers to help either customers or drivers, which for a first-time venue seems an error in judgement.
But overall, SunTrust Park seems like a huge success that will only get better over time — according to Braves president of development Mike Plant, only about 30 percent of the space in the Battery is currently open, meaning there will be more businesses and residents surrounding the park in the near future. Already it's clear that fans have found the space an agreeable one to hang out before games — while speaking at the SEAT Conference Plant said that most of the bars and restaurants are full well before game times, so he warned SEAT visitors to get there early if they wanted to grab a bite to eat or a drink before a ballgame.
More pictures from our visit below. Thanks to the Braves for our tour and to MLB for media access during our stay.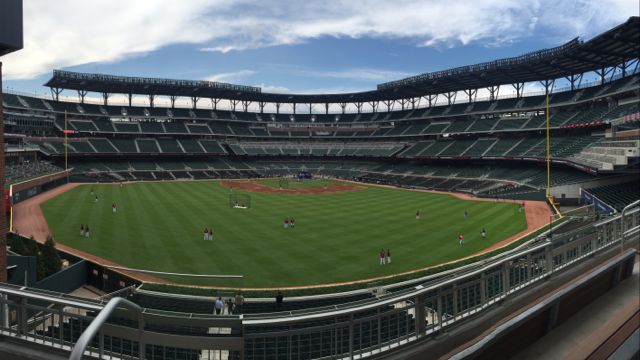 Panoramic view of SunTrust Park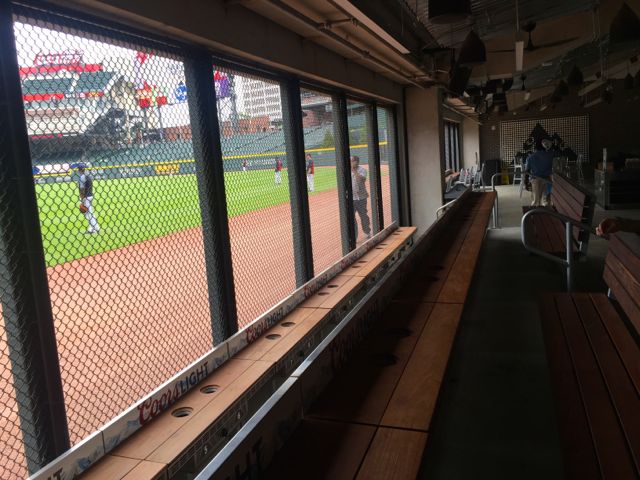 A club space with a view out the right field wall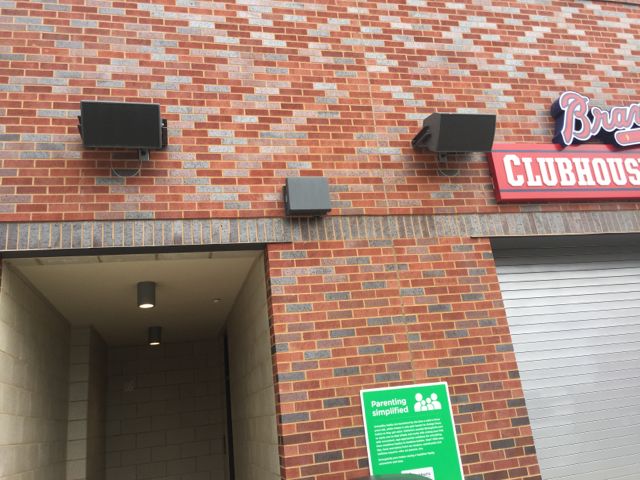 Wi-Fi AP mounted on outfield concourse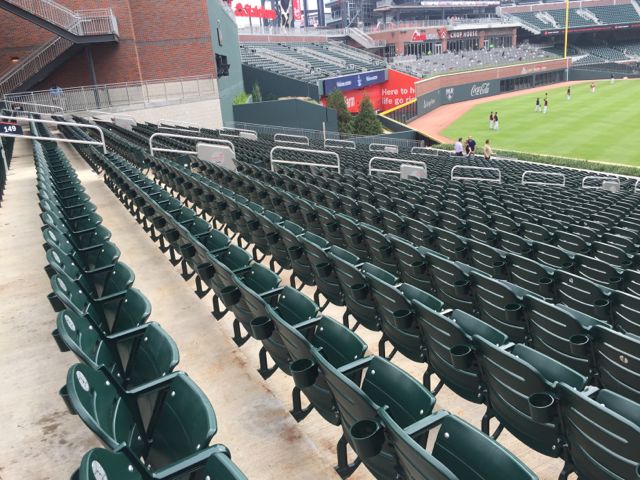 A look at railing AP mounts in the outfield bleacher seating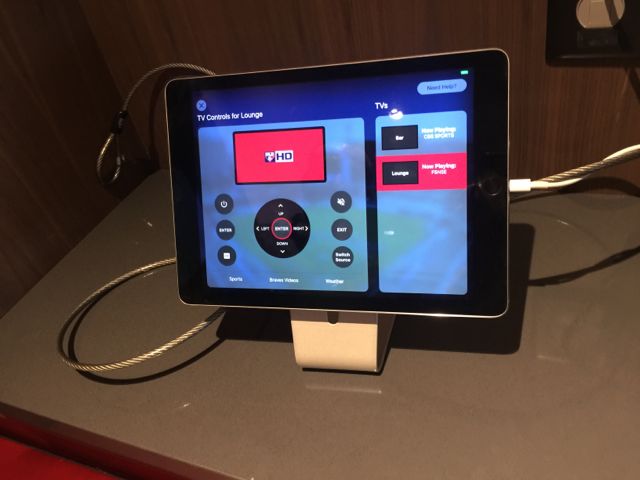 The IPTV control screen for suites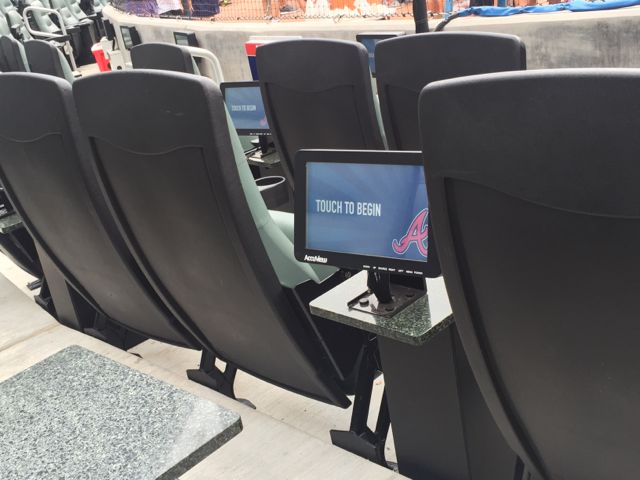 IPTVs located between premium seats right behind home plate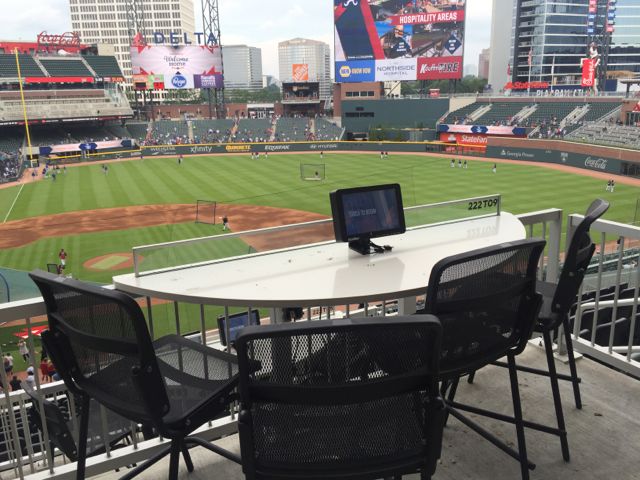 Tabletop seating with TV just above home plate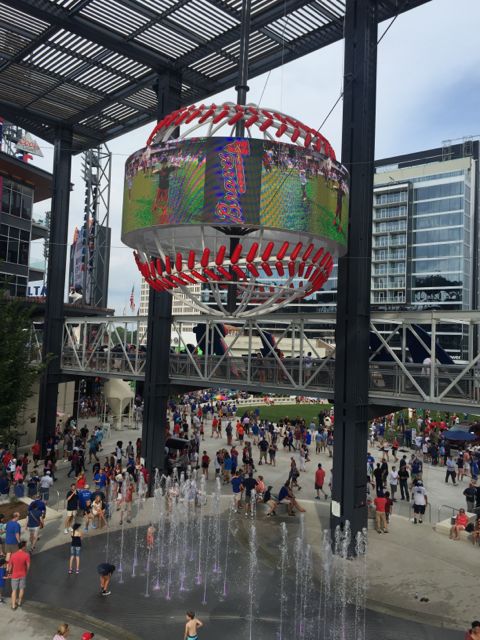 The big ball with its 360-degree LED screen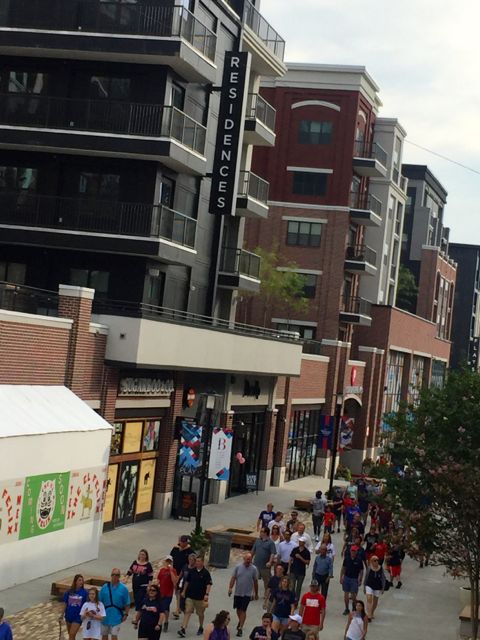 Fans walking through The Battery on their way to the game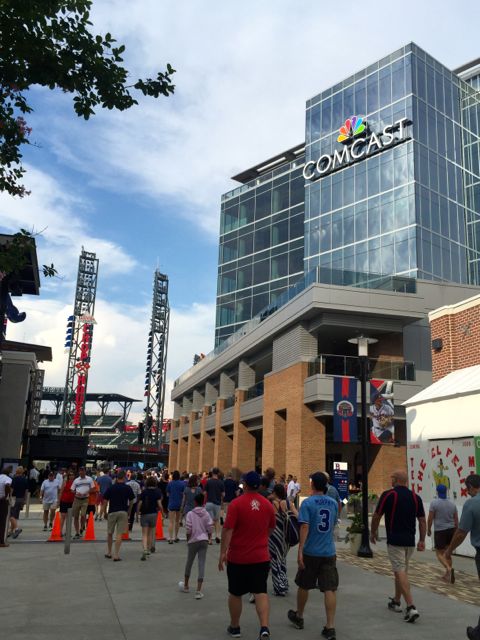 Another Battery view with the Comcast office building behind right field visible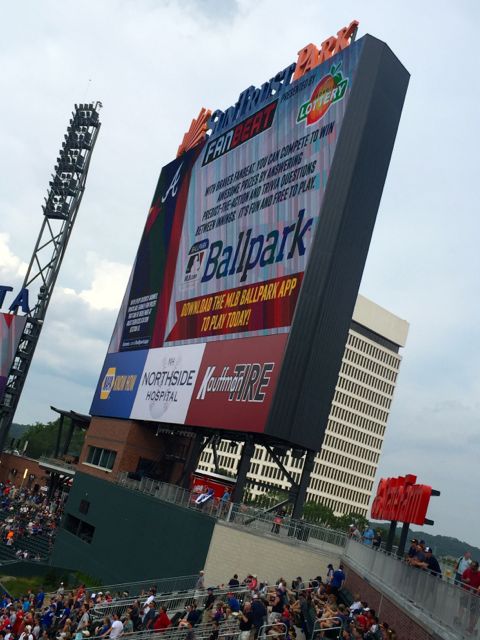 Main scoreboard promoting the MLB app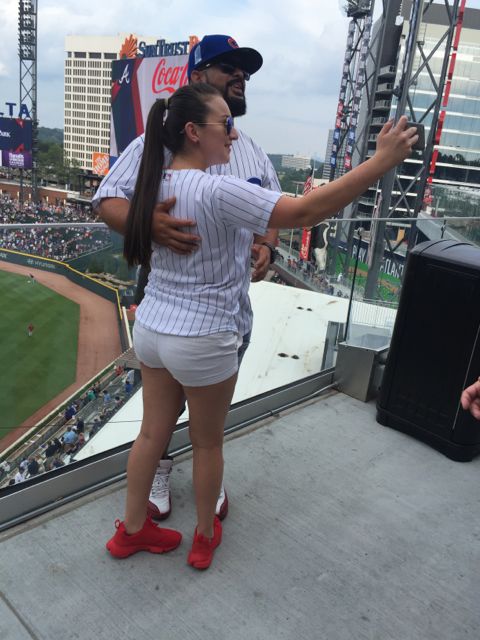 Sightlines and decks at SunTrust seem built for selfies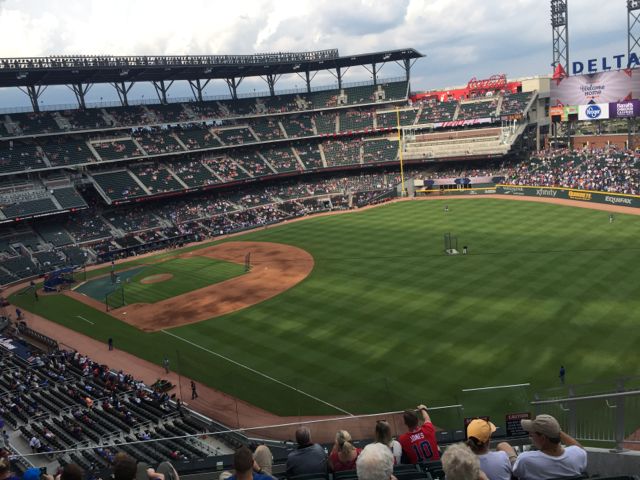 Nice view from the upper deck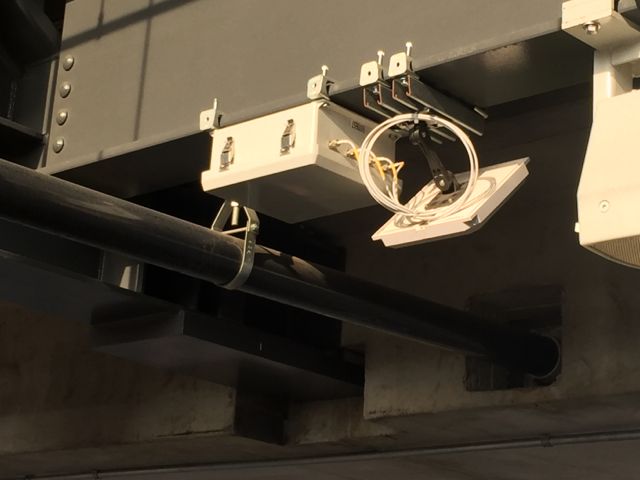 Closeup of a Wi-Fi AP install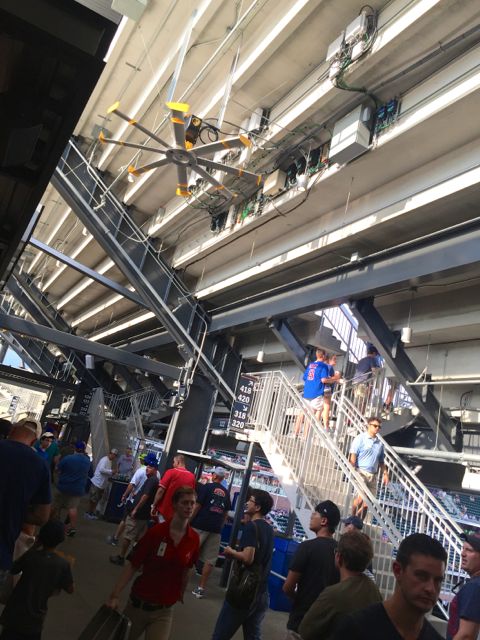 Above fans' eyes is a DAS gear placement (and a Big Ass fan)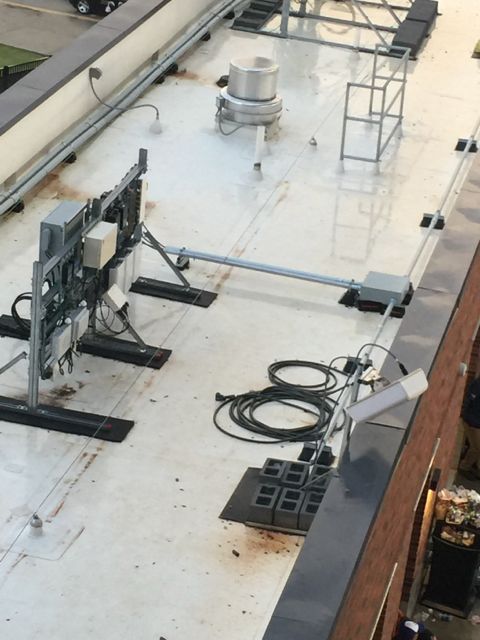 DAS gear mounted on the roof of the centerfield concourse wall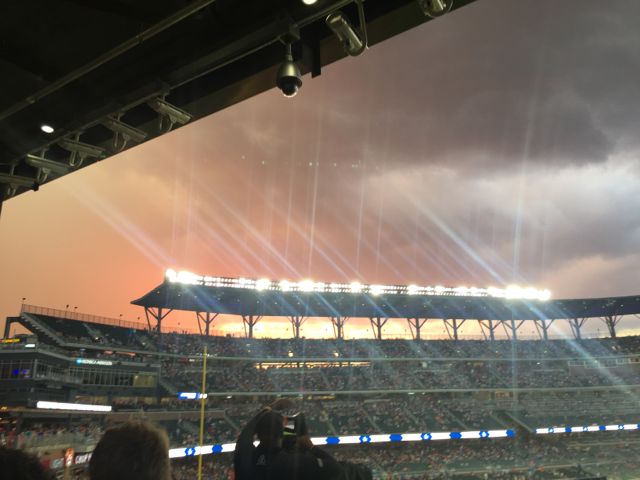 Thunderstorms, the beautiful but unwelcome visitors

After speaking with the Atlanta Braves via phone about their new home, SunTrust Park, we couldn't wait for our recent visit to Atlanta for the SEAT 2017 Conference. Thanks to a personal tour hosted by Greg Gatti, senior director of information technology for the Braves, Mobile Sports Report got an up-close look at not just the new park's excellent wireless networks but also its impressive innovations in seating spaces and other amenities that should keep Braves fans and visitors (like the numerous Cubs fans in attendance this week) happy for the foreseeable future.