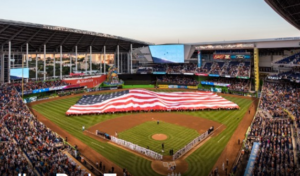 As part of its continuing effort to help major league baseball teams outfit their stadiums with fan-facing Wi-Fi, MLB's advanced media department said that Miami's Marlins Park will have a new Wi-Fi network fully operational by this year's All-Star Game, to be held on July 11.
In a recent interview with MSR, Joe Inzerillo, executive vice president and chief technology officer for BAMtech, said the new network at Marlins Park will be "fully operational by the All-Star game." Inzerillo said that by mid-season this year, there will be 23 MLB stadiums with networks built by or upgraded through the ongoing MLBAM plan to bring wireless connectivity to all league parks, a $300 million effort started several years ago.
Previously, Marlins Park had a Wi-Fi network built on Meru gear. Right now specifics of the network aren't known, but most of the MLBAM network deployments have used Cisco gear for Wi-Fi. The Marlins also previously had a neutral-host DAS run by ExteNet Systems.