Some of that has to do with the fact that the mall's new IT team includes veterans of the sports-arena networking market; the other has to do with the fact that shopping malls, like stadiums, struggle with some of the same issues around bringing connectivity to crowded public areas and trying to connect digitally with the people there, in this case shoppers and visitors rather than ticket holders.
So as part of a $1 billion redevelopment of the historic mall space, bringing high density wireless connectivity to the venue via a Wi-Fi network was a necessity for mall owner Westfield, as it seeks to enable the digitally connected future of the next-generation of bricks and mortar shopping malls. Now nearing the completion of its makeover, which is being rolled out in the fall of 2017, the "new" Westfield Century City will eventually be host to more than 1.3 million square feet of commercial space, with more than 200 shops and restaurants, and other amenities including a mid-mall concert and entertainment space with professional staging and lighting infrastructure.
The historic shopping spot on Santa Monica Boulevard is also now getting a dose of newly designed outdoor gathering spaces, from hanging couch-beds to small grassy hills where visitors can just hang out and connect as part of their Century City experience. Having reliable, high-performing Wi-Fi to cover those spaces was a necessary shopping-list item, according to Denise Taylor, chief information officer for Westfield and point person for the new network and all its connected features at not just Westfield Century City but for other similar ongoing projects at some of the company's 35 mall properties in the U.S. and the U.K.
Technology enables the new mall experience
Editor's note: This profile is an excerpt from our latest STADIUM TECH REPORT, our Summer 2017 issue that has in-depth profiles of network deployments at the Atlanta Braves' new SunTrust Park, the Colorado Rockies' Coors Field, and a profile of a new Wi-Fi network at Red Bull Arena. DOWNLOAD YOUR FREE COPY of the report today!
In an age when shopping malls may seem less relevant due to online shopping, many of the larger malls worldwide are rapidly shifting their business models to become more of a destination location for entertainment events, eating or "showroom" shopping, instead of just a place to go and buy things. And in a world where staying connected is as accepted and expected as breathing, a mall without wireless connectivity sounds like a place nobody would want to visit.
"I knew I had to integrate a physical and digital environment," said Taylor, who left stadium-ownership concern AEG (where she oversaw tasks like bringing wireless networks to stadiums like LA's Staples Center) to head up Westfield's digital departments a couple years ago. "A big part of the mall transition was [installing] enabling technology."
Since its opening in 1964, Century City has been known for being part of the wave of "outdoor" shopping malls, becoming part of the cultural landscape of LA and the Southern California lifestyle. (It was even the subject of a song by rockers Tom Petty and the Heartbreakers.) But like many sports venues that have been around awhile, these days Century City was lacking in a modern digital infrastructure to connect with its digital-device carrying customers.
According to Taylor, before the makeover project started the mall had no communication equipment rooms, no network backbone and maybe a couple hundred digital "endpoints," including security cameras and intercoms. When the renovation is complete, Westfield Century City will have more than 2,000 end devices, including approximately 515 Wi-Fi APs, numerous digital displays, directories and LED sign boards.
One of the centerpieces of the renovation is a dedicated event space called The Terrace, which will be booked in part by Westfield's own event production team.
The event space is just part of the new business plan for the mall and its visitors, a model for the future that includes on-location digital advertising not just for mall-based retailers but also for other brands who want to connect with the people at the mall, either through digital displays or app-based communications. While some of the plans are still concepts, without a baseline of a high-performing wireless network, none of the future ideas would be possible.
"If there is a fashion show at the mall event space, it's important for visitors to be able to share what's happening right at that moment," said Taylor. "That called for a big shift as to what a good Wi-Fi experience was."
Building for stadium-type foot traffic every day
If there was one thing that "floored" Taylor coming into the job, it was the steady, unending flow of people into the venue — a pace and total much different from stadiums, where people arrive sporadically for games and concerts.
"What really surprised me was the footfall," said Taylor during an on-site visit by Mobile Sports Report in May, after the mall's Phase 1 opening in April.
With its cellular system still tied up in the terms of a previous contract, Westfield Century City turned to Wi-Fi to bring a higher level of wireless connectivity to its public spaces, teaming up with Cisco and CDW for Wi-Fi gear and implementation efforts. Taylor also brought in veteran stadium technology expert Ward Ross as a consultant to help lead a somewhat different deployment at a venue that was never really closed for business, even as major construction efforts took place.
The need to ensure the deployment fit into the mall's visible aesthetics, Taylor said, was particularly challenging, in an environment that "was never [originally] designed for central cabling or a communication infrastructure." There was also the need to run construction efforts through leased retail spaces, a process that took "lots of effort and lots of conversations," according to Taylor.
"The finished product is an amazing job of architecture," said Taylor, who showed off the results of the work in a walk-around tour of the completed areas. "We had a big learning lesson on how to hide APs in a modern outdoor center."
Though the initial public-facing service was gated to limit speeds, the plan is to eventually increase the bandwidth available to visitors as more of the mall's construction and renovation is finished. With access to the "hidden" SSID that was running without restrictions, our tests over multiple places in the Phase 1 area saw Wi-Fi speeds in the 50 to 60 Mbps range for both download and upload.
Touchscreen kiosks, LED boards and better parking services
While video boards, Wi-Fi and a stadium app may be the primary technologies for stadiums these days, for shopping malls Taylor said there is a much different first priority: Where to park your car.
"I thought parking was important at arenas, but at malls the number one issue is parking locations," Taylor said. At the time of our visit not all of Century City's parking initiatives were live, but future shoppers there are in for pleasant surprises when it comes to the mall's use of technology to eliminate as many parking pain points as possible. Ross and Taylor showed the under-development VIP reserved parking area, where customers can reserve and pay for a larger, centrally located spot that is held for them in a special garage area. When it's working, customers will be able to pull into the spot by finding their name on an overhead screen — and then just leave when they are ready, without having to worry about parking tickets or paying attendants.
In other areas of the mall's planned 5,000 parking spots, development is underway to bring a system of red and green lights that hover above each spot, letting drivers know if a space is open or not from far down the row.
"Both here and at Westfield Valley Fair [a mall in Silicon Valley] we've taken down lots and rebuilt and reconfigured them," Taylor said. Future visitors can expect more wayfinding and tailored validation schemes for parking as Taylor seeks to use technology to bring "a VIP concept" to perhaps the most painful part of a visitor's experience.
Once inside, more technology is visible in the form of touchscreen kiosks for mall directions, and big stadium-like LED screens for information and advertising. As the mall refurbishing is completed and the Wi-Fi network services more customers, Taylor is also looking ahead to when she can use network analytics to offer a more customized list of services to visitors via a forthcoming Century City app.
"We want to build a view of our customers, to let them know what's relevant to them — if they want to see a show, or hear about a sale at Bloomingdale's," Taylor said.
The Wi-Fi network and its connected technologies also will let Westfield and Century City offer more information and opportunities to the retailers leasing space there, as well as other brands and companies who might want to advertise in one form or another to reach the demographic that physically shows up at the mall.
"Our primary customer used to be the retailers," said Taylor of the role of mall-based IT. "Now we reach consumers, retailers here as well as other brands who are looking to connect. It's a huge shift in thinking."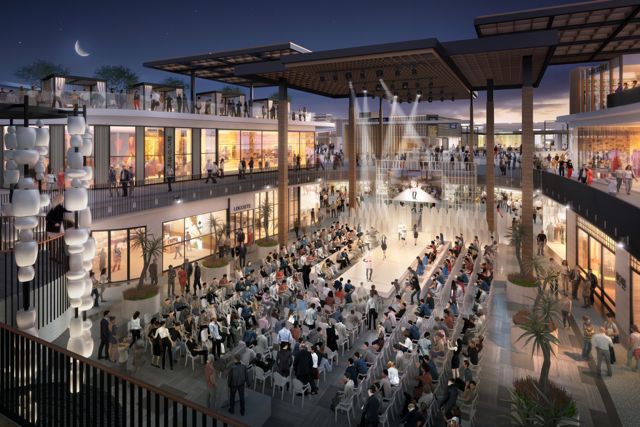 Artist rendering of the event space being built at Century City.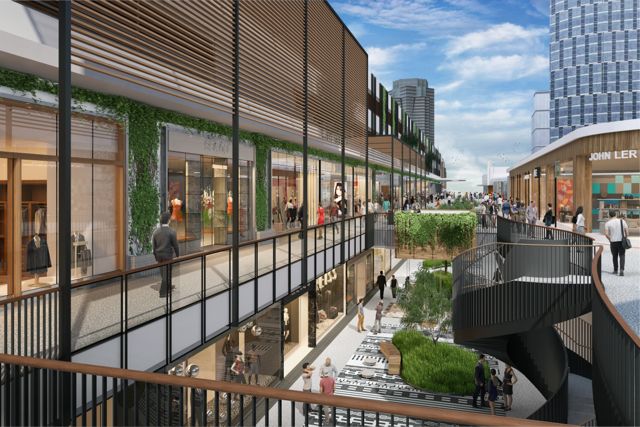 Another artist rendering of what the completed renovation will look like.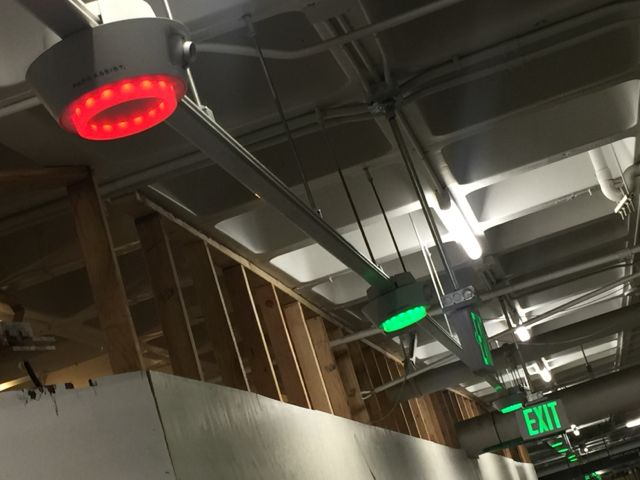 Red and green lights will alert drivers to taken or open parking spots. Credit: Paul Kapustka, MSR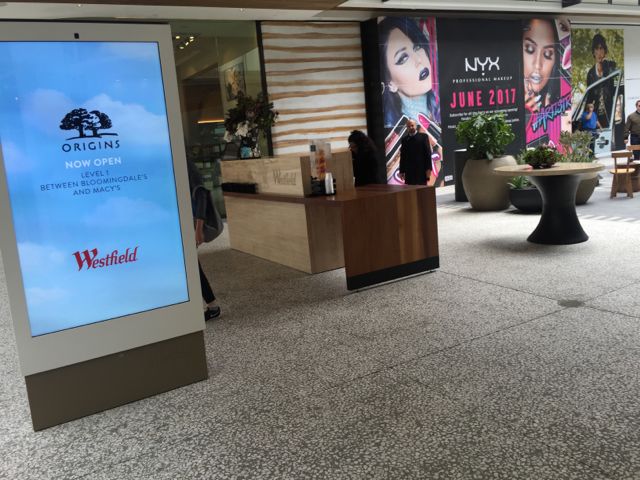 A digital-display kiosk next to a concierge stand at the mall. Credit: Paul Kapustka, MSR

It might not look like a stadium, but if you take a close examination of the technology being put into the renovation of the Westfield Century City mall, you'll see a familiar use of wireless and networking technology aimed at improving the visitor experience while also benefiting the mall's bottom line.