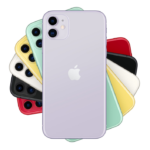 You may not immediately think of Apple as a huge driver in the Wi-Fi business, but some initial data points surfacing at early Wi-Fi 6 network deployments may be showing that Apple's decision to include Wi-Fi 6 support in its new iPhone 11 line could end up driving faster adoption of the latest version of Wi-Fi technology.
As always with any such predictions we suggest you order a side grain of salt to go with our year-end crystal-ball outlook for what lies ahead in 2020. But from an active fall season where we traveled a bunch and talked to a lot of smart people, here are some other observations we have for what lies immediately ahead for the wireless technology marketplace for stadiums, arenas and other large public venues.
1. Wi-Fi 6 adoption may happen faster, thanks to Apple
Editor's note: This column is from our latest STADIUM TECH REPORT, which is available to read instantly online or as a free PDF download! Inside the issue are profiles of new Wi-Fi deployments at the University of Oklahoma and the University of Florida, as well as profiles of wireless deployments at Chase Center and Fiserv Forum! Start reading the issue now online or download a free copy!
If you were building a new stadium or doing a full Wi-Fi refresh over the past summer, the big budget decision most likely on your plate was whether to go with Wi-Fi 6 gear or to wait and use Wi-Fi 5 equipment for now. While those who went the Wi-Fi 6 route may have paid a higer up-front cost and gone through some of the normal struggles with first-generation products, some of the data we are seeing from stadiums with operational Wi-Fi 6 networks is that Wi-Fi 6 client devices are already showing up, in not-so-small numbers.
And you can largely thank Apple for that.
One unofficial but largely true statement we feel comfortable in making is that at most stadiums, iPhones are still the vast majority of devices in use. We haven't asked for any formal numbers but everywhere we go we keep hearing that stadium network users are typically a majority of Apple devices, sometimes as high as 70 percent of the active devices. (If this sounds like a good topic for future in-depth research, you think the same way we do.)
When the iPhone 11 line came out in September with support for the emerging Wi-Fi 6 standard, it caught many in the industry a little by surprise, since historically Apple has been conservative when it comes to putting new technology into iPhones. Those of us who have been around a bit remember that happening during the shift to 4G, when iPhones were
pretty much a year behind
the leading Android platforms in supporting LTE.
If you also believe (as I do) that sports fans represent both ends of the device-adoption curve — meaning that a certain percentage of fans will have the latest phones, while others may still have flip phones — it is those forward-leaning fans who most likely got iPhone 11 devices as soon as they were available. According to the Golden State Warriors, they are already seeing iPhone 11 traffic on the Wi-Fi 6 network they have in the bowl seating at Chase Center. And at the University of Oklahoma, the all-Wi-Fi 6 network put in at the football stadium this year saw a growing number of Wi-Fi 6 connections as the season went on, hitting 2,000+ at one game later in the year.
So it's just a drip of data, but enough to be noticed. Certainly something for you (and us) to watch as the year progresses and more Wi-Fi 6 networks come on line.
2. CBRS deployments will take time to arrive
And even though Apple also included support for Citizens Broadband Radio Service (CBRS) spectrum in the iPhone 11 line, we don't expect to see CBRS deployments in venues accelerate anytime soon. Though there was a lot of CBRS talk ahead of the FCC approval for initial commercial deployments (and a lot of whispers about numerous trials at venues), so far there have been only two public announcements of live CBRS networks inside sports stadiums, and both those involve trial networks with no real deployment goal, and most significantly, no signed contracts.
While we remain big believers in the utility that the new bandwidth and LTE support may eventually bring, it's easy to see why CBRS faces a slow adoption rate in sports venues. The main reason may just be historical inertia, the same conservative approach that has (still!) kept many venues from deploying even basic connectivity on the Wi-Fi or cellular fronts. Second may be the combination of a lack of budget and expertise; because there is no have-to problem that CBRS solves, teams and venues don't need to rush into deployments.
And while we do believe that CBRS will eventually do great things for applications that need more mobility and security, the lack of turnkey-type approaches (like, "here is your CBRS package for parking-lot connectivity") makes it a naturally longer sales cycle.
Throw in the fact that many venues may also be currently facing a Wi-Fi overhaul decision or what to do next on the cellular front as 5G arrives, and you have even more reasons for putting CBRS-type discussions on a back burner. The good news is, by the time CBRS starts getting more real, devices will probably have the dual-SIM issue solved in a more user-friendly fashion. When that happens the ability to use CBRS networks as a sort of Super-DAS should accelerate adoption — but that's not a 2020 thing, at least as far as we can tell.
3. 5G is coming, whether anyone wants it or not
You can't escape the press releases, headlines and other paid-for proclamations that 5G cellular services are now live in many sports stadiums. But given the fact that devices that support 5G are still at a minimum, only a lucky few fans will likely take advantage of the fast, low-latency bandwidth, at least for the time being.
Going back to Apple — which did NOT include support for 5G spectrum in the iPhone 11 — you can guess why stadiums that have 5G services are reluctant to talk about exactly how many users are on the 5G networks. Here's a hint: It's not a lot. The good news for venues is, however, that since the 5G wars are basically a huge marketing battle between the largest cellular carriers, that means that those carriers will basically pay to put those networks into venues, so all you really need to do is provide some space in the rafters and a fiber connection.
At Mobile World Congress in Los Angeles, we did hear from Ericsson and Verizon that early 5G deployments in stadiums are showing some welcome surprises, like "better than expected" ability for signals to roam — meaning that you can actually (maybe) leave your seat or twist your phone and not lose the signal.
So while the great hyped-about promises of 5G applications in venues — virtual reality! fan-provided video! — remain just an idea, more good news is that with little user pressure, network engineers, equipment vendors and service providers all have some time to learn what works and what doesn't in a live environment. But for 2020, 5G in stadiums is more about carrier TV commercials than real commercial uses.
4. 4G LTE and DAS are still needed
One of the more-pertinent questions (and the subject of an upcoming MSR Research report) is what happens to the 4G LTE and DAS world inside venues, as carriers want to focus on 5G? The answer here is not as clear, but what's undeniable is that 4G LTE services are still going to be the balance of cellular traffic for at least the next 2 years, if not more. That means that venues of all sizes still need to have a DAS or small-cell strategy, which gets tougher as carriers squeeze the margins traditionally charged by neutral third-party hosts.
If you're a big or high-profile venue, you may not have as much to worry about, as for places like that (think Super Bowl, NBA/concerts, or any MLB stadium) it will likely be business as usual with carriers participating in DAS deployments. The biggest wild card on the DAS business side going into 2020 is the still-unresolved question of whether or not T-Mobile and Sprint will actually become one company. In places like Chase Center, that means negotiations over how T-Mobile and/or Sprint will come on to the DAS are on hold. Unfortunately, it's the customers who will suffer the most as DAS participation from T-Mobile and Sprint gets delayed.
Another thing we'll be looking at in the upcoming DAS and 4G report is what deployment methods will take the lead going forward — will the traditional top-down DAS antenna deployment method still work, or will under-seat deployments (like the one at Chase Center, see report in the latest issue) proliferate? Another trend to keep watching is the use of MatSing ball antennas, which are gaining more acceptance every time we talk to stadium IT teams. Amalie Arena went big with an all-MatSing DAS (using 52 of the big ball antennas) and Fiserv Forum recently put in 10 MatSings. We are also hearing of MatSing deployments happening in football stadiums, so watch for more MSR info on that front this year.