According to Matthew Jafarian, vice president of mobile strategy and innovation for the Heat, there is a current app that fans can use when they attend games at Miami's 19,600-seat AmericanAirlines Arena. But with a desire "to do so much more" with the app platform, Jafarian said the team went looking for new infrastructure to build upon and found a fit with Built.io's products.
With plans to allow fans to use the mobile app for ticketing, seat upgrades, and to act as a digital wallet to make in-arena purchases, Jafarian said after evaluating top app platforms in the market the Heat saw what they liked from Bulit.io.
"Built.io had 75 to 80 percent of what we need, right out of the box," Jafarian said in a recent phone interview. Jafarian also said that the Heat was impressed by the mobile app Built.io helped create for the Sacramento Kings and their new home, Golden 1 Center.
"It was clear [from the Kings app] that Built.io knew the NBA, and they knew how to do things like integrate with Ticketmaster," Jafarian said.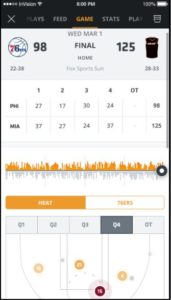 BeyondCurious, Jafarian said, will help complete the app's look and feel, a process BeyondCurious is already talking about on its website.

What's not yet determined is whether or not fans at AmericanAirlines Arena will have a Wi-Fi network to help them connect inside the venue. According to our last research the Heat's house was one of the few NBA arenas without fan-facing Wi-Fi, though the venue has added Wi-Fi in some locations like the outdoor plaza. Jafarian did not want to comment on any possible Wi-Fi plans; the arena does have a high-quality DAS network for cellular connectivity.

By the time next season starts, Jafarian said the Heat will be able to instruct fans on how to make the most use of the new app, including having dedicated lines for mobile payment at concession stands — a process he said is a real "wow" when fans see how much more quickly things can happen by using digital payment methods.

"We're just going to continue to step up our game [on the app] this offseason," Jafarian said.

Looking to build what they are calling "app 2.0," the Miami Heat have turned to startup app developer Built.io and design firm BeyondCurious to help build the next version of the team's mobile app, scheduled for release before the 2017-18 NBA season begins.