DirecTV has signed a $12 billion deal
with the NFL — priced at $1.5 billion a year for 8 years — to keep carrying its Sunday Ticket package has me thinking: Are we on the verge of a battle royale between the country's two biggest cellular providers over mobile access to NFL games?
I don't think it's hyperbole to claim that mobile access to sports content and live NFL games are two of the hottest things going. Go look up any list of the most-watched live TV shows, and you will find various big NFL games dominating the list. Add that to stats like today's news out of ESPN where the worldwide leader claimed it had 61.3 million unique mobile users during August and you can perhaps see another reason why AT&T might want to buy DirecTV: Because with Sunday Ticket, AT&T has a possible way to trump Verizon's stranglehold on smartphone access to live NFL action, which it now shows via its exclusive contract with the NFL for its NFL Mobile app premium service.
Judging by traffic and search terms on our humble little site, people looking to find ways to watch live NFL action on their mobile devices is a pretty hot topic these days. Right now, the only way for most people to see any live action at all on a smartphone is to be a Verizon Wireless subscriber, and have the premium service for the company's NFL Mobile app. Free to "More Everything" data plan customers and $5 a month for others, the premium NFL Mobile package provides access to Sunday night, Monday night and Thursday night games, as well as local Sunday games.
Sunday Ticket vs. NFL Mobile?
You can also watch the RedZone channel via NFL Mobile, but confusingly if you are on the More Everything plan you need to pay an additional $1.99 a month, a new process that helped mess up Verizon's NFL Mobile access earlier this season. Non-Share Everything customers who pay the $5 a month fee have RedZone included for free. (For many true NFL fans, RedZone is often even better than having games streamed, since you get all the best action, even from blacked-out games or games not televised locally.)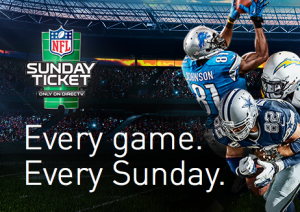 Where the battle might be joined is in the tablet space — since Verizon's $1 billion agreement with the NFL only provides live game access to "phone-like devices" and not to tablets or computers, it will be interesting to see what happens if and when AT&T becomes the new owner of DirecTV. One of the more interesting options from DirecTV this year was the NFLSundayTicket.TV option, which allows a type of "cord-cutting," providing all the options of Sunday Ticket without having to have satellite service. Right now the option (pricing starts at $199 for the season) is only available in a few cities, universities and apartment buildings, but with the heft of AT&T behind it who knows what might happen to both that deal and the regular Sunday Ticket package.

Though far pricer, the $329.94 Sunday Ticket Max plan offered by DirecTV currently allows for mobile viewing of all games, on "computer, tablet, phone or game console." Anyone else see the possibility of AT&T offering free Sunday Ticket plans to purchases of new phones or tablets?

Verizon, which provides information about NFL Mobile subscriber stats just like Bill Belichick provides deep insights on the inner machinations of the New England Patriots, has not recently stated how many subscribers it has on the NFL Mobile premium package. But for $1 billion over 4 years you can bet the number of users is well into the millions, maybe even more than 10 million — and the exclusivity of NFL live action has certainly been a big selling point for Big Red. The good news for NFL fans is, if any battle begins, it will likely include more access for lower costs — that's the kind of competition we can all cheer for.

Today's news that