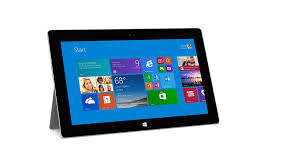 Microsoft has unveiled its newest lineup of Surface 2 and Surface Pro 2 tablets at the same time as Apple but unlike Apple, which will not ship for several weeks, Microsoft will have its tablets ready for market now.
The Surface 2 (the renamed Surface RT) and the Surface Pro 2 both underwent some major adjustments as second generation products, with many of the alterations shared by both platforms. They both have longer battery life, enhanced display resolution and more processing power.
The Surface 2 features an Nvidia Tegra 4 processor, which has helped it double its battery life to 10 hours. The tablet has an upgraded display that has a 10.6-inch ClearType Full HD display now renders 1080p video.
The USB 2.0 port has been upgraded to USB 3.0, its camera resolution has also increased, with a 3.5-megapixel front camera and 5-megapixel rear camera. The Surface 2 is available in 32GB and 64GB configurations and starts at $449.
It should be noted that the Surface 2 is designed to run a version of Windows 8.1 RT so that older Windows apps will most likely not work on the platform and a user would need to purchase all new apps from the Microsoft Windows Store.
The Surface Pro 2, which runs the standard Windows 8.1 operating system and is generally backwardly compatible with older Windows apps is powered by an Intel Core i5 processor, which along with other changes will provide a longer battery life than the first generation. It has a 10.6-inch 1920 x 1080- display.
The Surface Pro 2 comes in 64GB and 128GB versions with 2GB f RAM starting at $899 and with 4GB of RAM and in 256GB and 512GB configurations with 8GB of RAM for power users.
Microsoft has continued to aim the Surface family at the business professional with the Surface Pro 2 and at the home consumer with the Surface 2, positioning both as more than simply tablets but as full desktop replacements and has expanded the accessories that are available for the tablets so that the needs of both markets are met.
There are keyboard covers for both tablets, as in the past but the neat change is that they are now backlit so that a sure could type in the dark if they wanted. The Touch Cover starts at $120 and the Type Cover at $130. They are sold separately from the tablets. Next year a $200 Power Cover, that includes a built-in battery will also be added to the lineup.
The two tablets also come with some limited time offers as well. Customers who purchase either device will receive one year of free Skype calling to landlines, unlimited Skype Wi-Fi on their Surface 2 or Surface Pro 2 for one year, and 200 GB of free SkyDrive storage for two years.
In the last year Microsoft has made some headway in the tablet space and it seems as the market continues to fracture into additional segments its position as a desktop replacement, with its high capacity storage capabilities, will help create a distinct personality for its products. One question it will face is will its OEMs stay on board if they are competing with Microsoft?