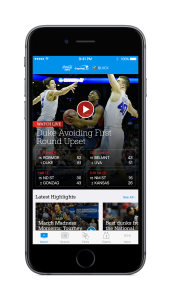 Remember when college basketball tournament season only had a small slice of games available online? Or when you had to pay extra to watch online? It wasn't that long ago. Thankfully though the future is here now and for 2016 the college hoops postseason has even more ways to watch games mobile or online, including one option to watch games via virtual reality programming.
Like last year, if you have a qualifying cable contract, you are basically covered and should be able to watch all the NCAA Men's Basketball Tournament games live, on whichever platform you want. The best way to start is to head to the NCAA's March Madness home page, where you should be able to find any and all information on devices, apps and other avenues to streaming coverage. According to Turner Sports, the NCAA and CBS Sports the games will be available live on 12 different platforms, including Amazon Fire TV, Apple TV, Roku players and Roku TV models. The new March Madness Live app isn't avalable until Thursday, so check back soon for the go-to app for everything March Madness.
Also like last year, you should be able to watch a few minutes of the first game you see without having to log in — great if you are just trying to catch a buzzer beater. The games of course will be available on regular TV, and the March Madness home page has what may be a great time saver, a widget that helps you find those obscure cable channels other than CBS or TNT where the games might be on. Since we've just moved, MSR's NCAA viewing team might make good use of the Zip Code-powered channel finder.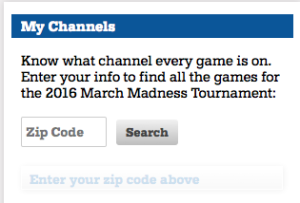 Even if you don't have a cable contract you can still watch a lot of games that are streamed online; games broadcast on CBS will be available for no charge on desktop, mobile and tablet platforms, while games broadcast on the other channels (TNT, TBS, truTV and local channels) should be available on those providers' websites. Again, if you get stuck or lost just defaulting back to the March Madness home page should give you a path to whatever game it is you're looking for.
Big East tourney available in VR
If you have a NextVR platform you will be able to watch the 2016 Big East tournament (it starts Thursday, March 10) thanks to a partnership between FOX Sports and NextVR. We're not VR-savvy here at MSR headquarters yet but with seven games and 15 hours of programming scheduled this might be a cool treat for VR fans. NextVR has an instruction page on how to watch the games in VR; if anyone tries this out, send us an email with a report on how it worked (or didn't) and we'll let everyone else know.
Also, don't forget — this year for the first time the NCAA Men's Championship game, scheduled for Monday, April 4, will be on TBS, NOT on CBS, the first time the champs game has been only on cable. And, there will be streaming options as well during Final Four weekend, according to the official announcement:
For the NCAA Final Four National Semifinals on Saturday, April 2, from Houston, NCAA March Madness Live will provide three distinct live video streams of both games to provide unprecedented viewing options for fans – live streaming of the traditional game coverage provided on TBS, along with "Team Stream by Bleacher Report" coverage or team-specific presentations offered via TNT and truTV. This year's NCAA Tournament will include the National Championship airing on TBS, the first time the championship has ever been televised on cable television.