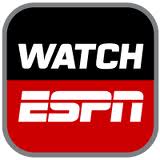 Mobile users that utilize devices that run on Microsoft's Windows 8 operating system no longer have to be second class citizens when it comes to viewing content generated by ESPN's family of networks as there is now a WatchESPN app for their devices.
What this means in real terms is that if you have a subscription to a network that shows the network's lineup they can have access to that includes ESPN, ESPN2, ESPNU, ESPN3, ESPN Deportes and ESPNEWS through WatchESPN.
The free app also includes the ability for users pin the app with a Live Tile that provides an instant view from the start screen that displays the top live events as well as features such as Snap functionality, a channel guide, the ability to browse by sport, access to featured live and on-demand content. ESPN Goal Line and ESPN Buzzer Beater will also be accessible when those channels are in season.
In case you are unaware of which cable and satellite video providers that do or will soon feature ESPN and so enable you to access this feature here is a short list. AT&T U-verse TV, Bright House Networks, Cablevision's Optimum TV, Charter, Comcast Xfinity TV, Cox, Google Fiber, Midcontinent Communications, Time Warner Cable, and Verizon FiOS TV.
This is very good news for supporters of that operating system, which consistently comes in third when versions of sport apps are delivered. MLB almost always delivers a version of its numerous apps first for Apple's iOS platform and then for Android. Others apps also tout the rival OS first and often there is no mention of Windows support.
Windows 8 had a strong fall growth spurt but has slowed while the older Windows 7 has seen strong growth in recent weeks. Hopefully this and increased support from other mobile apps will provide some much needed impetus for additional growth.