When you think of the WWE do you think of baseball? No? How about Sony? How about Whistle Partners- even heard of them? What they all have in common is a connection to Major League Baseball's Advanced Media arm, a partnership created by all MLB teams that handles its Internet, digital and interactive technology, everything from behind the scenes backroom technology to the latest in games.
If you wonder why this is important consider that MLBAM is estimated to have earned $620 million in 2012, and is rapidly extending its reach into both baseball and non baseball activities. Aside from running the MLB and Minor League Baseball websites it also runs websites for YES Networks, SportsNet NewYork and others. In backroom technology it delivers infrastructure to a variety of entities including Southwest Airlines, CBSSportsline and WatchESPN.
It has recently expanded with a flurry of new deals and announcements in the last few weeks. It now will provide back end infrastructure for Sony when that company delivers its planned cloud-based TV service. It will also be providing the technology that backs the World Wrestling Entertainment's planned 24/7 streaming network that is expected to launch next month.
It has also entered into a deal with The Whistle, a new sports entertainment network that is targeted at young fans and athletes. MLBAM will be providing technology services and infrastructure support for the network.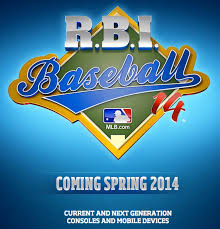 In the area of games it already has one of the most popular apps of all time at the Apple app store with MLB.Com At Bat, and that is just one of a host of games that it has available for fans during the season, and you can now add another to that list, or will be able to soon.
The MLBAM has announced that it will bring back from the dead RBI Baseball, to be called RBI Baseball 14, a game that has not been available for 20 years. Details are not available as yet as to what the latest generation of the game will look like but it is expected to be available for consoles as well as for smartphones and tablets.
We are not even mentioning the programs that MLBAM has set up for baseball that include Facebook, Instagram and other social media or its move to allow fans to upgrade tickets, order food and other activities with mobile devices. These are capabilities that it could also expand on and help other sports leagues deploy for their fans.
What do all of the activities mean? It could be a sign that it is getting all of its ducks in a row prior to making a run at an IPO, according to Forbes and other sources. It is estimated that MLBAM is worth as much as $6 to $8 billion and that with the current hot IPO market MLB could cash in on its media arm, even keeping half to retain control would result in a pretty penny in all of the teams' owners pockets.