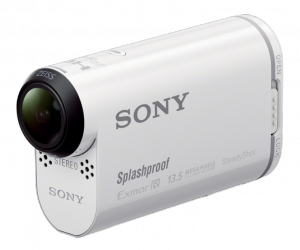 Sony has used the largest stage in consumer electronics, last week's 2014 International CES show in Las Vegas to bring out a high-end action cam that combine high quality images with a portability that will enable users to capture and display their feats and those of others, athletic of otherwise.
The Sony HDR-AS100V Action Cam is a POV (point-of-view) device that is designed for high-end users who want the best in video quality with a simple interface that is easy to use, important features if you are say, hanging on the side of a mountain filming your climb.
Basic Features
At the very start the HDR-AS100V comes in a splashproof case so when using around water, or snow as the season and situation dictate, it does not have to be encased in a waterproof housing, although that is needed for underwater work. It has a media/battery indicator that informs users of how much capacity and recordable time is available. Its on-screen indicators inform users of both recording and shooting mode as well as GPS Tracking States and image stabilization. It has a display panel that enables users to view settings and images. A waterproof casing is also included.
Advanced Image quality
However the camera offers much more including the ability to record high quality, 1080/24p video and high-speed 720/120p or 720/240p shooting. It has a built-in stereo microphone for use with the images. For still images it functions as a 13.5 megapixel camera and has multiple functions including the ability to do time-lapse photography.
The key to the image quality starts with the camera's support of XAVC 5, a version of the codec that was developed for the emerging 4K/HD video space. This enables very high speed bit transfer that in turn allows the camera to capture live video in quality HD. The next step is its ultra-wide Carl Zeiss Tessar lens that provides a 170-degree viewing angle. To augment that there is Sony's SteadyShot Image Stabilization, a huge enhancement over Sony's previous stabilization offering, providing double the camera's stability over the older technology. When on it limits the lens's viewing angle to 120 degrees.
The Action Cam AS100V features a lens that is ideal for panoramic shots that is not all the camera is capable of, it features an enhanced 18 megapixel sensor for use in low light and night conditions, perfect for everything from spelunking to night skiing.
Connectivity
Currently the camera cannot do live video streaming but Sony is promising that an update this summer with provide that capability. However despite that there are a number of very nice futures including both Wi-Fi and Near Field Communications (NFC) support that enable to share content on smartphones and tablets using the free PlayMemories Mobile app that supports both Android and iOS devices.
For the technically minded there is the ability to control up to five Action Cam AS100V devices using the optional Live View Remote model RM-LVR1, a wristwatch sized controlling device that features an LCD that is waterproof and synchs automatically with the cameras. The HDR-AS100V with the RM-LVR1 as a bundle that is being called the HDR-AS100VR.
Mount Options
While users of portable cams often find new and unusual mounting issues for the device, Sony Electronics has worked hard to head off issues in this area. It ships with a tripod adapter that can be used with the cameras when they are out of the waterproof housing. That however is just the start as it also has at least 26 different mounting attachments with a number of new ones joining the already established mounts that the company had made available for earlier models. He newest mounts include an Action Monopod (VCT-AMP1), Hard Lens Protector (AKA-HLP1), Camera Leash Pack (AKA-LSP1), Arm Kit (VCT-AMK1) and the aforementioned Live-View Remote Kit (HDR-AS100VR).
The $299.99 HDR-AS100V is currently only available as a pre-order from Sony but the company said that it expects it to hit the market in March.