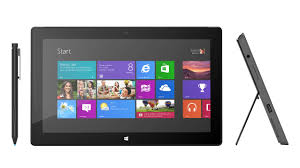 Microsoft has taken the stage this morning in New York City to introduce its second generation tablets as the company maintains that with this launch they have changed the game in the tablet space with products that can also serve as desktop computers.
It has brought out refreshment offerings in place of its first generation Surface Pro and Surface RT, equipped with faster processors, additional accessories, better battery life and in one case a new branding and naming approach.
Up first was the Surface Pro 2 running an Intel Core i5 Haswell processor it comes with either 64GB or 128GB of storage with 4GB of RAM or in 256GB or 512GB storage with 8GB RAM. The company said that it has improved batter life by 2.5 x over previous generation and it has better speakers and an improved kickstand. It is now available for preorder with the Surface Pro 2 starting at $899.
The new Surface 2 is the second generation in the formerly named RT family. It is powered by an Nvidia Tegra processor and has a 10.6-inch ClearType Full HD display as does the Surface Pro 2. Both platforms have been upgraded to support USB 3.0 and the cameras have been improved with a 3.5MP front camera and a 5MP rear camera. The Surface 2 will be available in 32GB and 64GB versions with an entry level price of $449.
Microsoft has reached the 100,000 app level for its tablets and also now ships them with the full Office Suite including Outlook. The company said that the first generation's sales far exceeded expectations and was one of the best selling devices in the company's history.
There are new covers for the tablets as well starting with the Touch Cover 2, which is now backlit and has the ability to turn on the lighting as you start to type and off after you are done. It has a $119.99 price tag while the Type 2 Cover is a more ridge device that is also backlit and comes in a range of colors including Cyan, Magenta, Purple and Black. It has a $129.99 list.
In its drive to make its tablets ubiquitous in both home and business Microsoft has a new docking station that it said will convert the tablet into a desktop PC. The docking station can connect with an external monitor, Ethernet, speakers and power supply. PC peripherals connect via its one USB 3.0 port and three USB 2.0 ports.
The Docking Station for Surface Pro will have an estimated retail price of $199.99 and has a projected release date of early 2014. Microsoft will start taking orders for the new tablets tomorrow and they are expected to ship Oct 22, 2013.