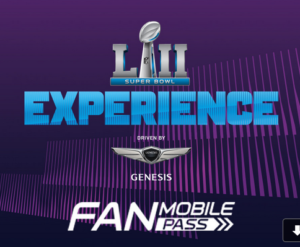 For the second year in a row, the NFL is building its own mobile app for the Super Bowl, this time with a single-application strategy meant to cover both fan activities the week before Super Bowl LII, as well as game-day functionality at U.S. Bank Stadium in Minneapolis.
In a phone interview Thursday with Aaron Amendolia, vice president of IT services for the NFL's office of the CIO, Amendolia said the new strategy of having a single app for pre-game and game-day activity was meant to drive adoption and eliminate confusion over which app fans might need for various Super Bowl interactions. Last year, the NFL tried to harmonize its Super Bowl app strategy but still required fans to use a separate app — the NFL Mobile app — to see game highlights and other content.
The Super Bowl LII app is now available for download, and fans can sign up on the Super Bowl app website for a chance to win tickets to the big game, while also providing personal information that Amendolia said will assist with the league's quest to bring more "personalization" to the experience.
"There's more gamification to the app, with the opportunity for fans to win achievements" through the week, Amendolia said. According to the sign-up web page, there will be a heavy focus on social media engagement, with promises of availability of free autographs from current and past NFL stars; the ability to take a picture of the Super Bowl trophy; and to see images of all 51 Super Bowl rings. There will also be sponsor-activation activities throughout Minneapolis, most likely at the NFL Super Bowl Live fan site on Nicollet Mall and other Super Bowl events, where presumably fans can "check in" with the app's QR code to earn rewards.
Wayfinding maps, but no blue dots
For both the week before and game day, Amendolia said the app will have wayfinding maps, but they won't be active "blue dot" wayfinding, even though that feature is supported in the Vikings' own stadium app, which was developed for the Vikings by app developer VenueNext.
"We did discuss [beacon-enabled] options, but there are some challenges to that that are unique to the Super Bowl," said Amendolia, noting things like temporary structures and closed roads for Super Bowl activities that could be harder to integrate into maps. For wayfinding beyond maps, Amendolia said there would be a heavy reliance on digital signage information in and around the stadium to help fans find their way.
Like last year, the NFL Super Bowl app will not have any functionality allowing fans to order food or drinks for delivery or express pickup, with the latter being a service that was tested at Vikings home games this season. The app will allow fans to pre-order merchandise and pick it up at locations around town during the week before the game, Amendolia said, and will also allow suite ticketholders to order merchandise for pickup during the game.
One interesting question is whether or not the Vikings will be allowed to make their own app active for the game if they make the Super Bowl by beating the Philadelphia Eagles in the NFC championship this weekend. If so, it would represent the first time an NFL team played in the Super Bowl at its home stadium, an issue never faced in the era of team apps. Vikings officials did not respond yet to questions about the possible availability of the team app for the Super Bowl, but we will update this post if and when they do.