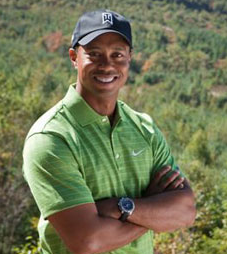 In honor of ESPN fulfilling our longtime wish for continuous coverage of Tiger Woods at a golf tournament, we are bringing back our Watching Golf this Week feature. And for this weekend's third major of the season, the British Open (aka the Open Championship) the viewing guide is easy: Just check ESPN, both on the tube and online, because the worldwide leader will give you wall to wall coverage of the action that starts Thursday morning at Royal Liverpool in Hoylake, England.
So what's the deal with the Tiger Cam? We haven't interviewed anyone at ESPN but it's easy to see how this idea came about: With Eldrick finally returning to the pro golf majors scene for the first time this year after back surgery, there is an incredible amount of pent-up Tiger interest. Still easily the biggest draw in golf — just go to any tourney he's in and watch where the crowd goes — Woods is an even bigger interest item this week, with everyone wanting to see if he is A) recovered enough to play competitively, and if so, B) if he's good enough to start the Nicklaus majors-hunt in earnest.
While ESPN will most certainly cut to Woods whenever possible during normal telecast coverage, the idea of putting a camera on Woods only and using ESPN3, one of the company's "Internet channels" to show streaming coverage is a masterstroke. Not only will you lure in potential "casual" viewers who might not give a hoot who Martin Kaymer is but who will watch Woods, you will also likely get golf nuts doing the two-screen dance, with the TV on the regular coverage and a phone, tablet or laptop following Woods. At the very least it's a great experiment and one we expect will be copied (at least we hope so) in other sports, soon.
But while you might not want be so fired up to watch something like a "quarterback cam" or a "third baseman cam," individual player coverage in things like golf tournaments is a perfect idea. In fact, most online golf efforts for the majors over the past few years have had "featured group" channels online, where they follow attractive pairings throughout a round. This is not really much different except for the focus on Woods, which some will no doubt say is unworthy, since Woods is only a single player, he's not bigger than the game, blah blah blah. Tiger fans get it, and will (I predict) turn out in the millions to watch every shot he takes over the weekend. Here's hoping for Tiger, ESPN and for golf that the cams stay on through Sunday. Plus you can watch it mobile, via the WatchESPN app. Good on ya, ESPN.
There will, of course, be other stories from Liverpool, including whatever magic defending champ Phil Mickelson can conjure, and whether or not we will see Major-winning Rory McIlroy finally fulfill his Open dreams, or whether he'll continue to sputter in the big events. If I could I'd bet a few pounds on American Ricky Fowler, who has been steadily doing well in majors this year. Is this his breakthrough event? Are the British ready for an all-orange winner on Sunday? Or will Sergio Garcia finally come through? It all gets underway Thursday, and for once we'll have a way to watch and see exactly everything that Tiger does.
BONUS: Doug Ferguson penned an excellent, technically correct article about Wi-Fi at Royal Liverpool. Hello Augusta, can you hear me now?
THE OPEN CHAMPIONSIP
ESPN COVERAGE
This is long, but worth it… what follows is the entire ESPN lineup of content from The Open (all times U.S. Eastern):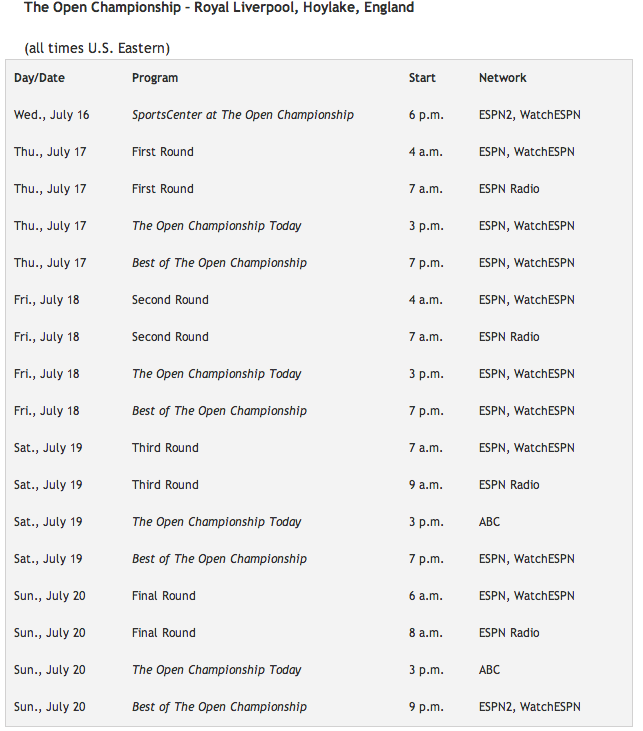 FACEBOOK PAGE
Get yourself close to the Claret Jug at The Open's Facebook page.
TOP TWITTER FEEDS TO FOLLOW
The Open's own Twitter feed.
Geoff Shackelford — well known golf writer. If you're not following Geoff you are missing the online boat.
Golf Channel — official Golf Channel feed
@PGATOUR — official PGA Twitter feed
@StephanieWei — great golf writer who is a Twitter fiend.
Doug Ferguson is the lead golf writer for AP. Good Twitter insights that often aren't part of your wire-service lead.
TOURNAMENT APP
One of the better event apps, the Open's App has everything you want in a handheld device app. iPad, iPhone and Android, even Windows. You will still need the ESPN contract to view live video, though. Still, well worth the download especially for the Thursday-Friday times when you may be at work.
WHAT'S THE COURSE LIKE?
Everything we're reading says that Royal Liverpool (aka Hoylake) will play much differently than it did back in 2006, when Tiger did his 1-iron stinger thing, hitting only one driver all weekend en route to victory. According to an AP story today Tiger says the greens are soft, which might mean that American players unused to links golf might have a better chance. To us, it really doesn't matter which course they use for the Open Championship. We're so tired of TPC layouts by this time of the year that basically anything links-like is a refreshing slap in the face, like an ocean breeze. Fore, gentlemen.
WHO WON THIS THING LAST YEAR?
C'mon, do you need to ask? HEFTY!
FEDEX CUP LEADERS
1. Jimmy Walker, 2,322 points
2. Bubba Watson, 2,135
3. Matt Kuchar, 1,725
4. Dustin Johnson, 1,701
5. Jordan Spieth, 1,636
WORLD GOLF RANKINGS
1. Adam Scott; 2. Henrik Stenson; 3. Justin Rose; 4. Bubba Watson; 5. Matt Kuchar.
And… for those of you late risers who miss the Open coverage, don't forget to watch Annika take on Michael Jordan and John Elway in Tahoe at the American Century Classic:
AMERICAN CENTURY CLASSIC TV
Friday, July 18 — NBC, 4 p.m. — 7 p.m.
Saturday, July 19 — NBC, 3 p.m. — 6 p.m.
Sunday, July 20 — NBC, 3 p.m. — 6 p.m.