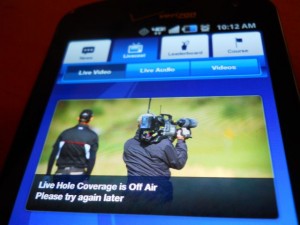 Sunday Update: After deleting and re-installing the British Open app things seem to be working better. We can get a live commentary show and a live link to WatchESPN (which we can't watch because we are on Android — see below). The Open's own radio is working, with the great BBC commentators, but the Open app's link to ESPNRadio isn't working. The ESPNRadio app, however, is working today so if we need to we can go native for the final round. Original Saturday post follows.
Before the British Open started we were impressed by the online and mobile options for viewing and listening to live coverage of the year's third golf major. But after trying and failing to connect in several fashions Saturday, we're less than impressed with the mobile performance from both ESPN and the Open's own app.
On the ESPN side, the online live version of the TV broadcast worked fine, as long as you can remember to enable pop-ups for your browser (we spent a frustrating minute clicking on the screen to no avail before we saw the little pop-up warning in our Chrome browser and enabled the WatchESPN window). As a paying Comcast subscriber I expected to also be able to watch the coverage live on my Android smartphone, but when I loaded WatchESPN there was no Comcast option for authentication.
After a couple frustrating auto-replies from ESPN help I finally got an answer from "Jack" in customer support that says Comcast Android users are still second-class citizens. As in, no mobile video for you!
For Comcast XFINITY subscribers, WatchESPN is available for use on the following mobile devices: iPhone, iPod and iPad (must have OS 4.0 or later).

The WatchESPN application is not yet available in Android devices for Comcast subscribers, but we will be launching the service soon.
Maybe I'm a harsh judge but this is kind of unacceptable for a company like the WorldWide Leader, which presumably has lots of programming assets at its beck and call. I thought I might be able to do an end-around by using the Open's own app, but even as the third round leaders were early on the back nine, the app's audio and video coverage were "off the air," with no explanation. From what I can tell it might be a problem in that the app has live coverage via the BBC for viewers in the UK, but if there is some way to switch to US-available coverage here, I can't find it in the app. On the good side, the app has great archived video, which works superbly like a well-edited midday highlights package.
ESPNRadio worked well in my car, but the Open broadcast also didn't work on the Samsung Stratosphere Android handset from Verizon that I have. Again, I suspect there was some issue with the Android handset not being supported by the necessary Comcast authentication. We are emailing ESPN folks now and will relay a better answer if we get one.
The bottom line is, out of the three majors so far this year the folks behind the British Open online coverage, namely ESPN, are in third place. The Masters is far ahead of all tournaments, with its solid multiple-camera options, and its good performance in online and mobile platforms. While the U.S. Open had fewer choices, its delivery and access were also far superior to the muddle that was the ESPN/Open app arrangement for the British Open. Plus, ESPN's online menu of British Open options was mixed in with all the other things the WWL was showing on its online menu. I get it, ESPN's got a lot going on. But is it so hard to wall off the British Open selections on a separate page? And maybe include all the other golf-related stuff there? Too many times it seems like ESPN doesn't get it right when they are covering individual events, and the British Open is one of those times.
While I understand and respect ESPN's decision to base online access on whether or not customers have a valid cable contract, the whole what-is and what-isn't online for ESPN is still muddled, and the point failures for the Open are proof that ESPN still needs to figure out what its priorities are in the online/mobile space, and how it can make it less confusing for people to figure out how to get access. The fact that I, as a paying Comcast subscriber, couldn't get access on an Android phone, should have been something ESPN called out beforehand, not buried in a support email after the fact. And I think event organizers should take a harder look at who they sell coverage rights to, if the digital access is going to be so constrained. Just seems like it's harder than it needs to or should be.
Miss the round? Here are the highlights courtesy of the Mothership: