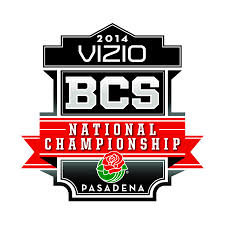 An era ends tonight in college football with the last of the current format championships about to be played between Florida State and Auburn. Next season will usher in a playoff format that is a major change from the current poll-based system.
The current system was introduced in 1998 and now it is gone, but when you look at the freight train of equipment and army of personnel that ESPN is bringing to the event, it will likely live on for quite a long time in the form of multiple digital recordings.
The sports channel is broadcasting the 2014 Vizio BCS National Championship game tonight with the biggest broadcast team in its history and has termed it the "BCS Megacast" with it being presented across six of its television platforms as well as its audio and digital outlets.
You can pretty much take your choice of platforms- ESPN, ESPN2, ESPNEWS, ESPN Radio, ESPN3, ESPN Classic, ESPN Deportes, ESPN Goal Line and ESPN International. There will be pregame talkshows, interviews, analysis, celebrities and much more available prior to the kickoff at 8:30 ET.
Social and digital media will be strongly represented in the mix with the personalities posting thoughts and comments prior to kickoff as well during the game.
For those that are not able to watch at home or in a comfortable sporting establishment the presentations that were broadcast on the ESPN, ESPN2, ESPN3 and ESPNEWS will be available to a range of alternative platforms via WatchESPN including online at WatchESPN.com, on smartphones and tablets, through ESPN on Xbox LIVE to Gold members, on Apple TV and Roku to fans who receive their video subscription from an affiliated provider.
So how many people and trucks will this take? According to USA Today Sports and ESPN it will be 16 trucks, 63 cameras, 73 microphones a four-engine generator and as many as 200 employees, only a few who you will see online.
Hopefully this will make for a great broadcast, but much of that will depend on the teams. A stinker of a game will lead to fans tuning out as happened a few years ago when Alabama crushed LSU 21-0. The blowout was obvious early and fans tuned out in droves even though ESPN had added some interesting bells and whistles to its broadcast. At that time the future was 3D and ESPN had a 3D broadcast of the game as well as a more traditional broadcast.
However I am looking forward to the game and hopefully in all of the broadcasts comes something that will last to enhance future broadcasts.