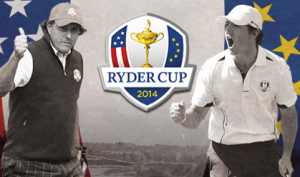 Are you ready for late-night or early morning golf online? That's what fans in the U.S. will be watching in potentially large numbers this weekend as the Ryder Cup takes place in Gleneagles, Scotland. With live coverage starting Friday at 2:30 a.m. Eastern time (that's 11:30 p.m. Thursday for us west coaster types) it's a good bet many golf fans will be tuning in online, using headsets so they don't wake up the rest of the house with the TV.
All the action will be streamed live by Golf Channel and NBC, through their Golf Live Extra and NBC Sports Live Extra services. Depending on the day and time you may need to bounce between the two outlets, a small hassle but an OK price to pay to get to see the intriguing competition live. You will need to have an authorized cable account to view the live feed, though it looks like they are giving fans a 30-minute grace period of free viewing before you have to log in with your cable account. You will also be able to see the live action via the Golf Channel/NBC apps for iOS and Android devices.
Especially interesting to us is the addition of something Golf Channel is calling its Alternate Shot coverage, which is basically a different set of analysts and announcers led by the entertaining David Feherty. Feherty, a former player who is often the most engaging voice on any broadcast these days, has a unique style and fun sense of humor, which fans of his excellent interview show Feherty know well. Like past experiments with college football that offer announcer choices, we are glad to see the trend spreading to other sports, and expect Feherty — who played in the 1991 Ryder Cup and is extremely passionate about the event — to do a bang-up job.
Of course, the competition will also be shown on TV, and if you want a good place to find a lot of information easily the Golf Channel's Ryder Cup hub is a fine place to start.