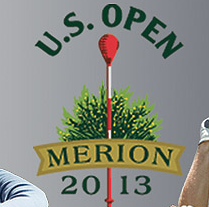 Are you ready for 2013 Major No. 2? The big daddy of them all? I truly can't wait for this one to start, because I feel like we all sorta got cheated at the Masters. I mean — lost in the hubbub of the Tiger Drop Crisis was the fact that the dude was just about ready to take the lead and start stomping everyone.
And then the ball hit the pole. And went into the drink. And then the wheels came off.
As play starts today outside Philadelphia at the quirky old Merion East course (Anyone else think the logo featuring the pole-baskets looks like a freaking bloody Q-tip?) all eyes rightfully will be on Tiger Woods, and his quest for Major No. 15. Nobody else really matters right now, and nobody this year is truly playing at his level. But one thing is for sure, the "new" Tiger isn't anything like the old — over the last year or so he has shown a tendancy to choke on the weekends at majors, something he never did before. And the rest of the guys playing? They've gotten better.
What does that mean for Tiger? It means his margin of error is much slimmer than it was when he was the only guy on the tour who looked like an athlete. Now there's lots of them. He used to be by far the farthest hitter, now he's about top average. There are new foreign foes like Graeme McDowell, who aren't going to be intimidated by Tiger the way the U.S. Tour guys used to be. With its tight layout and wet conditions Merion is probably going to be a birdie fest, so no more rope-a-dope par fests like last year at Olympic. There's going to be room to make shots here, so let's get it on. Having just watched the Blackhawks beat the Bruins in triple overtime in the Stanley Cup opener, I'm ready for more drama and lore. Don't let us down, Tiger. Or whoever wants to keep Tiger's majorless streak going.
ESPN has your live TV Thursday and Friday, our suggestion is mute when Berman starts talking, unmute when Van Pelt has the mike. NBC gets the weekend, with lots of online viewing available at USOpen.com or via the U.S. Open app, which beats pants off the PGA Tour app (which still doesn't really work on all Android phones). WatchESPN and ESPNRadio also available online.
THE U.S. OPEN
(all times Eastern)
TV COVERAGE
Thursday, June 13 — ESPN, 9 a.m. — 3 p.m.; 5 p.m. — 7 p.m.; NBC, 3 p.m. — 5 p.m.
Friday, June 14 — ESPN, 9 a.m. — 3 p.m.; 5 p.m. — 7 p.m.; NBC, 3 p.m. — 5 p.m.
Saturday, June 15 — NBC, 1 p.m. — 7:30 p.m.
Sunday, June 16 — NBC, 1 p.m. — 7:30 p.m.
RADIO
SIRIUS XM (Satellite)
12 p.m. — 4 p.m., Thursday; 12 p.m. — 5 p.m, Friday. The live broadcasts are also available to subscribers on the SiriusXM Internet Radio App and online at SiriusXM.com.
ESPN RADIO
10 a.m. to 4 p.m. Thursday-Friday, 2 p.m. — 8 p.m. Saturday-Sunday.
NEW! PGA TOUR RADIO!
This a better deal for those not living in the U.S., because it's free internationally. Inside the U.S. you will pay (due to rights fees) $1.99 per event or $9.99 for the whole year. Gives you the CBS feed, audio version. Click here for more info and payment plans for your area.
ONLINE
The U.S. Open site at USOpen.com has live online coverage with featured groups.
Thursday groups:
7:11 a.m. – Marquee Group 1 (Phil Mickelson, Steve Stricker, Keegan Bradley)
1:14 p.m. – Marquee Group 2 (Tiger Woods, Rory McIlroy, Adam Scott)
Friday groups:
7:44 a.m. – Marquee Group 1 (Tiger Woods, Rory McIlroy, Adam Scott)
12:41 p.m. – Marquee Group 2 (Phil Mickelson, Steve Stricker, Keegan Bradley)
Featured groups on the weekend, TBD.
There are also mobile apps for iOS and Android.
FACEBOOK PAGE
Here's the USGA Facebook page.
TOP TWITTER FEEDS TO FOLLOW
The U.S. Open Twitter feed.
Geoff Shackelford — well known golf writer. If you're not following Geoff you are missing the online boat.
Golf Channel — official Golf Channel feed
@PGATOUR — official PGA Twitter feed
@StephanieWei — great golf writer who is a Twitter fiend. Now leading the Wei (hah!) with Google+ Hangouts during most tourneys.
Doug Ferguson is the lead golf writer for AP. Good Twitter insights that often aren't part of your wire-service lead.
Matt Ginella is a former Golf Digest writer now at Golf Channel. Your guide to the best golf course reviews, evar. Plus great columnist-type commentary on a regular basis.
WHAT'S THE COURSE LIKE?
If you haven't heard about good old Merion and the baskets on the flagpoles you've been under a rock the past week. Here's a great lengthy takeout on Merion's East Course from the folks at SBNation.
WHO WON THIS THING LAST YEAR?
The Birdman! Excuse me, it was Webb Simpson, with an assist from Jim Furyk.