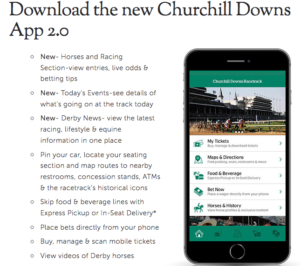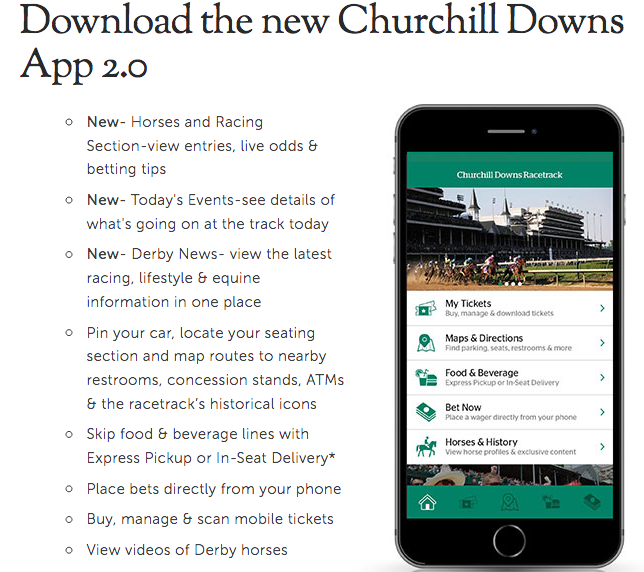 Call it a content-focused refresh — the Kentucky Derby app developed for Churchill Downs by VenueNext will add several new features for race-day fans, including live odds and betting tips.
The mobile app, which debuted at last year's race, will once again offer the ability to place bets from within the app, so the new content may help produce more winners if the betting tips are correct. Also new to this year's version of the app are a "today's events" section which will detail what is happening at the racetrack throughout the Kentucky Derby weekend, as well as a "Derby News" section which will, in the words of Churchill Downs, provide "racing, lifestyle & equine information in one place."
Like last year, the app will also support mobile ordering for in-seat food and beverage delivery or express pickup, but only in certain selected sections of the venue, which will see somewhere near 170,000 attendees over the race weekend. Last year, the track made delivery available to 500 seats in its Turf Club section, and express pickup available to another 15 sections of seating areas. We don't have any details yet whether or not those services expanded for this year's race, but stay tuned.
We'll also be watching to see if this year's wireless activity surpasses last year's totals of 12.2 terabytes of cellular data for Derby Day and 20.15 TB for the weekend, numbers from the combined traffic of AT&T and Verizon Wireless customers.