Most of the standard features of the VenueNext app platform, including interactive wayfinding and digital ticketing support, will be available to all fans for the May 7 Derby Day, according to Churchill Downs Racetrack general manager Ryan Jordan. Additionally, a small number of premium-seat ticketholders will be able to order food and drink for delivery to their seats via the app, a sort of "beta test" of one of the other VenueNext app services that Jordan said Churchill Downs plans to expand for future races.
"We're very excited to roll this app out" on Derby Day, said Jordan in a phone interview. Though the racetrack has previously had some mobile apps, Jordan said they were mainly focused on the social element of the event, with links back to the Derby website. The VenueNext-powered app infrastructure, he said, "really translates well to our venue and we think will significantly improve the fan experience at the Kentucky Derby."
For VenueNext, the big-name deal is its first outside of stadium sports, and the sixth app deal overall, following deals for apps for the San Francisco 49ers, the Dallas Cowboys, the
New York Yankees
, the
Orlando Magic
and the
Minnesota Vikings
. VenueNext also designed a special Levi's Stadium app for the recent
Super Bowl 50
.
Wayfinding, betting, and more
One of the top features from the VenueNext app package that "excites" Jordan is the app's ability to use a beacon infrastructure to support a live interactive wayfinding map, where app users can track themselves in "blue dot" fashion similar to Google maps for driving. Since Churchill Downs is an old, sprawling facility, Jordan said that helping fans find their way was always a challenge.
"There's been 142 years of building this place out, and it's not like a bowl stadium where you can just keep walking in a circle to find things," Jordan said. "To be able to use a mobile app to find your seats, find your car after the race, and find amenities like betting windows is very exciting. We have lots of signage, but there are lots of different buildings and signs, and it can be hard to find your way around."
For several years now, the Derby has been building its own mobile betting app, which allows fans to place bets from anywhere at the track. That app, called Twinspires, is now also integrated within the new VenueNext app, which means that fans don't have to exit and find another app to place wagers.
To make sure fans can stay connected anywhere on the grounds, Churchill Downs and partners Mobilitie and AT&T
upgraded the venue's DAS
again this offseason, adding more capacity for AT&T 4G LTE services. Though Churchill Downs does have a small amount of Wi-Fi for the main buildings like the clubhouse and the towers, Jordan said that service is mainly for race days other than the big event.
"For regular race days [when fans are mostly in the main buildings] we may have 10,000 to 20,000 people here," Jordan said. "For the Derby, we will have 170,000."
Starting slow with food delivery
Also included in the app is the ability for fans to order food and drink to be delivered to their seats, or to be picked up at an express window at a nearby concession stand. Jordan said that during the offseason Churchill Downs retrofitted several kitchen areas to support the delivery and express pickup options, but that the track will start small with the service and expand from there. In addition to the Turf Club and its 500 seats where delivery will be an option, another 15 sections of seats will be able to use the app for express pickup orders, Jordan said.
"There's a lot of employee training and infrastructure [for deliveries] that's new to us," said Jordan, explaining the start-slow approach. "The good news is, there's lots of opportunity to keep expanding as we go."
(more app screenshots below)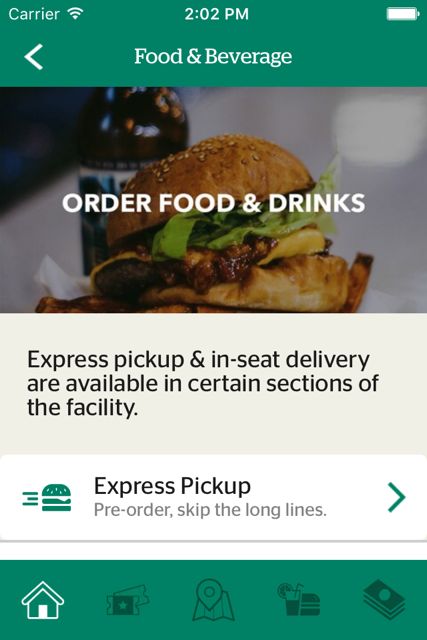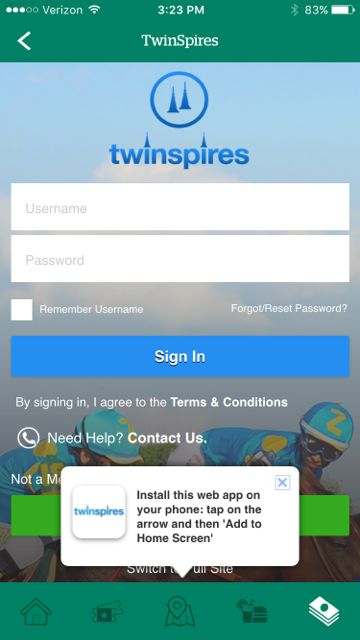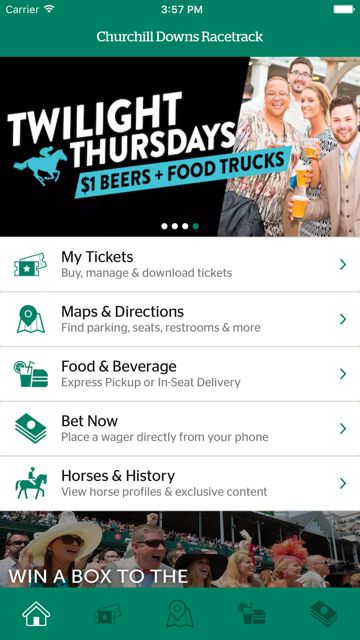 Fans at this year's Kentucky Derby will be able to find their way around historic Churchill Downs and place bets on races via a new venue mobile app, designed by VenueNext, the app developer for Levi's Stadium and other football, baseball and basketball teams.