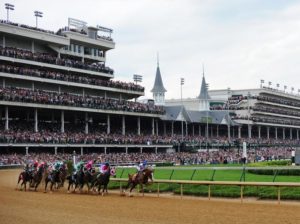 Reversing course from several previously planned options to include fans at this year's race, the Kentucky Derby announced that the Sept. 5 event will now be held without fans, due to safety concerns over the Covid-19 pandemic.
"With the current significant increases in COVID-19 cases in Louisville as well as across the region, we needed to again revisit our planning," the race said in a prepared statement. "We have made the difficult decision to hold this year's Kentucky Derby on September 5 without fans. Churchill Downs and all of our team members feel strongly that it is our collective responsibility as citizens of Louisville to do all we responsibly can to protect the health, safety and security of our community in these challenging times and believe that running the Derby without spectators is the best way to do that. We deeply regret the disappointment this will bring to our loyal fans."
According to the Derby, the Kentucky Oaks race will still be held on Friday, Sept. 4, and NBC will show both the Oaks (3-6 p.m. Eastern time) and the Derby and its undercard races (2:30 – 7:30 p.m. Eastern time) on TV.
Prior to being rescheduled from its traditional May date due to the pandemic, Mobile Sports Report had heard several strategies for bringing more connectivity to the sprawling grounds of Churchill Downs, where DAS improvements over the years have kept pace with the ever-growing demand for more mobile bandwidth from fans at bucket-list events. Now we will have to wait until 2021 at least to see if Churchill Downs adds in more wireless capacity, especially on the Wi-Fi side.