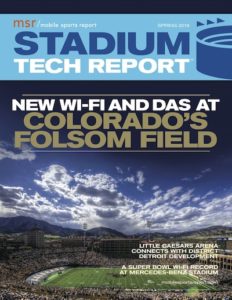 MOBILE SPORTS REPORT is pleased to announce the Spring 2019 issue of our STADIUM TECH REPORT series, the ONLY in-depth publication created specifically for the stadium technology professional and the stadium technology marketplace.
Our string of historical in-depth profiles of successful stadium technology deployments continues with reports from the record-setting Wi-Fi day at Super Bowl 53, a look at the network performance at Little Caesars Arena, plans for Wi-Fi and DAS at the University of Colorado and more! Download your FREE copy today!
We'd like to take a quick moment to thank our sponsors, which for this issue include Mobilitie, JMA Wireless, Corning, Boingo, MatSing, and Cox Business/Hospitality Network. Their generous sponsorship makes it possible for us to offer this content free of charge to our readers. We'd also like to welcome readers from the Inside Towers community, who may have found their way here via our ongoing partnership with the excellent publication Inside Towers. We'd also like to thank the SEAT community for your continued interest and support.