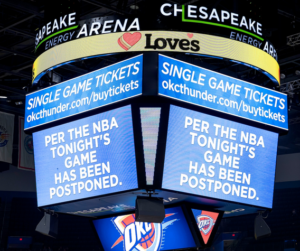 In yet another of seemingly endless unprecedented moments in sports Wednesday, the NBA postponed a game about to start and then announced it was suspending the entire season after a Utah Jazz player tested positive for coronavirus. Here's the entire explanation on the NBA website:
NEW YORK — The NBA announced that a player on the Utah Jazz has preliminarily tested positive for COVID-19. The test result was reported shortly prior to the tip-off of Wednesday's game between the Jazz and Oklahoma City Thunder at Chesapeake Energy Arena. At that time, Wednesday's game was canceled. The affected player was not in the arena.

The NBA is suspending game play following the conclusion of Wednesday's schedule of games until further notice. The NBA will use this hiatus to determine next steps for moving forward in regard to the coronavirus pandemic.
The announcement was made after players had already been introduced at a game between the Jazz and the Oklahoma City Thunder in Oklahoma City. From the Washington Post report:
Members of both the Thunder and Jazz went through warm-ups and starting lineup introductions at the Chesapeake Energy Arena in Oklahoma City before the three game officials huddled shortly before tip-off. After a brief conversation, the officials sent both teams back to their locker rooms. During the delay, which lasted approximately 35 minutes, the Thunder proceeded with their halftime entertainment. Finally, the Thunder's public address announcer informed fans that the game would be postponed.
According to the Washington Post story, The Athletic broke the news that the positive test was Gobert:
Utah Jazz All-Star Rudy Gobert has tested positive for coronavirus, sources tell @TheAthleticNBA @Stadium.

Sources say Gobert is feeling good, strong and stable — and was feeling strong enough to play tonight.

— Shams Charania (@ShamsCharania) March 12, 2020
Later Wednesday night, the Sacramento Kings game was also canceled:
Fans boo in Sacramento as Kings/Pelicans game is postponed. pic.twitter.com/ChLmoIZV5p

— John Dickinson (@JDJohnDickinson) March 12, 2020