Aside from the five national championships and many years of top-level success, the university takes care of the people responsible for sellouts dating back to the 1960s by keeping the stadium up to date with high-definition connectivity, inlcuding both cellular and Wi-Fi networks, and a wide range of digital displays for visual information and entertainment. In a recent visit to Memorial Stadium for a Saturday day game, Mobile Sports Report found excellent connectivity, especially on the Wi-Fi network, even in some areas where construction materials and stadium design presented unique challenges to wireless communications.
Nebraska fans have found the Wi-Fi as well, as according to statistics not released previously by the school Nebraska saw one game last season with 7.0 terabytes of Wi-Fi data used. Nebraska also saw a 6.3 TB game last season and started off 2018 with Wi-Fi totals of 6.3 TB and 6.2 TB, the first coming at a game that wasn't even played due to massive rain and thunderstorm activity that canceled the event just after kickoff.
The connectivity reach even stretches out to some of the football parking lots, where external Wi-Fi AP placements keep fans connected while they are tailgating. What follows here is an on-the-scene description of what connectivity and the fan experience looks and feels like on yet another sellout day, this one from the Sept. 8 game versus old rival Colorado.
Getting ready for the red
Editor's note: This profile is from our latest STADIUM TECH REPORT, an in-depth look at successful deployments of stadium technology. Included with this report is a profile of the DAS deployment at StubHub Center, a sneak peek at Milwaukee's new Fiserv Forum, and a profile of the new Wi-Fi network being added to Wrigley Field! DOWNLOAD YOUR FREE COPY now!
Even the day before the game, there was noticable excitement in Lincoln for Nebraska football, with groups of fans roaming around outside the stadium while VIP tours were taking place inside. On game day itself, the connectivity experience starts in the parking lots, where MSR saw Wi-Fi gear on light poles and sides of buildings that was clearly there to cover the tailgating activities. Stopping to check it out we found and quickly connected to the FanXP SSID, with no splash screen or email login required, just a quick connection to fast bandwidth. Throughout the day, the FanXP network connected and reconnected no matter where we roamed, or if we turned Wi-Fi off and on (as we do to test cellular signals).
With perhaps one of the most devoted fan bases in any sport — the team and the stadium have a record sellout streak dating back to 1962 — the Husker sports operation is well funded, meaning they don't have to bother with concerns about whether or not Wi-Fi or other technologies produce any direct returns on investment. In turn, the school rewards its fans by staying at the forefront of stadium technology deployments, including being the first college stadium to install video boards, back in 1994. Wi-Fi using Cisco gear was first brought to Memorial Stadium for the 2014 season, and has since then gone through various upgrades and tunings, and now has 855 total Wi-Fi APs in the venue and the surrounding parking lots.
The current video board over the north end zone (which was the largest in the country when it was first installed) now is even sharper to look at, having gone through an upgrade last year from 20 millimeter pixel density to 10mm. Last year also saw the introduction of two two-sided "wrap-around" video screens on north sides of the east and west sections, providing video viewing for fans in the north stands who previously had to turn all the way around to see a screen. The north tower screens, as well as two other similar flat screens on the south sides of the east and west stands all also have 10mm pixel sharpness.
Also before last fall, ribbon boards on the east- and west-side balconies were replaced with 16mm displays that run the full length of the structures. An additional ribbon board was also added to the middle east balcony, providing even more inventory for messages, advertisements and game information. Overall, the venue has approximately 1,400 screens of various sizes and shapes to bring game day action, concessions menu and other communications to fans there for game day. Nebraska uses Cisco's Cisco Vision (formerly known as Stadium Vision) to manage and operate all its digital signage from one central control.
North and South stands the biggest connectivity challenge
With the gates open and the stadium starting to fill up, MSR went directly to the north stands, which Nebraska IT operations manager Chad Chisea and director of information technology Dan Floyd had previously told us was the most challenging area to cover with wireless connectivity. With extremely wide rows of bench seating and no overhangs for antenna placements, Nebraska brought in small Wi-Fi antenna enclosures from Ventev and mounted them onto small "p-railings" that dot the aisles. The area is also covered by Wi-Fi antenna placements on top of the scoreboard structure pointing down.
Though the section wasn't completely full when we tested it, we still got a strong Wi-Fi mark of 28.5 Mbps download and 19.8 Mbps upload about halfway up the west corner side of the north stands. In another spot on the east side we got a test mark of 28.0 Mbps / 12.2 Mbps; and in possibly the hardest place to cover, as far as we could get from an aisle or the scoreboard, we still got a Wi-Fi test of 11.0 Mbps / 13.1 Mbps. DAS coverage for Verizon 4G LTE at the same spot was 16.9 Mbps download, but just 1.40 Mbps upload.
With more and more fans finding their way inside, we tested several spots on the concourses and found them with extremely strong coverage, including one mark of 63.8 Mbps / 61.1 Mbps just inside Gate 7. The concourse areas in several parts of the stadium are very architecturally interesting since there are some places where newer construction was simply placed outside the older structures, producing a kind of stadium-inside-a-stadium effect. Originally, the IT staff thought that Wi-Fi APs on the newer outside walls would be able to bleed through the old structures, which had glass windows along the old outside walls; but because those windows contain leaded glass (which shut out the Wi-Fi signals), Nebraska was forced to install APs on either side of the old walls.
Such attention to detail and a clear desire to keep fans connected no matter where they roam was evident in other places as well, such as finding strong Wi-Fi connectivity (30.6 Mbps / 15.2 Mbps) even while taking escalators up to the top levels of the east stands. In the top 600-level concourse we got Wi-Fi readings of 25.5 Mbps / 11.6 Mbps, and in row 5 of section 607 — about as high as you can go at Memorial Stadium — we got a Wi-Fi reading of 18.2 Mbps / 10.6 Mbps, most likely from the antennas mounted on the top railing of the stadium or on the LED light fixtures that also poke up from the east side.
Just before kickoff, we were in the middle of the lower-bowl seats on the west side of the stadium, where most fans were standing, phones ready to record the Cornhuskers as they came out of the locker room and took the field. With APs mounted on field-level railings pointing up probably providing coverage, we got a mark of 7.73 Mbps / 1.74 Mbps in the fifth row of seats.
Wi-Fi usage among the top of all venues
According to Floyd, only Verizon Wireless and T-Mobile use the stadium's DAS network, which was built by Verizon. Since Verizon dominates the customer base of the Lincoln, Neb. area (Floyd estimates it has about 70 percent of the market), the other major carriers haven't seen the need to participate in the DAS; instead, U.S. Cellular built a platform for macro antennas inside the north scoreboard area, and AT&T and Sprint use that area for similar deployments. For backhaul bandwidth for the Wi-Fi, Chisea said Nebraska has one circuit that transmits between 1.5 and 2 Gbps, along with a backup circuit that can carry 500 Mbps of traffic.
And all those circuits and antennas got a free stress test during Nebraska's first scheduled game of the season, a Sept. 1 contest against Akron that was cancelled almost immediately after kickoff when severe thunderstorms moved into the area. While the fans didn't get to see any football, according to Floyd many stuck around for a considerable amount of time, using a full regular-game amount of wireless data — 6.3 TB of Wi-Fi — doing things like taking live Facebook Live video streams of the storm.
"If you looked at the network stream that day it was absolutely full," Floyd said. For the Colorado game (a 33-28 Colorado victory), Nebraska reported 6.2 TB of Wi-Fi data used, with 34,728 peak concurrent connections on a day with 89,853 announced attendance. The top Wi-Fi game so far for Memorial Stadium, a 7.0 TB mark recorded on Sept. 2, 2017, saw 36,892 peak concurrent connections for a game with 90,171 in attendance. Nebraska saw an average of 5.93 TB and 31,115 peak concurrent connections per game in 2017, according to statistics provided to us by the school. An Oct. 7, 2017 game against Wisconsin also saw 6.3 TB of Wi-Fi data used.
With a constant attention to detail and a devotion to good network performance (during the Colorado game, MSR saw the Nebraska IT staff identify and fix a Wi-Fi network configuration issue that briefly impacted upload speeds) the Nebraska IT staff treats its stadium networks like a coach treats a team, always looking for ways to improve. So no matter what happens on the field, the faithful fans who fill the venue every game day can rest assured that if and when they want to use their mobile devices to connect, the Memorial Stadium networks will take them wherever they want to go.
More pictures from our visit below. Please download your free copy of our most recent Stadium Tech Report for all our photos from our Nebraska visit!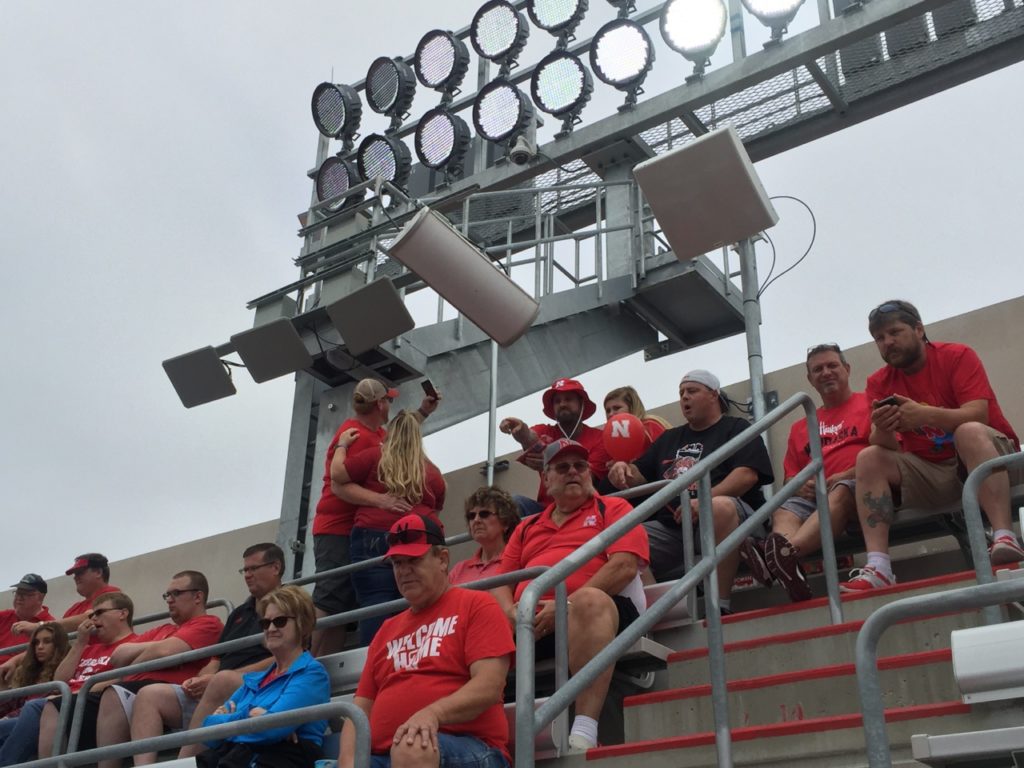 Lots of connectivity atop east stands makes for an easy upload of selfies
A look at one of the wrap-around video boards serving the north stands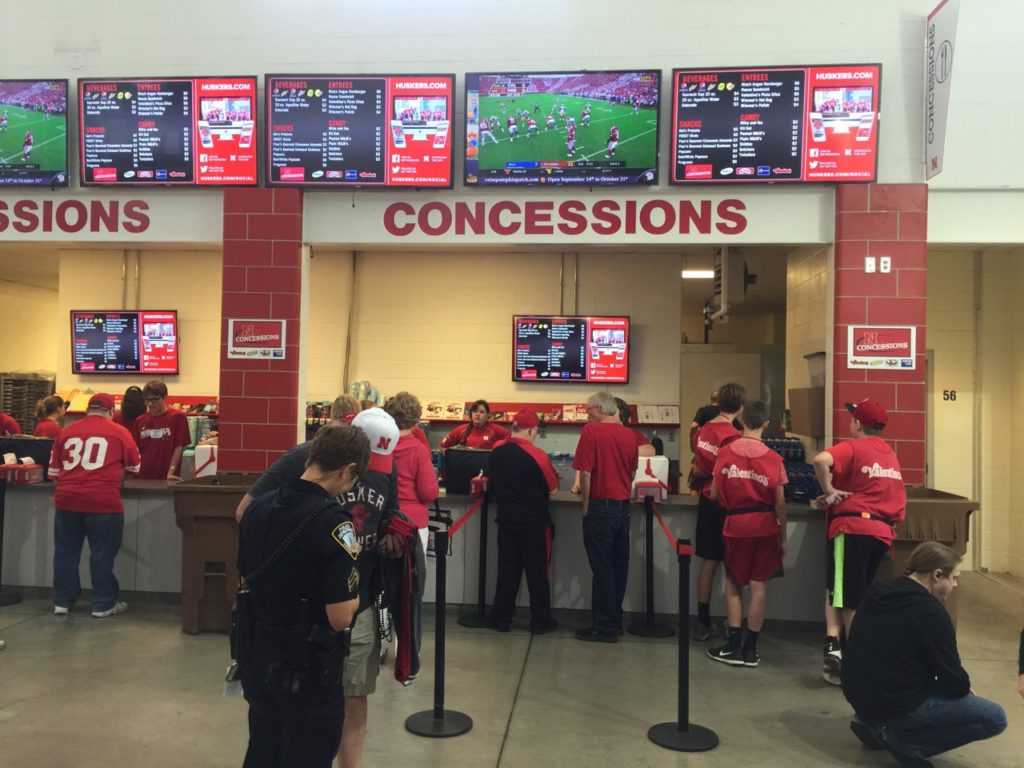 Cisco Vision at work on concession stand menu displays

Artsy panoramic view from the north seats

When you visit Memorial Stadium in Lincoln Neb. you can't avoid a history of devotion to football and fans. The stadium itself still contains much of its old bones dating back to its inception in 1923, and when the red-clad faithful assemble for their football ceremonies, you can see generations of fans loyal to the Cornhuskers streaming in to fill the nearly 90,000 available seats.