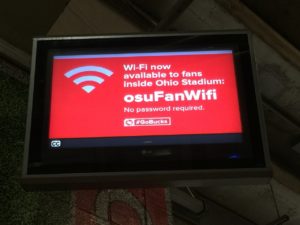 Even in the middle of a game-long rainstorm, fans at Ohio Stadium for Ohio State's 38-7 victory over visiting Wisconsin on Oct. 25 still used 17.0 terabytes of data on the stadium's new Wi-Fi network, a total that is the fourth-highest number we know of in our ongoing unofficial tally of big stadium Wi-Fi events.
According to figures provided to us by Ohio State, there were 61,997 unique devices connected to the Wi-Fi network during the Wisconsin game, with a peak concurrent connection mark of 35,074. Though still one of the biggest Wi-Fi days ever, the Wisconsin numbers did not hit the record levels set earlier this fall when Michigan State played at Ohio Stadium and a record 25.6 TB of data was seen on the network.
Editor's note: You can now read our Stadium Tech Report profile of the new Ohio State network instantly online, with no registration or email address needed! JUST CLICK RIGHT HERE and start reading our latest report today!
More Wi-Fi at Mile High, and Nebraska's Memorial Stadium
The stadium now known as Empower Field at Mile High also saw some recent big Wi-Fi days, including a couple concerts and a couple Denver Broncos home games. According to statistics provided to us by Russ Trainor, senior vice president for IT for the Broncos, the new top mark at the venue came during a Garth Brooks concert on June 8, 2019, with 12.63 TB used (now good for 10th on the new version of the Wi-Fi list, below). The Garth Brooks show also produced a record number for unique connections at Mile High, with 48,442 devices on the network.
Epic is an understatement! Denver, YOU just gave me the GREATEST night of my career! THANK YOU!! love, g #GARTHinDENVER pic.twitter.com/mElP99hvP4

— Garth Brooks (@garthbrooks) June 9, 2019
The recently refreshed Wi-Fi network at Mile High seems to be producing regular totals in the 8-9 TB range, as Trainor said several other events this year crested the 8 TB mark, including 8.98 TB for an Oct. 13 game against the Tennessee Titans; 8.47 TB for a Rolling Stones concert on Aug. 10; and 8.09 TB for a Sept. 15 game against the Chicago Bears. The Bears game saw a Mile High record set for most concurrent Wi-Fi connections, at 37,163, while the Stones concert saw the highest stadium throughput mark, at 22.5 Gbps. According to Trainor the 8+ TB average event data marks at Mile High are up from an average in the 6 TB range a year ago.
At Nebraska, whose network we profiled a year ago, a similar range of Wi-Fi traffic days has been seen at home games this fall, with a high-water mark of 11.2 TB seen in and around the stadium on Sept. 28, when ESPN's College Gameday was in town for the Ohio State-Nebraska matchup. According to statistics provided to us by Dan Floyd, director of IT for Nebraska Athletics, and Andrew Becker, Nebraska venue technology specialist, Memorial Stadium also saw 9.2 TB for a Oct. 5 game with Northwestern, and 8.5 TB for a Sept. 14 game with Northern Illinois, and 8.3 TB for the Aug. 31 home opener against South Alabama.
For the Ohio State game, Nebraska said it saw a top peak concurrent connected user number of 38,062, out of 89,759 in attendance that day.
New list coming soon!
On a final note for this post, please enjoy the "final" version of our all-time Wi-Fi list below, in its current format. Stay tuned for a post (coming soon) explaining some new thinking we are going to put into place regarding venue Wi-Fi totals reporting, an idea that will try to encompass some of the great and varied feedback we've been getting all fall. In that post we will finally explain why the current list keeps expanding without a bottom… and what new figures we think may be more interesting than just total tonnage. Stay tuned!
THE MSR TOP 36 FOR WI-FI
1. Michigan State vs. Ohio State, Ohio Stadium, Columbus, Ohio, Oct. 5, 2019: Wi-Fi: 25.6 TB
2. Super Bowl 53, Mercedes-Benz Stadium, Atlanta, Ga., Feb. 3, 2019: Wi-Fi: 24.05 TB
3. NCAA Men's 2019 Final Four semifinals, U.S. Bank Stadium, Minneapolis, Minn., April 6, 2019: Wi-Fi: 17.8 TB
4. Wisconsin vs. Ohio State, Ohio Stadium, Columbus, Ohio, Oct. 25, 2019: Wi-Fi: 17.0 TB
5. Super Bowl 52, U.S. Bank Stadium, Minneapolis, Minn., Feb. 4, 2018: Wi-Fi: 16.31 TB
6. Miami (Ohio) vs. Ohio State, Ohio Stadium, Columbus, Ohio, Sept. 21, 2019: Wi-Fi: 13.7 TB
7. NCAA Men's 2019 Final Four championship, U.S. Bank Stadium, Minneapolis, Minn., April 8, 2019: Wi-Fi: 13.4 TB
8. Florida Atlantic vs. Ohio State, Ohio Stadium, Columbus, Ohio, Aug. 31, 2019: Wi-Fi: 13.3 TB
9. Cincinnati vs. Ohio State, Ohio Stadium, Columbus, Ohio, Sept. 7, 2019: Wi-Fi: 12.7 TB
10. Garth Brooks Stadium Tour, Empower Field at Mile High, Denver, Colo., June 8, 2019: Wi-Fi: 12.63 TB
11. 2018 College Football Playoff Championship, Alabama vs. Georgia, Mercedes-Benz Stadium, Atlanta, Ga., Jan. 8, 2018: Wi-Fi: 12.0 TB
12. Auburn vs. Florida, Ben Hill Griffin Stadium, Gainesville, Fla., Oct. 5, 2019: Wi-Fi: 11.82 TB
13. Super Bowl 51, NRG Stadium, Houston, Feb. 5, 2017: Wi-Fi: 11.8 TB
14. Pittsburgh Steelers vs. New England Patriots, Gillette Stadium, Foxborough, Mass., Sept. 8, 2019: Wi-Fi: 11.58 TB
15. Ohio State vs. Nebraska, Memorial Stadium, Lincoln, Neb., Sept 28, 2019: Wi-Fi: 11.2 TB
16. Atlanta Falcons vs. Philadelphia Eagles, Lincoln Financial Field, Philadelphia, Pa., Sept. 6, 2018: Wi-Fi: 10.86 TB
17. Super Bowl 50, Levi's Stadium, Santa Clara, Calif., Feb. 7, 2016: Wi-Fi: 10.1 TB
18. Taylor Swift Reputation Tour, Gillette Stadium, Foxborough, Mass., July 27, 2018: Wi-Fi: 9.76 TB
19. Northwestern vs. Nebraska, Memorial Stadium, Lincoln, Neb., Oct. 5, 2019: Wi-Fi: 9.2 TB
20. Tennessee Titans vs. Denver Broncos, Empower Field at Mile High, Denver, Colo., Oct. 13, 2019: Wi-Fi: 8.98 TB
21. Minnesota Vikings vs. Philadelphia Eagles, NFC Championship Game, Lincoln Financial Field, Philadelphia, Pa., Jan. 21, 2018: Wi-Fi: 8.76 TB
22. Jacksonville Jaguars vs. New England Patriots, AFC Championship Game, Gillette Stadium, Foxborough, Mass., Jan. 21, 2018: Wi-Fi: 8.53 TB
23. Northern Illinois vs. Nebraska, Memorial Stadium, Lincoln, Neb., Sept. 14, 2019: Wi-Fi: 8.5 TB
24. Rolling Stones No Filter Tour, Empower Field at Mile High, Denver, Colo., Aug. 10, 2019: Wi-Fi: 8.47 TB
25. South Alabama vs. Nebraska, Memorial Stadium, Lincoln, Neb., Aug. 31, 2019: Wi-Fi: 8.3 TB
26. Taylor Swift Reputation Tour, Broncos Stadium at Mile High, May 25, 2018: Wi-Fi: 8.1 TB
27. Chicago Bears vs. Denver Broncos, Empower Field at Mile High, Denver, Colo., Sept. 15, 2019: Wi-Fi: 8.09 TB
28. Kansas City Chiefs vs. New England Patriots, Gillette Stadium, Foxborough, Mass., Sept. 7, 2017: Wi-Fi: 8.08 TB
29. SEC Championship Game, Alabama vs. Georgia, Mercedes-Benz Stadium, Atlanta, Ga., Dec. 1, 2018: Wi-Fi: 8.06 TB
30. Green Bay Packers vs. Dallas Cowboys, Divisional Playoffs, AT&T Stadium, Arlington, Texas, Jan. 15, 2017: Wi-Fi: 7.25 TB
31. Stanford vs. Notre Dame, Notre Dame Stadium, South Bend, Ind., Sept. 29, 2018: 7.19 TB
32. (tie) Southern California vs. Notre Dame, Notre Dame Stadium, South Bend, Ind., Oct. 21, 2017: 7.0 TB
Arkansas State vs. Nebraska, Memorial Stadium, Lincoln, Neb., Sept 2, 2017: Wi-Fi: 7.0 TB
33. Tennessee vs. Florida, Ben Hill Griffin Stadium, Gainesville, Fla., Sept. 21, 2019: Wi-Fi: 6.94 TB
34. WrestleMania 32, AT&T Stadium, Arlington, Texas, April 3, 2016: Wi-Fi: 6.77 TB
35. Wisconsin vs. Nebraska, Memorial Stadium, Lincoln, Neb., Oct. 7, 2017: Wi-Fi: 6.3 TB
36. Super Bowl 49, University of Phoenix Stadium, Glendale, Ariz., Feb. 1, 2015: Wi-Fi: 6.23 TB