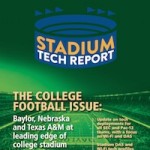 If there was a college football playoff for stadium wireless network deployments, which four teams would be in? Electing myself to the committee, I think my top picks would be the same venues we're profiling in our latest Stadium Tech Report – Baylor, Nebraska, Stanford and Texas A&M. All four are pursuing high-end networks to support a better fan experience, leading the way for what may turn out to be the largest "vertical" market in the stadium networking field – sporting venues at institutions of higher learning.
To be sure, network deployments at major universities in the U.S. are still at the earliest stages — in our reporting for our latest long-form report, we found that at two of the top conferences, the SEC and the Pac-12, only four schools total (two in each conference) had fan-facing Wi-Fi, with only one more planned to come online next year. Why is the collegiate market so far behind the pro market when it comes to network deployment? There are several main reasons, but mostly it comes down to money and mindset, with a lack of either keeping schools on the sidelines.
Leaders look for NFL-type experiences
But at our "playoff" schools, it's clear that with some ready budget and a clear perspective, college stadiums don't need to take a back seat to anyone, pro stadiums included. The networks, apps and infrastructure deployed for this season at Baylor's McLane Stadium and Nebraska's Memorial Stadium are among the tops anywhere in sports, and the all-fiber infrastructure being put in place at Texas A&M should make that school's Kyle Field among the most-connected if all work gets completed on time for next football season. Read in-depth profiles on these schools' deployments, along with team-by-team capsule technology descriptions and an exclusive interview with Mississippi State athletic director Scott Stricklin in our latest report, available for free download from our site.
We'd like to take a second here to thank our sponsors, without whom we wouldn't be able to offer these comprehensive reports to you free of charge. For our fourth-quarter report our sponsors include Crown Castle, SOLiD, Extreme Networks, Aruba Networks, TE Connectivity, and Corning.