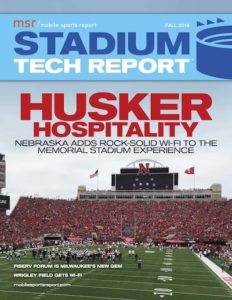 MOBILE SPORTS REPORT is pleased to announce the Fall 2018 issue of our STADIUM TECH REPORT series, the ONLY in-depth publication created specifically for the stadium technology professional and the stadium technology marketplace.
Our string of historical in-depth profiles of successful stadium technology deployments continues with reports from large collegiate football stadiums, a new basketball arena, an old baseball stadium and a soccer stadium hosting NFL games! Download your FREE copy today!
Inside the report our editorial coverage includes:
— A full in-depth profile of the Wi-Fi network at the University of Nebraska's Memorial Stadium, where network crews overcame challenges posed by historic architecture to bring connectivity to 90,000 fans;
— A 'sneak peek' inside Fiserv Forum, the new home of the NBA's Milwaukee Bucks (and Marquette University);
Wrigley Field Wi-Fi: An in-person tour of the new Wi-Fi network being rolled out by Extreme Networks and the Cubs;
— StubHub Center DAS: An in-depth profile with in-person testing of the DAS at StubHub Center in Los Angeles, temporary home of the NFL's LA Chargers.
Download your free copy today!
We'd like to take a quick moment to thank our sponsors, which for this issue include Mobilitie, JMA Wireless, Corning, Huber+Suhner, Cox Business, Boingo, Oberon, MatSing, and Neutral Connect Networks. Their generous sponsorship makes it possible for us to offer this content free of charge to our readers. We'd also like to welcome readers from the Inside Towers community, who may have found their way here via our ongoing partnership with the excellent publication Inside Towers. We'd also like to thank the SEAT community for your continued interest and support.
As always, we are here to hear what you have to say: Send me an email to kaps@mobilesportsreport.com and let us know what you think of our STADIUM TECH REPORT series.