And it's become the virtual mission statement for the Charlotte, N.C.-based National Football League franchise. So even though its home field, the Bank of America Stadium, was built relatively recently (1996), technology has come a long way in two decades. And as the Panthers began a four-phase renovation in 2014, they did it with fans' MVP status in mind, according to James Hammond, director of IT for the Panthers. "It was time for some changes," he said.
While Carolina was among the first NFL stadiums to install fan-facing Wi-Fi and enhanced cellular networks, the previous DAS and Wi-Fi systems weren't keeping up with demand and that was starting to adversely impact the Panthers fan experience, Hammond said.
"We chose to perform a rip-and-replace on both DAS and Wi-Fi and take ownership in-house," Hammond explained. Because the Panthers own and operate BofA Stadium, making those moves was a lot easier than if they were tenants.
Time for an upgrade
Editor's note: This profile is part of our latest STADIUM TECHNOLOGY REPORT, which includes more stadium profiles as well as looks at Wi-Fi at the Mall of America, and analytics software being used by the Cleveland Browns. DOWNLOAD YOUR FREE COPY of the report today!
The first "fan-centric improvements," as Hammond called them, came in 2014 in the form of escalators, video big boards and a distributed audio system. As part of the second phase of upgrades, the Panthers then used the 2015 offseason to renovate the club-level suites and tore out the old DAS system while they were at it. And after a careful evaluation of different DAS solutions, they shortlisted two vendors: CommScope and Corning.
CommScope ultimately got the nod; the Panthers then had to decide between the vendor's ION-B and ION-U DAS systems. "We went with the ION-U, which was quite new and cutting edge at that point, since it had NEMA-rated remotes," Hammond said. Other systems lacked that kind of weatherproofing and would require additional enclosures – and expense.
"We started over with all new fiber and coax. We did the decommissioning and construction in 90 days, which was pretty quick for a ground-up project," he said. Beam Wireless Inc. did the design, integration and optimization and is handling the ongoing maintenance of the DAS system; Optical Telecom installed the DAS gear. BofA Stadium now has 256 DAS remotes and more than 600 DAS indoor and outdoor antennas.
AT&T, Verizon and Sprint are the participating DAS carriers; T-Mobile is weighing whether to join the mix during the 2017 off-season.
The Panthers have divided BofA Stadium into 48 DAS zones: 16 zones for the upper bowl, 16 in the lower bowl, and another 16 for concourses, suites, clubs, and offices. Not all zones are used exclusively; carriers choose simulcast patterns that place multiple zones into sectors, and can change them as capacity requirements dictate, Hammond told Mobile Sports Report.
"With some minor design changes to the interior areas, we can accommodate nearly 70 zones," he explained. "At present the most sectors in use by a carrier is 32. This means the carrier simulcasts across a mix of our 48 zones in order to match them up to 32 carrier sectors."
Once the new DAS was built and the first couple of events were analyzed, carriers began asking for more frequencies and additional DAS sectors to continue meeting ever-growing demand. In response to the new carrier requests, the first round of DAS upgrades were implemented in the spring of 2016, Hammond said. During the 2015 season, DAS bandwidth was running around 2 GB during games. Hammond said, "With these latest DAS upgrades, we expect the bandwidth numbers to be even higher."
The impact of the new DAS system was felt immediately upon its debut in July 2015. "It was a much better experience for fans who noticed the improved cellular experience," Hammond said. Another unexpected benefit: The upgraded DAS helped mitigate bottlenecks with the old Wi-Fi system, which Hammond characterized as "under-designed."
Going under seat for Wi-Fi upgrade
Unfortunately, there wasn't time to address any Wi-Fi upgrades before the 2015 football season began, but the Panthers issued an RFP for new Wi-Fi in August 2015 in preparation for Phase 3 renovations that would also include security upgrades and renovations to the upper concourse.
Interested vendors needed to ensure high bandwidth rates as well as high take-rates that allowed three different ISPs (Time Warner Cable/Charter, Level 3 Communications and Windstream) to deliver in excess of 10 GB, though Hammond said they're starting at a 7-GB threshold.
The Wi-Fi award went to Aruba, now HP Enterprise, in December 2015, and construction began in January 2016 after the last postseason game, when the Panthers beat the Arizona Cardinals to win the NFC championship and a trip to Super Bowl 50.
Similar to Levi's Stadium and the Dodgers Stadium, the Panthers chose underseat AP enclosures; BofA Stadium sports 770 AP enclosures in the upper and lower bowls out of a total of 1,225 APs, all to ensure maximum coverage and minimal dead spots. The Panthers selected AmpThink to do the Wi-Fi integration and construction; the turnkey contractor also designed and fabricated a custom enclosure for the APs.
One other innovation in the Panthers' Wi-Fi installation is that the underseat enclosure is mounted to the riser — the vertical part of the step — but looks like it's on the tread, the horizontal part, which is intended as a waterproofing measure. "The riser is easier to seal and isn't affected by pressure washers, which you're doing constantly with an outdoor stadium," Hammond said. "And by running pipe through the riser, you don't have gravity working against you," which helps keep out water, he explained.
Panthers fans access the stadium Wi-Fi through a portal page after accepting the team's terms and conditions. From there, they are whitelisted and can automatically join the Wi-Fi network for the rest of the season. Hammond said a fan's email is requested but not required by the portal page, and there's a small incentive offered to encourage fans' email subscriptions.
The new Wi-Fi system got a workout with a soccer game at BofA Stadium at the end of July 2016, then with a Panthers' Fan Fest the following week. "All the indicators were good, and fan feedback about the system was excellent," Hammond said. But he cautioned that the two events were not "full bowl" events with smaller attendance numbers (~50,000) than a regular season football game (75,000+). "We will continue to optimize and tune settings as we learn more during events with higher attendance," Hammond said.
Total budget so far for the technology upgrades totals about $16 million; the DAS build-out was just under $10 million; Wi-Fi was a little more than $6 million, which included additional wired infrastructure, according to the team.
Beacons coming next
And the Panthers aren't done making technology improvements to their stadium. Phase 4 looks to add Bluetooth beacons and do some refinement of the Panthers app. "My goal during the upcoming season is to look at options for location-aware services," Hammond said. Some APs have beacons built in; other may need to be added to get the granularity the Panthers want for location awareness.
Hammond also wants to give fans more things to do with the Panthers app and also optimize it for push notifications, even with something as basic and useful as restroom and concessions location information. "As we learn more about fans individually, we can direct them to things of particular interest to them," he added.
"So far, we are very pleased with the performance of the Wi-Fi and DAS systems," Hammond said, noting the Panthers will continue to tune frequencies, add zones and increase bandwidth where needed. It's the sort of attention that smart sporting franchises pay to their most valued team members.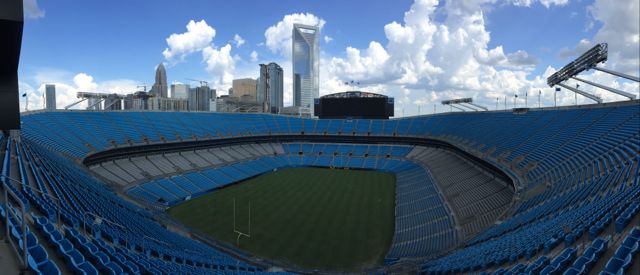 "The fan is the most valuable member of our team," Jerry Richardson, owner of the Carolina Panthers, is fond of saying.