While the 5G network powering the experiences inside the stadium won't be open or available for general use, AT&T said it will have Samsung Galaxy S10 5G phones on hand in several places around the venue for fans to test out the applications that AT&T claims "couldn't be done wirelessly at this level before 5G." And even though 5G networks are still a long ways away from being a mainstream reality for most wireless customers, you can expect the largest U.S. carriers to fight a 5G marketing battle all fall around football stadiums, especially at NFL venues where NFL partner Verizon is already at work installing 5G test networks for use this season. In fact, Verizon also has a press announcement out today about having installed 5G services in 13 NFL stadiums. So get ready, wireless types, it's 5G season.
Here at MSR we will try to keep our heads above any claims of stadiums being the "first" 5G-enabled or 5G-ready until such networks are prevalent and available for any and all visitors. That being said, the activations planned by AT&T for Sunday's Cowboys home opener against the New York Giants sound kind of cool, so if any MSR readers are on hand for the game please do try them out and send us a field report or at least a selfie or two.
According to an AT&T press release, the 5G-powered experiences available at the game Sunday will include a thing called "Hype Up Chants," where fans will be able to see a 36-foot tall version of Cowboys players Dak Prescott and Ezekial Elliott among others by viewing them through the camera of a provided Samsung phone. Fans will also be able to record their own end zone dance next to virtual teammates, over a provided 3-D video again powered by the 5G network and a Samsung phone.
On the stadium's east side fans will be able to "pose with the pros," again recording a virtual video with players like Elliott in what AT&T is calling an "immersive column," a setup connected to the 5G network via a Netgear Nighthawk 5G mobile hotspot. And at the stadium's club level, another set of Samsung phones will be available to show off live player and team stats in a broadcast-like AR format, while other fans will get to play a virtual football game where they will dodge "virtual defensive robots," who may or may not be more effective than the real humans on the football field.
We have an email in to AT&T to find out more details if possible, including any other vendors involved in AT&T's millimeter-wave 5G setup inside its namesake arena. Stay tuned for updates as they become available. Below are some renderings of how the experiences are supposed to look.
The 'Pose with the Pros' column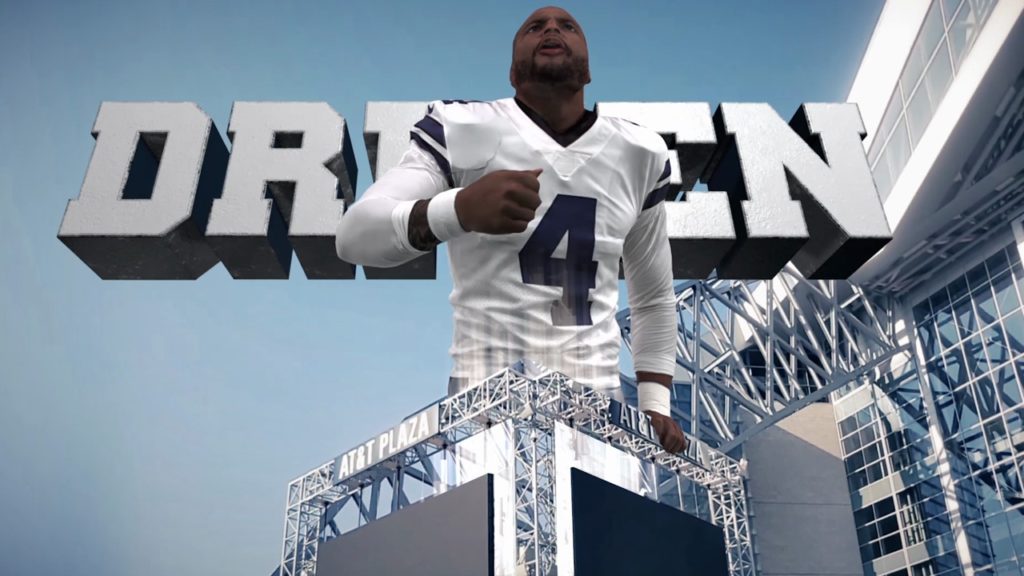 The 'Hype Up Chants' look

AT&T is launching what it calls '5G experiences' for fans at AT&T Stadium on Sunday during the Dallas Cowboys' NFL home opener, including some augmented-reality experiences that will let fans take selfies with huge-sized virtual NFL players or dodge virtual tacklers in an AR-type game.