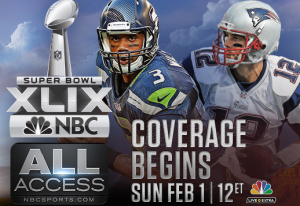 If for some reason you are banned from the living room couch for the Super Bowl, NBC has you covered — the network will be streaming the game live online, along with hours of pregame, postgame and halftime festivities — for anyone with an Internet connection and a laptop, PC or tablet.
According to a press release sent out Monday NBC said it will also not require viewers to have a qualifying cable or satellite contract to view the game, thereby eliminating the often annoying login process that accompanies many other online live sports streaming activities. You will, of course, be subject to multiple NBC advertisements but hey — a small price to pay for the convenience of being able to watch the game online.
(Mobile Sports Report is old enough to remember Super Bowl parties where we rented extra TV sets for the bathrooms and the kitchen; now you can just use in-house Wi-Fi and a tablet or laptop, perhaps with a splash guard.)
On the cellular side, if you are stuck somewhere and want to watch on your phone, the only option is having a Verizon contract and using the NFL Mobile app. If you are a More Everything customer the live viewing of the game is free, if not you must pay a $5 monthly charge for the one day in February that you will need premium access. (Pro tip for Verizon customers — don't forget to cancel that premium access charge the day after the game, since Verizon will happily charge you $5 a month all summer long even though there are no NFL games during that time.)
It's an easy guess so we will predict right now that this year's Super Bowl will set new online records for most Internet viewers — without fail this has happened every year since the networks and the league started making the game available online. According to the NBC folks the online stream will have some handy extras, like the DVR feature that lets you scroll back to important plays, as well as additional camera angles and in-game stats.
Now our next dream is for the Shield and its broadcasters to follow ESPN's lead on the college championships and provide online "Megacast" options for alternate announcers. A man can hope.