We help you find the best online slots to play in Canada – Slots Online Canada
It might seem like a Texas-sized stretch to make such a claim, but any other basketball-sized stadium similar to 14,000-seat Dickies Arena would be hard pressed to top the amenities, infrastructure and operations installed inside the new gem of Fort Worth. While first and foremost the venue serves as home of the annual Fort Worth Stock Show & Rodeo, a three-week-plus extravaganza that held its maiden run there earlier this year, when it's safe to allow events to return Dickies Arena will also host concerts, ice shows and other sporting and non-sporting events, saving local folks from having to drive east to Dallas for a big-time experience.
But it's opulence, comfort and service that will be the hallmarks of a Dickies Arena experience going forward, with those attributes far outweighing the convenience of just having a world-class venue in Fort Worth. During a visit by Mobile Sports Report during the middle of this year's rodeo program (which ran 23 straight days from Jan. 17 to Feb. 8) we saw not just the visible attributes of perhaps the most polished finish of any arena ever, but also the underpinnings of important infrastructure assets like the wireless networks and video operations, and the intense level of attention to detail in food and beverage operations, all aimed at raising the fan experience to the highest level.
The opera house meets the rodeo
Editor's note: This profile is from our latest STADIUM TECH REPORT, which is available to read instantly online or as a free PDF download! Inside the issue is a recap of the record-breaking Wi-Fi usage at Super Bowl LIV, and a recap of a DIY Wi-Fi deployment at Rutgers University! Start reading the issue now online or download a free copy!
When we
last visited
the under-construction Dickies Arena in the fall of 2019, the finishing touches weren't in place yet, even though we could see hints of what it was shaping up to be. For our late-January visit for a night of rodeo, we got to see the finished product in all its glory, and all we can say is, it may be some time before another venue even approaches the level of cosmetic finish achieved at Dickies Arena.
To be sure, not many venue ownerships may have the financial resources or the certainty of what they want out of a finished product as the team behind the creation of Fort Worth's newest centerpiece. If you're not familiar with the Dickies Arena story, the arena is part of a public-private venture between the city of Fort Worth and a consortium of investors and donors led by local Fort Worth philanthropist Ed Bass. As the home of Fort Worth's namesake rodeo, Dickies Arena is clearly meant to be that and so much more, cementing in place a building where people who know what they want got exactly what they wanted – and more.
While we didn't get to speak with Bass directly, his presence is felt in all areas of operation of the facility, with multiple stories of his direct involvement in making sure the smallest of details were adhered to. Even a first-time visitor to the rodeo could see and feel the devotion of leaders like Bass to their signature hometown event, from his riding a horse at the front of the event-opening parade to his video-board cameos of slapping bundles of cash into the hands of the event winners as the night progressed.
Behind the scenes, we heard stories about how Bass and the leadership team wanted very specific things done cosmetically – like making sure that no antennas for either the Wi-Fi or DAS networks were visible in any of the main public areas. To meet that challenge, main technical integrator AmpThink had to go outside the norm to design (and in some cases, custom-build) enclosures to hide the gear. Walking through the main concourses and seating areas, the only hint that wireless equipment might be overhead was the outline of flush-mounted panels, a design theme that even carried out to outside-wall mounting areas in the plaza areas around the arena's exteriors.
Once inside Dickies Arena, visitors may feel like they are in somewhere more like an opera house than a multi-purpose venue (which on this night had a "playing floor" of some finely raked dirt). Floors of decorative tiles are underfoot, and railings on the staircases enclose sculptures of a distinctive local grass plant. That same design is reflected on the plates used in one of the premium seating areas, where the dining choices include a sit-down, white-tablecloth experience that looks like a four-star steakhouse inserted into the concourse.
Bill Shaw, the assistant general manager for Dickies Arena, was courteous enough to give us a directed tour of the venue before the night's activities, pointing out things we might have noticed but not really realized, like the different tones and types of wood used for paneling, which changed as you moved from a higher premium seating area to a more general admission space. In the suites, Shaw showed us some especially comfy leather stadium chairs, which he said were the end result of a long process of determination to find out the best way to pad and tan the chair's components.
Even the construction of the wheeled chairs in the loge box where we were the guest of AmpThink for the night were subject to scrutiny by Mr. Bass, we were told, with a story about him using tape measures to ensure the seat width was correct, and discussions about having the proper types of armrests that wouldn't inadvertently snag the handles of a handbag.
"Mr. Bass spent a lot of time on all of that," said Shaw. "His fingerprints are everywhere."
To be sure, the somewhat unique ownership structure and the recurring revenue from the rodeo – which has sold-out status for all the premium seating spaces thanks to the families who have been supporting the event for generations – means in part that Dickies Arena doesn't have to saturate its public spaces with advertising. While its digital display arsenal includes striking elements like curved LED screens from LG and menu boards and other displays running the Cisco Vision dynamic signage system, Dickies Arena only has a small number of partner-sponsors whose messages run somewhat discreetly compared to other arenas that may have more need to have a higher number of displays and advertisements.
The layout of the arena in general also takes its cue from how the premium seating space is used for the rodeo. Instead of a normal sort of top-down arena seating with "courtside" seats being the most desired, the wide space needed for rodeo events and the family atmosphere (most premium packages, according to Shaw, are bought by families and not corporations) means that there are "boxes" of seats ringing the lower bowl, with a wide walkway behind them to facilitate the meeting and greeting (and the seeing and being-seen) that is part of the rodeo culture. Thanks to some very clever architecture and movable stands technology, the mid-bowl walkway can disappear for events like concerts and other sporting situations like basketball; but good luck trying to figure out how that works by walking by the stands, since all the moving parts are, of course, hidden from view.
While a ring of suites provides another premium seating option a bit higher up, at either end of the venue are two more unique gathering areas, with belly-up bars that stretch almost the full width of the space, providing a place for the premium box-seat patrons to mingle while still having a clear view of whatever action is taking place. Shaw noted that at one end of the arena the seating can collapse back to almost a straight line, providing ample space for concert stages that also gives Dickies Arena a concert-seating total that Shaw said is comparable to American Airlines Center in Dallas, which seats 20,000 for NBA and NHL games.
Then there are some more touches you can't see, like the bass-sound traps installed in the roof area to improve acoustics – and those you can see, like the soaring rooftop that is meant to mimic the open sky of Texas. As more fans attend different events scheduled in the future they are no doubt going to be impressed and perhaps surprised by the "opera house" where boots and Stetsons are the local fashion of choice.
Well wired for wireless
In our early fall visit to Dickies Arena we detailed the single, converged fiber network that supports all network operations, including the cellular DAS, the arena Wi-Fi and the IPTV operations, in an orderly, future-proofed way.
Built by AmpThink for the arena, the network is a departure from what has long been the norm in venue IT deployments, where multiple service providers typically build their own networks, with multiple cabling systems competing for conduit space. At Dickies Arena, AmpThink was able to control the fiber systems to follow a single, specific path, allowing the company to save costs and space for the client while building out a system with enough extra capacity to handle future needs for bandwidth, according to AmpThink.
According to AmpThink president Bill Anderson, one of those future needs became necessary this past fall, when Verizon wanted to bring its 5G millimeter-wave services as a late addition to the arena. To support the four 5G antennas that are now mounted up in the catwalk, Anderson said AmpThink was able to just allocate some of the spare optical fiber it has in place throughout the building, making it possible to bring in the service "in a very affordable way."
In addition to the numerous custom enclosures used throughout the venue, Anderson said AmpThink also designed a pre-fabricated combination Wi-Fi and DAS antenna unit design that it could then hoist up into the rafters in a single pull. By having the green light to lead and innovate, AmpThink was able to develop and learn things it will draw on well into the future, Anderson said. "This is really our master class [on stadium network design]," Anderson said.
Since we spent most of our January time at the venue touring the spaces and talking to different representatives, we didn't have that much time for network speed tests but the ones we did get showed the typical strong performances of an AmpThink-built network. On one of the concourses behind the suite levels we got a Wi-Fi speedtest of 67.0 Mbps on the download side and 65.0 Mbps on the upload.
Up at the highest level of seating, which is served from the rafter-mounted APs, we got a speedtest of 28.3 Mbps / 39.5 Mbps, during the night's final event.
Though we didn't get down there for a speedtest, the lower-bowl seats are served by under-seat Wi-Fi enclosures. According to Anderson there are approximately 550 Cisco Wi-Fi APs used throughout the venue, all of which are now the latest versions supporting the new Wi-Fi 6 standard. The DAS, which is overseen by ExteNet Systems, uses the Corning ONE DAS hardware system with approximately 258 active antennas in 11 zones for the DAS.
Keeping video and food and beverage operations in-house
Having never been to a live rodeo event before, Mobile Sports Report was somewhat in awe of the video production inside the arena, with multiple camera angles repeatedly in use on the large-screen centerhung videoboard. With no pauses, halftimes or timeouts, action was constant, and reflected as such on the main video screens.
We are simply going to have to revisit the arena for a more in-depth exploration of the video production operation itself, which is run entirely by the Dickies Arena team and even provides live feeds itself to cable channels covering rodeo. One of the more innovative twists inside the building is a concourse-level fan booth, where a large interactive video board can serve up multiple instant replays of rodeo action by clicking and dragging screenshots to the main display area.
The three-plus weeks of back to back rodeo action was somewhat of a stress test for the video crew, since almost every night there were different types of competitions (for instance, the night we attended there was a team competition, with scores from multiple events tabulated into a final team score) requiring custom programs to populate the video board displays. According to the video team there were no fewer than seven different scoring programs in play each night, but they were able to coordinate the results so quickly that they actually had to introduce a time delay into the reporting from judges to the video screens, so that the announcers could add some drama to their live play-by-play.
On the food and beverage side of operations, the do-it-ourselves theory of Dickies Arena meant that the arena controls all aspects of F&B operations, instead of contracting much of the work to a third-party caterer.
Julie Margolin, director of food and beverage operations at Dickies Arena, said it starts with little things, like not having to live with a certain brand of hot dog because that is the brand a caterer carries. But then it expands into what is possible, and why you would try to do things like provide in-seat delivery service to 4,000 premium seats while also balancing the F&B needs for a diverse operation that includes white-tablecloth dining, suite operations, high-end bar areas, and mobile point-of-sale to support cotton-candy sales on the concourses.
"We do everything we can to make sure every experience is the best," said Margolin. "That's a task not a lot of people are willing to take on."
But Margolin, who previously held a similar title at the Honda Center in Los Angeles, is like other top performers who found the opportunity and challenge presented by Dickies Arena too good to pass up.
"This building is very different than others in the industry," said Margolin, citing the close working atmosphere that rapidly built between operations and construction and information technology teams as the building opened late in 2019 ahead of the real debut, the rodeo season.
"If something needed fixing, nobody went home until it was done," Margolin said. And while like others she's always looking for ways to improve, Margolin said the whole idea of a venue owning and operating its own F&B was an exciting challenge.
"If you go with someone else's [catering] model, you're serving two masters," Margolin said. But trying to meld numerous different types of fan experience operations, she said, is a challenge worth pursuing.
"If you stick with the status quo, you're going backwards," she said.
Dickies Arena: As good as it gets?
Standing outside the arena on a clear-sky night, from one of the outdoor plazas, fans have a pleasing view back toward the lighted buildings of downtown Fort Worth. Legend has it that Ed Bass purchased the land Dickies Arena sits on more than three decades ago, with the vision that someday he would help build an arena with that signature view back toward downtown. Now that that dream is reality, the sky's the limit for what Dickies Arena future may be.
Though the coronavirus has effectively put all arena schedules somewhat on hold, prior to the outbreak Dickies Arena had already announced future bookings for big-name concert acts as well as family events like Disney on Ice, Cirque du Soleil and even the U.S. Gymnastics Championships. Clearly, the events market will make use of a venue of Dickies Arena's size and stature.
According to Shaw, patrons with rodeo season tickets get first dibs on other events, but it's a good bet that the diversity of action inside the Dickies Arena walls will mean that a wide number of fans will be able to experience the wide range of seating options available. But even those attending on the least-expensive tickets will still be able to experience the overall quality of all aspects of the arena, which will be hard for other venues to match.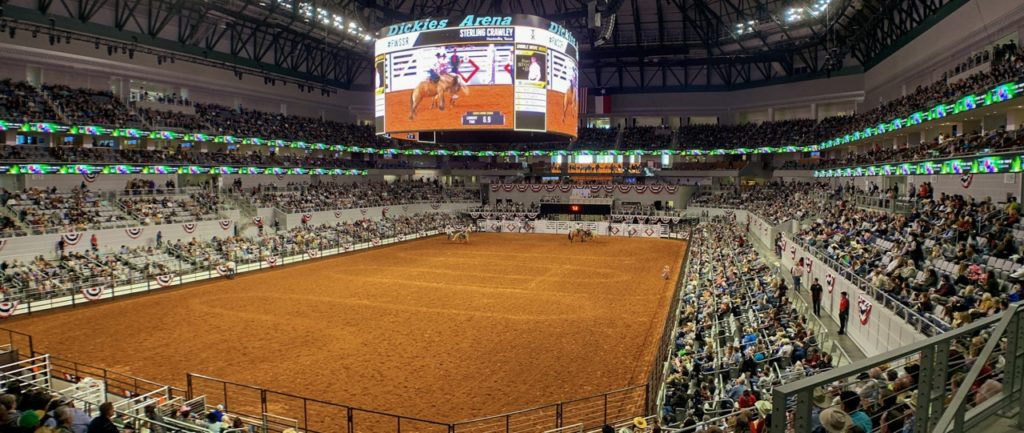 A panoramic view of the Dickies Arena seating bowl. Credit: Phil Harvey, MSR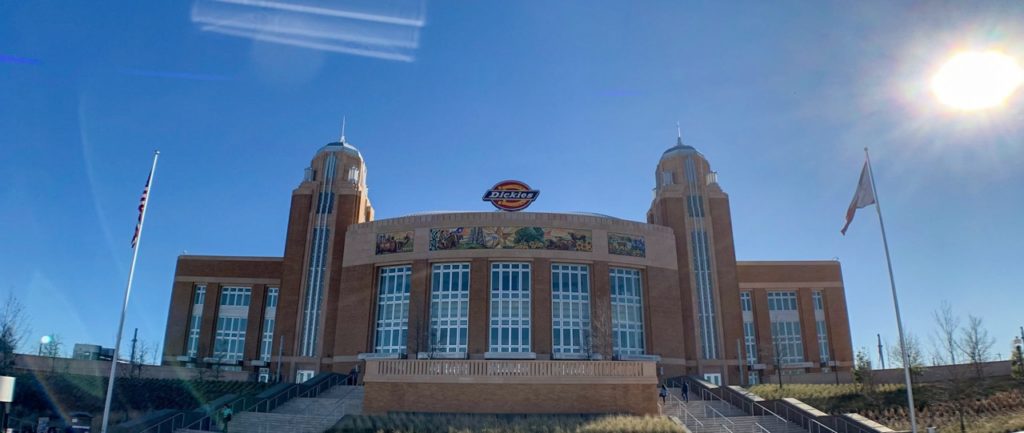 A sunny-day view of the arena's exterior. Credit: Phil Harvey, MSR

Without a professional or major college sports team as a main tenant, it's somewhat of a wonder that Dickies Arena in Fort Worth, Texas, got built at all. But once you step inside and attend an event there, the wonder shifts to the sheer excellence that surrounds you, in what may be simply the best-built arena-sized venue, anywhere.