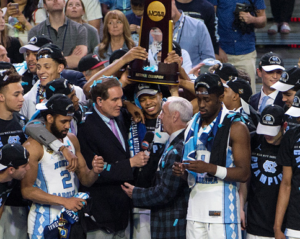 We finally have the Wi-Fi numbers from the NCAA men's basketball tournament Final Four weekend at the University of Phoenix Stadium, and they are big — a total of 11.2 terabytes of data used during the two days of competition, according to the stadium network crews running the operations for the NCAA. Combined with AT&T's reported DAS total of 6.4 TB, that means the total wireless usage so far is at least 17.6 TB — and that's not including DAS numbers from Verizon Wireless, Sprint or T-Mobile, which if we had them would probably push the total far higher.
Just on the Wi-Fi side of things, the Saturday semifinal games this year produced enough single-day traffic (6.3 TB) to sneak into our unofficial Top 5 list for Wi-Fi events, barely edging Super Bowl XLIX, which saw 6.2 TB of traffic in the same building a couple years earlier. Granted, the Final Four has more fans in attendance and more time with two games compared to one, but it's still a sign (to us, anyway) that wireless use by fans at big games of all types is continuing to grow. (It's cool to see the comparison between a Super Bowl and a Final Four in the same venue, as well. Looks like the network operators there keep improving from big game to big game.)
According to the network stats provided to us, the Final Four crowd on Saturday saw 38,520 unique users connected to the Wi-Fi at some point, with a max concurrent user total of 20,675. On Monday night's championship game, those numbers were 31,458 uniques and 19,861 max concurrent users. Attendance for the two sessions was 77,612 for Saturday's semifinals and 76,168 for Monday's championship, which were both second-highest ever numbers, according to a cool NCAA infographic that has some more stats on TV and internet viewership.
See you next year in San Antonio, NCAA… to see if the connectivity pace keeps increasing!
THE NEW TOP 8 FOR WI-FI
1. Super Bowl 51, NRG Stadium, Houston, Feb. 5, 2017: Wi-Fi: 11.8 TB
2. Super Bowl 50, Levi's Stadium, Santa Clara, Calif., Feb. 7, 2016: Wi-Fi: 10.1 TB
3. Green Bay Packers vs. Dallas Cowboys, Divisional Playoffs, AT&T Stadium, Arlington, Texas, Jan. 15, 2017: Wi-Fi: 7.25 TB
4. WrestleMania 32, AT&T Stadium, Arlington, Texas, April 3, 2016: Wi-Fi: 6.77 TB
5. NCAA Men's Final Four, University of Phoenix Stadium, Glendale, Ariz., April 1, 2017: Wi-Fi: 6.3 TB
6. Super Bowl 49, University of Phoenix Stadium, Glendale, Ariz., Feb. 1, 2015: Wi-Fi: 6.23 TB
7. Alabama vs. Texas A&M, Kyle Field, College Station, Texas, Oct. 17, 2015: Wi-Fi: 5.7 TB
8. Pittsburgh Steelers vs. New England Patriots, AFC Championship Game, Gillette Stadium, Foxborough, Mass., Jan. 22, 2017: Wi-Fi: 5.11 TB