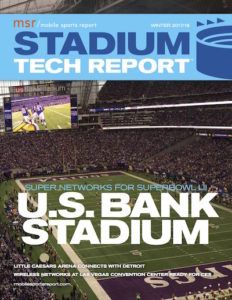 There is nothing like hosting a Super Bowl to give your stadium network the ultimate stress test. But with Super Bowl LII (aka Super Bowl 52) on the near horizon, the Wi-Fi and cellular networks at U.S. Bank Stadium in Minneapolis seem more than ready to handle the demand, as we found out on a recent game-day visit. Our full in-depth report on the stadium's networks is the lead profile in our new STADIUM TECH REPORT, now available for free download from our site!
Inside the report our editorial coverage includes:
— U.S. Bank Stadium Wi-Fi and DAS networks: An in-depth look at the wireless networks that will host crowds at Super Bowl 52 in February, complete with on-site network tests from a game day visit;
— Little Caesars Arena and District Detroit: A first look at the Wi-Fi network inside the new home of the NBA's Detroit Pistons and NHL's Detroit Red Wings, with analysis of its reach into the surrounding city area;
— Orlando City Stadium profile: A look at the new wireless connectivity in the MLS stadium in Orlando;
— Las Vegas Convention Center: A look at the new DAS and relatively new Wi-Fi networks at the building that hosts major conventions, such as the yearly CES show.
We'd like to take a quick moment to thank our sponsors, which for this issue include Mobilitie, Crown Castle, CommScope, JMA Wireless, Corning, Huber+Suhner, American Tower, 5 Bars, Cox Business, and Boingo. Their generous sponsorship makes it possible for us to offer this content free of charge to our readers.
DOWNLOAD YOUR FREE COPY TODAY and get up to speed on the latest developments in the stadium networking market!