But do they think of those same Packers fans pulling out their iPhones and Samsungs to take selfies, and posting them to Instagram or Facebook? Maybe not so much.
The reality of 2015, however, finds us with fans in Green Bay being just like fans anywhere else — meaning, they want to be able to use their mobile devices while at the game. As the cover story of our most recent Stadium Tech Report series, we explore the details of bringing Wi-Fi to historic Lambeau Field, where late-season texting might carry the threat of frostbitten fingers.
Our PRO FOOTBALL ISSUE has 50-plus pages of insight and how-to explanations that in addition to Green Bay's work also cover some interesting Wi-Fi access point hiding tricks practiced by the IT folks at AT&T Stadium, and a recap of Levi's Stadium plans as it gets ready to host Super Bowl 50. Plus team-by-team capsule descriptions of stadium tech deployments for all 32 NFL franchises. It's all free to you, so download your copy today!
The NFL haves and have-nots when it comes to Wi-Fi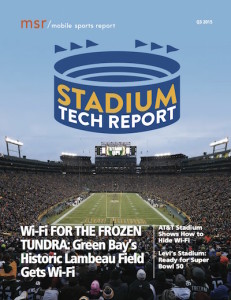 Was it really three long years ago that NFL commissioner Roger Goodell issued an edict calling for Wi-Fi in all 31 NFL stadiums? While we're almost there, it's not quite everywhere yet and during the course of preparing this year's PRO FOOTBALL ISSUE we found ourselves wondering how many of the current NFL stadium Wi-Fi networks are really up to snuff. Sure, there are leaders in the networking space, as teams with lots of money or recent Super Bowl hostings seem to be in a bit of an arms war when it comes to installing robust wireless networks. Teams like the Dallas Cowboys, the San Francisco 49ers, the Miami Dolphins, the New England Patriots and a few others come to mind when you are making a list of top networks, and you can probably add Green Bay's 1,000-plus AP deployment to that tally.
But what about the balance of the league, which now has some kind of fan-facing Wi-Fi in 25 of its 31 venues? While those that don't have any Wi-Fi at all are somewhat understandable (mainly due to questions about imminent franchise relocation), what about the stadiums that put in Wi-Fi a few years ago, or only put in a limited amount of technology? With no end in sight to the increasing demands for wireless bandwidth, how soon will the older networks need revamping? Including the DAS deployments? Those are questions we'll keep asking and looking to answer, as we've already seen some public reports about Wi-Fi networks falling down on the job. The best place to start, of course, is with the report, so DOWNLOAD YOUR COPY right now!
Thank the sponsors, who let you read for free
Reporting, writing, editing and producing all this content has a cost, but thanks to our generous (and increasing!) list of sponsors, our editorially objective content remains free for you, the reader. We'd like to take a quick moment to thank the sponsors of the Q3 issue of Stadium Tech Report, which include Mobilitie, Crown Castle, SOLiD, CommScope, TE Connectivity, Aruba Networks, JMA Wireless, Corning, 5 Bars, Extreme Networks, ExteNet Systems. and partners Edgewater Wireless and Zinwave. We'd also like to thank you, our readers for your interest and continued support.

As always, we are here to hear what you have to say: Send me an email to kaps at mobilesportsreport.com and let us know what you think of our STADIUM TECH REPORT series, and whether or not the Wi-Fi at your local NFL stadium is a division winner.

When most NFL fans think of the Green Bay Packers and Lambeau Field, they think of frozen tundra — of Vince Lombardi roaming the sideline in his thick glasses and peaked hat, with visible breath coming through the face masks of behemoth linemen on the field. In the stands, they see the venerable fans braving the cold of northern Wisconsin in their snowmobile suits, with mittens wrapped around a bratwurst and a beer.