Editor's note: The following team-by-team capsule reports of NFL stadium technology deployments are an excerpt from our most recent Stadium Tech Report, THE FOOTBALL ISSUE. To get all the capsules in one place as well as our featured reports, interviews and analysis, download your free copy of the full report today.
NFC NORTH
Reporting by Chris Gallo
Chicago Bears
Soldier Field
Seating Capacity: 61,500
Wi-Fi – Yes, 175 access points
DAS – Yes, 220 access points
Beaconing – No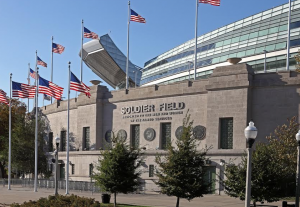 An unexpected experiment tested Soldier Field's connectivity in 2013. Severe weather delayed the Ravens and Bears Nov. 17 tilt for two hours, meaning fans were reaching for their phones all at once to stay connected. The wireless activity doubled in this time period, but Solider Field handled it with ease. Boingo and AT&T boosted the stadium's DAS with more than 220 new antennas. Combine that with 175 Wi-Fi access points, and one of the NFL's oldest stadiums is well-connected. However, it will cost fans to be connected – $1.99 per day or $7.95 for the monthly Boingo fee.
Detroit Lions
Ford Field
Seating Capacity: 65,000
Wi-Fi-Yes
DAS-Yes
Beaconing – No
The Detroit Lions have one of the more exciting offenses in the NFL. And now fans will be able to share that excitement as Verizon brings Wi-Fi to Ford Field in 2014. It's a major upgrade for a stadium that enters in 12th season. Will the improvement spill over onto the field, and have the Lions host their first playoff game since 1994?
Green Bay Packers
Lambeau Field
Seating Capacity: 80,735
Wi-Fi – No
DAS-Yes
Beaconing – No
The oldest home stadium in the NFL is still a memorable place to catch a game. But after the Packers needed corporate sponsors to sell out last year's home playoff game against the San Francisco 49ers, the organization is planning more upgrades. The Packers are in the middle of another multi-million dollar renovation that improves scoreboards, increases capacity, and has plans to add Wi-Fi to the stadium in the near future.
Minnesota Vikings
TCF Bank Stadium
Seating Capacity: 52,000
Wi-Fi – Limited / in select areas only
DAS-Yes
Beaconing – No
The Vikings are headed for the outdoors in 2014 and 2015. While the organization's new digs are being built, the team will play at TCF Bank Stadium – home of the Minnesota Golden Gophers. While not available throughout the stadium, there is some Wi-Fi present (in suites and club areas), as well as a new DAS upgrade from AT&T.