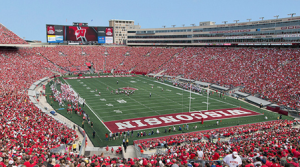 The University of Wisconsin's Camp Randall Stadium, a facility built before those things called telephones were in widespread use, is finally getting the technology it needs to let current-day mobile devices stay connected: A high-speed Wi-Fi network and a stadium-wide IPTV system, which will both be deployed by AT&T before the first kickoff this fall.
While few people probably had any kind of working telephone when Camp Randall was built in Madison, Wisc., in 1917, things are a lot different now, as most people own at least one mobile device. Prior to this season, visitors to the 80,321-seat Camp Randall experienced the frustration familiar to many who visit crowded public spaces: the dreaded "no signal" notice, or calls or texts that went nowhere.
"If you worked in the stadium, on game days it was hard to get online, or even send a text," said Justin Doherty, Wisconsin's associate athletic director for external relations, in a recent phone interview. According to Doherty, recent fan surveys showed that improving wireless service was a top request. After issuing an RFP, Wisconsin chose AT&T as its partner in the reported $6.2 million networking project, which will also include the deployment of 700 high-definition TV screens throughout the stadium. On the Wi-Fi side, AT&T will provide a 10 Gigabit backbone connection and will install approximately 750 Wi-Fi access points throughout the facility.
Combining Wi-Fi with DAS
Though AT&T executives have stated publicly that DAS can sometimes take care of all the connectivity needs in a stadium, the phone provider giant also said that installing DAS and Wi-Fi together can create "the optimal user experience" by allowing both technologies to do what they are best at. In the stadium network world, that usually means allowing DAS to handle simpler communications like phone calls and texts, while allowing Wi-Fi to handle heavier bandwidth loads, like streaming video.
In a somewhat interesting twist, AT&T — which has deployed numerous DAS systems in stadiums — does not run the DAS at Camp Randall Stadium. According to Doherty, the Camp Randall DAS is run by Crown Castle, with AT&T and Verizon as customers. The AT&T Wi-Fi installation, however, will significantly increase the amount of available wireless bandwidth, taking a lot of congestion away from the cellular network as a critical first task.
Beyond providing pure bandwidth, Wisconsin doesn't yet have solid plans on how it expects to use the Wi-Fi network. Doherty said that innovative ideas like instant replay and food-ordering apps being installed at some other venues are things Wisconsin will be looking to deploy in the near future.
"There's a lot on the plate, but we want to walk before we run," Doherty said. "We're going to be in a little bit of a learning mode [early on], trying to understand how to run the network. By the seventh game [this season] we should be a lot better." According to Wisconsin and AT&T, the network is expected to be ready by the time of the first home game this season, Sept. 6 vs. Western Illinois.
AT&T taps Cisco for Wi-Fi and video
Though it wasn't spelled out in the press release, Doherty said that AT&T will be using Cisco Wi-Fi hardware, along with Cisco's StadiumVision system to provide the video feeds to the in-house digital displays. One of the features of the StadiumVision system that is of great interest to Doherty is the ability for administrators to split the screen in different ways, such as including an L-shaped advertising border around the edges. Though in the future that might be used to sell advertising, Doherty said Wisconsin will most likely use the displays to promote other sports.
"You might see a game feed on the main part of the screen, and then in the L-wrap area we might promote ticket sales for hockey games," Doherty said. "We also might use it for social media feeds. We're going to be heavy on internal messaging this fall."
According to Doherty, the Wisconsin IT team scouted some other school and pro facilities to get ideas of how to best implement wireless deployments. Among the venues visited were the Rodgers Centre, home of the Toronto Blue Jays, and Sports Authority Field at Mile High in Denver, home of the Denver Broncos.
"All those people we visited were very helpful," Doherty said. "You have to pull little pieces from what they have done, and make it your own."
And then, you have to let the fans know that it's OK to try to use their phones in one of the nation's oldest sporting facilities.
"We want people to know the network is there, and we're going to actively promote it," Doherty said. "We'll have signage and we have a good greeting services staff who will be armed with the information on how to get on the network. We're going to do everything we can to get people connected."
CORRECTION: An earlier version of this post incorrectly identified Aruba Networks as the Wi-Fi gear provider for the Camp Randall Stadium project. MSR regrets the error.