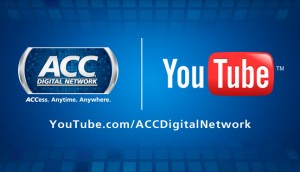 The Atlantic Coast Conference's digital network has introduced a channel on YouTube that will deliver live content from the ACC as YouTube continues to grow as a force in live sports broadcasting with deals such as this.
We have long talked about the emergence of YouTube as a de facto channel for sports, and YouTube has been working hard to cement that position with the ACC deal as one of its more notable deals. However in case you missed it will also be serving up some nice Olympic moments via a deal with NBC that will enable it to show highlights and live events from the London Olympics.
The ACC and YouTube have been partners to a degree for several years and provided exclusive, but not live content at its site since at least 2009, however this takes it a significant step further.
Between that time and now the ACC started a deal with Silver Chalice that enabled it to launch the ACC Digital Network that provided broad coverage of the ACC schools including news conferences, highlights and analysis that could be delivered to both Apple and Android mobile devices.
Now it will also present live events as well as on demand videos that are created by the ACC as well as a live weekly studio program during football and basketball season. There will also be condensed replays of ACC Network productions of football and basketball games.
The current deal will call for the ACC to provide fan access and interaction to its analysts via Google's Google Hangout. Fans can view, comment upon and share the programming by visiting youtube.com/accdigitalnetwork, or by searching for ACC Digital Network on YouTube.
Of course others are also working on attracting digital partners. The Big Ten Networks recently expanded to support Android in its broadcast and the Pac-12 is increasingly involved in digital media. Still it is nice that the ACC will be presenting live sports to its fan base and other interested parties.