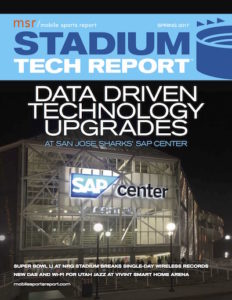 MOBILE SPORTS REPORT is pleased to announce the Spring 2017 issue of our STADIUM TECH REPORT series, the ONLY in-depth publication created specifically for the stadium technology professional and the stadium technology marketplace.
Our profiles for this issue include a first-look visit to the San Jose Sharks' newly wired SAP Center, where a Cisco Wi-Fi and StadiumVision network (deployed by AmpThink) has brought high-definition connectivity to the old familiar "Shark Tank." We also have a profile of new DAS and Wi-Fi deployments at the Utah Jazz's Vivint Smart Home Arena, as well as a recap of the wireless record-setting day at Super Bowl LI at Houston's NRG Stadium. Plus, our first "Industry Voices" contribution, a great look at the history and progression of Wi-Fi stadium networks from AmpThink's Bill Anderson. DOWNLOAD YOUR COPY today!
We'd also like to invite you to join in our first-ever "live interview" webinar, which will take place next Tuesday at 11 a.m. Pacific Time, 2 p.m. Eastern time. All the details are here, so register now and listen in next week for more in-depth views from Vivint Smart Home Arena, and their technology partners, Boingo and SOLiD.
We'd like to take a quick moment to thank our sponsors, which for this Stadium Tech Report issue include Mobilitie, Crown Castle, SOLiD, CommScope, Corning, Huber+Suhner, American Tower, and Aruba, a Hewlett Packard Enterprise company. Their generous sponsorship makes it possible for us to offer this content free of charge to our readers. We'd also like to welcome new readers from the Inside Towers community, who may have found their way here via our new partnership with the excellent publication Inside Towers. We'd also like to thank our growing list of repeat readers for your continued interest and support.