But when it comes to minor-league baseball, the tale of what's happening at Las Vegas Ballpark is being spread far and wide, as the high-end finishes, fan-friendly amenities and high-definition Wi-Fi network at the new venue
are the talk not only of many Triple-A teams, but of other sports and possibly even Major League Baseball as well.
The $150 million ballpark, which opened this past season in the Vegas suburb of Summerlin, is the new shining jewel in minor-league baseball, with features like a huge video screen, party porches and club-level suites that feel more major-league than minor. So far the facility has been a smash hit with Vegas baseball fans, setting a new season-attendance record halfway through the summer and leading the minor leagues in attendance, despite the fact that the 10,000-seat venue is the seventh-smallest park in the PCL.
During a quick summer visit for a game at the park, Mobile Sports Report found that the fan-facing Wi-Fi network was at the same quality level as all the other amenities, with speed tests in the 60 Mbps range for both download and upload at most locations around the stadium. Built by Cox Business/Hospitality Network using Cisco gear, the network uses both under-seat and overhead AP deployments, as well as some on poles, to make sure all visitors have solid connectivity no matter where they roam inside the venue. With that kind of bandwidth, it's no wonder that selfies, videos and other social-media reports are helping make Las Vegas Ballpark one of the worst-kept secrets in Vegas.
Major amenities for minor league park
Editor's note: This report is from our latest STADIUM TECH REPORT, an in-depth look at successful deployments of stadium technology. Included with this report is a profile of the new Wi-Fi 6 network at Ohio Stadium, and an in-depth research report on the converged fiber network at Dickies Arena. DOWNLOAD YOUR FREE COPY now!
"What's happening here isn't staying in Las Vegas," said Branch Rickey, president of the Pacific Coast League, during an August press conference to announce that the 2020 Triple-A National Championship Game will be played at Las Vegas Ballpark on Sept. 22, 2020. Rickey, the grandson of the famous baseball executive with the same name, noted that the new facility is "resonating with players, coaches and executives" throughout the league.
While Las Vegas may have an outsized reputation for what happens with visitors to the legendary strip of casinos, the reality of the larger Las Vegas is that it's like many other U.S. cities of a similar size, with families and residents who have been hungering for quality sports entertainment. The instant success of the NHL's Las Vegas Golden Knights – who sold a ton of season tickets to locals – is reflected in the embrace of the Las Vegas Aviators' new home, which is about as anti-Vegas as you can get.
Free parking, in a location far away from the Vegas Strip (Summerlin is about a 20-minute drive from the casinos at rush hour), and family-friendly features like a grassy hill beyond the right-field fence where kids can roll around – or ping-pong tables on an outfield patio for kids who can't stay focused on baseball – make Las Vegas Ballpark a perfect place for families. And the more adult-focused sections, like the suites – or the party porches along each side of the stadium and the outfield swimming pool area, provide easy entertainment options for companies or other large groups looking to have a "team" event with baseball as a backdrop.
But in this day and age, no public sports place would seem complete without good wireless connectivity, and with its major-league Wi-Fi network, Las Vegas Ballpark covers that base completely. With 380 APs covering the entire park, MSR couldn't find a single spot without consistent coverage, including even outside the entry gates.
According to Cox, approximately 130 of the APs are installed under seats, a trickier than usual deployment since the ballpark uses mesh seats in all seating areas – a construction that could dip fans' bottoms closer to the APs than a regular hard plastic seat.
Mike Fredericks, vice president for IT development for stadium owners the Howard Hughes Corporation, said
the network was built to "major league standards," and our unofficial speed tests seemed to confirm that quality. According to Cox, a 10 Gbps backbone powers the network. The Las Vegas Convention and Visitors Authority is the naming sponsor of the park, under an $80 million, 20-year deal.
As the technology sponsor, Cox Business/Hospitality Network is the exclusive solutions provider for the Las Vegas Ballpark, supporting both back-of-house networking as well as the fan-facing technology.
Solid Wi-Fi everywhere in the park
If there is one place that venues seem to consistently overlook when building out wireless, it's the space just outside the ticketing gates toward the parking lot, an omission that can cause severe fan headaches in these days of increasing use of digital ticketing. There was no such problem at Las Vegas Ballpark, where outside the outfield (east) entryway we got a speed test of 51.5 Mbps on the download and 46.9 Mbps for upload. If there is one hitch to the free Wi-Fi it is the need to provide a name and a valid email address to log in, a registration process that seems to be generally falling out of favor in other stadiums.
Once inside the park MSR started a circumnavigation beginning with a path behind the centerfield wall, where we got a speed test of 57.1 Mbps / 58.6 Mbps. We walked directly underneath the 31-foot-high by 126-foot wide Daktronics video board, the largest in minor league baseball. We also walked directly underneath a MatSing ball cellular antenna, which Verizon is currently using to provide cellular coverage for its customers.
Until the DAS gets fully built out inside the stadium, AT&T, according to the stadium IT crew, plans to cover the stands using a macro tower on a nearby building; T-Mobile was providing service to the stadium using a COW (cell on wheels) unit in the main parking lot.
In both the left- and right-field corners of the stands, Las Vegas Ballpark has some "loge" type seating, with a fixed tabletop in front of several rows of seats. Under-seat Wi-Fi deployments on both sides seemed to work well, with speed tests of 65.6 Mbps / 68.9 Mbps in the left-field loge seats and 66.4 Mbps / 55.5 Mbps in right field. On the upper deck seating areas along both base lines are party decks, both of which were hosting private events on the night we attended; MSR was able to sneak in and get a speed test of 66.5 Mbps / 67.5 Mbps on the left-field deck; where Wi-Fi coverage was in part provided by a couple of APs mounted on a low pole.
We didn't get a speed test at the centerfield pool area – another private party had the space reserved – but we did get a solid 43.8 Mbps / 57.3 Mbps mark at "The Hangar," the centerfield bar. And even though the connectivity, architecture and trappings at the stadium had a major-league feel, the between-inning promotions – like kids racing on the field on bouncy blow-up horses – and local sponsors (like a land-surveying company for home-run distance measures) made sure the game kept the charm that only a minor-league game can provide.
At the press conference (held earlier in the day of our visit) executives from minor league baseball waxed eloquently about the park's attributes. "This ballpark exceeded expectations, if that was possible," said Pat O'Conner, president of Minor League Baseball. And while he stressed that he was no wireless expert, PCL's Rickey did say that having major-league connectivity was an essential part of the minor league experience.
"If we are looking to find avenues to younger fans, we realize that they are very more connected," said Rickey in a separate interview with MSR. "Our fans are reliant on their mobile devices, and they can be used to provide so much information about our game. Having great wireless is where we have to be. It's essential to where we are headed."
At Las Vegas Ballpark, that base is covered. Feel free to spread the word.
Editor's note: This report is from our latest STADIUM TECH REPORT, an in-depth look at successful deployments of stadium technology. Included with this report is a profile of the new Wi-Fi 6 network at Ohio Stadium, and an in-depth research report on the converged fiber network at Dickies Arena. DOWNLOAD YOUR FREE COPY now!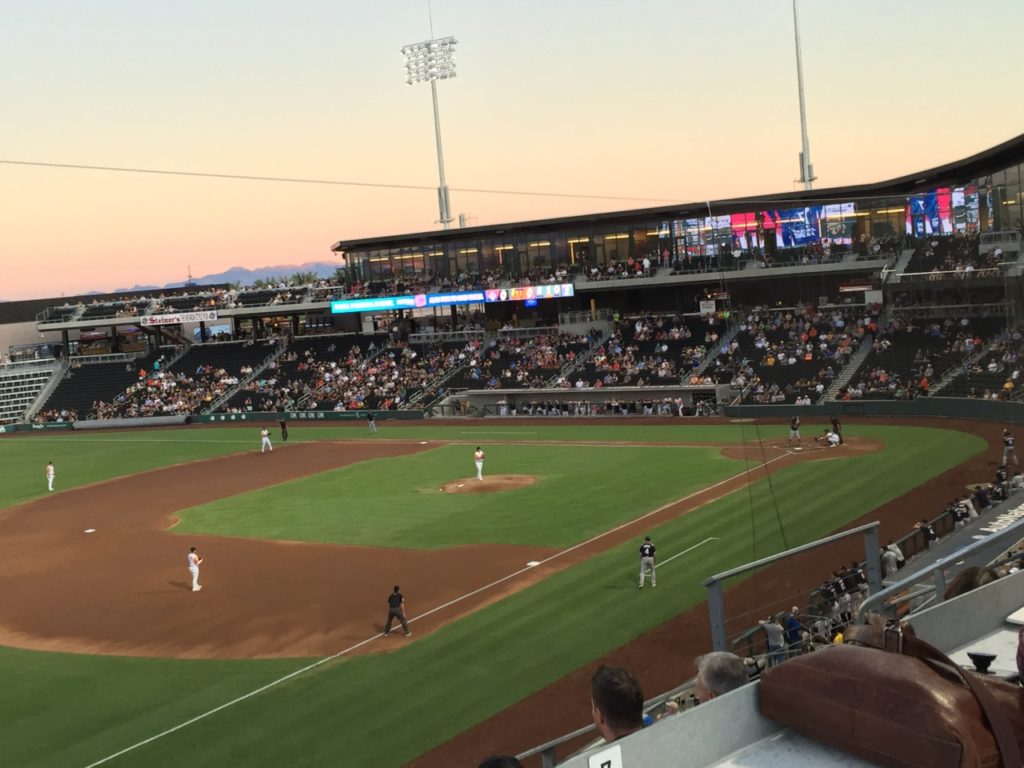 A good look at the stadium, which has suites and party decks on the upper level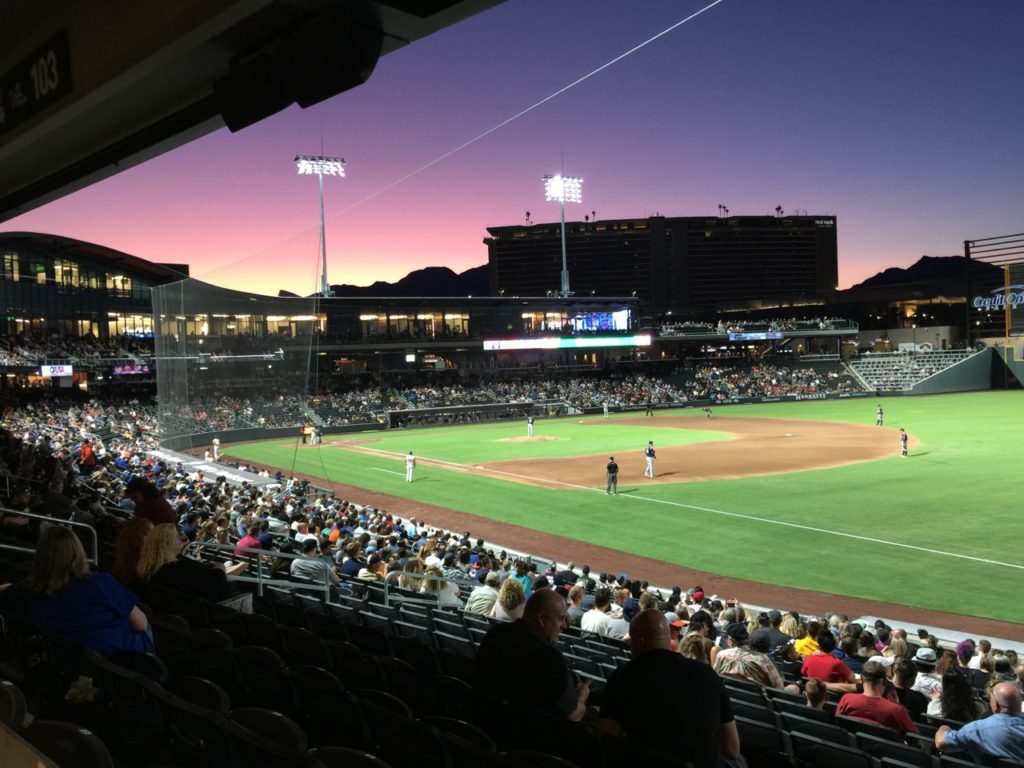 Sunsets can be spectacular at Las Vegas Ballpark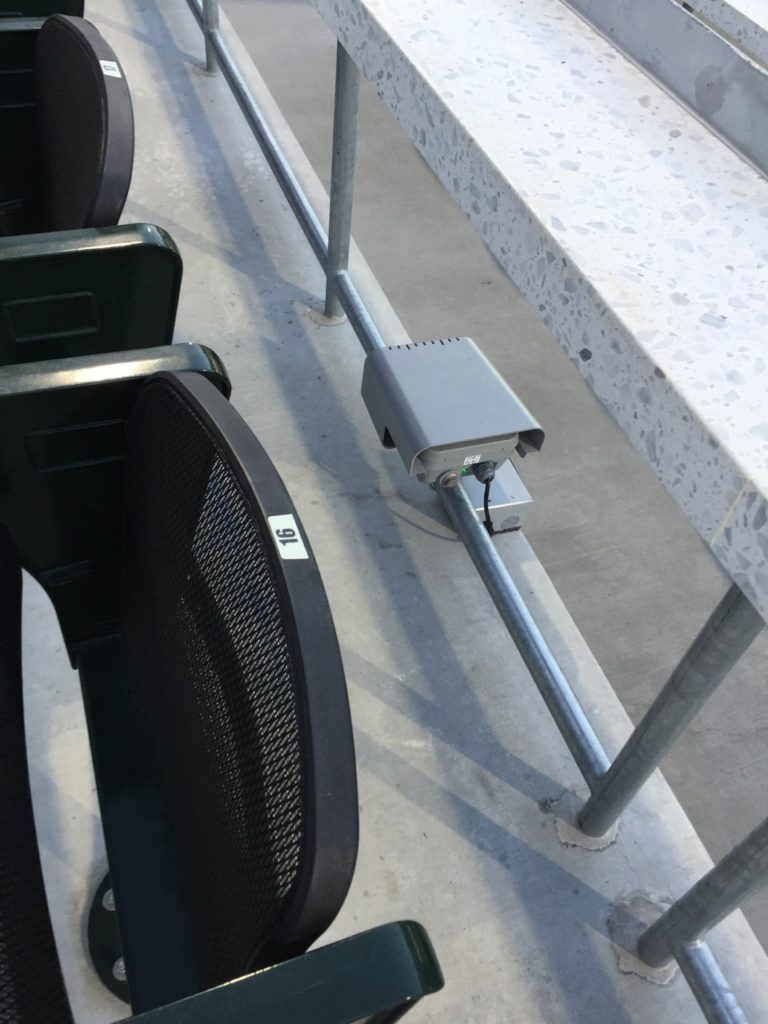 An under-seat AP deployment in the loge seating area

Maybe for some late-night behavior, the old "What happens in Vegas stays in Vegas" rule still applies.