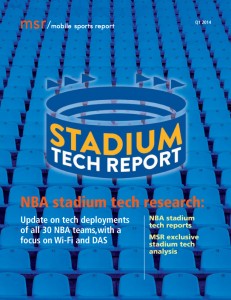 With fan-facing Wi-Fi available in 23 of its 29 team facilities, it appears on paper that the National Basketball Association — the NBA — is the U.S. leader among pro sports leagues when it comes to stadium Wi-Fi. But if only a few of those same stadiums are actively promoting Wi-Fi or delivering advanced wireless services, is that title valid? For the answer or at least some informed conjecture, we point you to our inaugural Stadium Tech Report long-form issue, our Q1 2014 report which focuses on, you guessed it, Wi-Fi and wireless deployments in NBA stadiums.
Available now for free download, the 35-page PDF report delivers a capsule profile of each and every NBA team and whether or not it has Wi-Fi and DAS services in its stadiums. To spoil the fun a little, I will let you know that we found Wi-Fi to be almost universal, with 79 percent — or 23 of 29 NBA facilities — all having fan-facing Wi-Fi. (To save you time I will list the non-Wi-Fi stadiums here: Miami, Denver, Utah, Atlanta, Minnesota and Milwaukee.) There is also a DAS (Distributed Antenna System) for enhanced cellular in almost every arena, and the ones that don't have it are either installing it now or plan to soon. But as we noted in the lead, even with all this connectivity, there are just a handful of teams who are really utilizing their wireless services to improve the fan experience. That measured embrace of wireless services makes us wonder why many teams are reluctant to promote the assets already installed.
Profiling the leaders
I could tell you more but — why not download the report? We put a lot of effort into this report, which is designed as a "lean back" type of publication, the kind of thing you can refer to over and over again as a reference, or as a resource to study when you need a break from Twitter and email. In addition to the team-by-team capsules we also have included three in-depth profiles of wireless deployment leaders, including the Barclays Center in Brooklyn, the Staples Center in Los Angeles, and Orlando's Amway Center. There is also report-based analysis of the league's wireless situation from yours truly, plus an industry thought-leader perspective from our friend Seth Buechley at SOLiD, on why facilities should use wireless technology to improve fan safety, a sometimes overlooked amenity that deserves more attention.
I'll be talking here more about the report this week and next, but first and foremost I'd like to thank our sponsors, whose contributions make it possible for us to offer this time-consuming research and analysis for free to our readers. Along with SOLiD, who sponsored our State of the Stadium report last year, for our Stadium Tech Report Q1 issue we'd like to welcome Extreme Networks, Crown Castle and AmpThink, whose support of our efforts are deeply appreciated.
We also truly appreciate our readers, who have increased in considerable number the past few months. There's no magic as to why we're growing — starting last November, we started telling more of your stories, stories of stadium deployments with lessons learned, failures overcome and enthusiastic steps taken — in a series we started calling Stadium Tech Reports. Those stories have resonated, and we hope that this new long-form report series will too, as the format allows for a bit of leg-stretching and an easier way for our readers to share our stories — your stories — with your professional circles.
One favor to ask — please register!
With growth and change there is always a little bit of pain, and for our readers there is one task that we ask — that you register with us to download the new report, so we can better serve you going forward. (And instead of just forwarding the report, please ask your professional circle to go ahead and register too!)
We realize that many of you may have recently spent a little bit of time filling out a registration form to download our previous report, and we thank you for that effort. But with the new growth in readership we've had to step up our game as well and that meant biting the bullet to put in a new registration system that will allow us to provide a robust "gated" content system for our registered readers, meaning that for all the rest of the reports and other exclusive content we have planned for this year and beyond (it's a growing list!) you won't need to keep filling out forms.
Even though our report is bound up in a PDF, we realize that any such publication is always a "work in progress," so please if you have any updates, corrections, suggestions or any other opinions, feel free to leave them here in the comments, or email me directly at kaps at mobilesportsreport.com. We have lots more in store for the stadium technology market this year, so register today so that you don't miss a thing as the 2014 season rolls on.