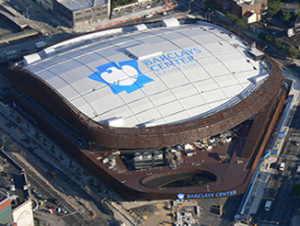 The biggest vendor in the stadium Wi-Fi space scored a big win last week when Cisco announced it would supply the Wi-Fi network and the digital video services to the new Brooklyn Nets stadium, aka the Barclays Center.
Just after the announcement last week we caught up via phone with David Holland, senior vice president and general manager of Cisco's Entertainment Solutions Group, and Stuart Hamilton, Cisco senior director for sports and entertainment, to get the skinny on the Barclays deal as well as their thoughts on how fast the stadium Wi-Fi movement was picking up. According to Hamilton, the pace of stadium Wi-Fi installs has picked up significantly since late last year, when Cisco seemed to be preaching to a sort-of interested choir.
Now, pretty much all stadium operators are singing the Wi-Fi tune. "They [stadium owners] have gone from 'should we do it' to 'when are we going to do it,' " Hamilton said. "They all know they have to do it. And budgets are being moved up."
After talking big about the stadium business earlier this year, Cisco has been somewhat quiet, without any real big wins — and even smaller victories, like getting the Wi-Fi network bid for the Super Bowl — were curiously understated, perhaps just part of the business since sometimes stadium owners or their telecom provider partners don't want to talk too much about gear suppliers since giving praise means less leverage at the negotiating table.
Though the space is attracting a lot of innovative gear makers — Xirrus, Ruckus and Meru all come to mind — Holland thinks Cisco's might gives it an edge, especially when it comes to scalability. "The me-too people out there, the question is, can they scale," Holland asked. "We have a high density platform. It's easy to look good when there's only one person on your network, but how does it act when it's heavily loaded?"
The Barclays Center is a big win for Cisco because it includes the StadiumVision feature, Cisco's sports-specific implementation of networked digital signage. From the press release, here's just part of what will be deployed:
700 HDTV's and approximately 100 concession menu boards throughout the venue will provide content ranging from action on the court, to concession specials (all boards update simultaneously and are integrated with point of sale), to out-of-town games and scores, to traffic updates, and much more.
We've seen a live demonstration of this stuff (Cisco's entertainment group has a building on Cisco campus that is set up like a stadium/sports bar, with HDTVs and concession menus to show the capability of the system) and it's a big leap for the fan experience. And perhaps most importantly for Cisco the Barclays deal also includes a contract for the infrastructure network, the routers, switches and other gear that will power a network that will run not just the fan Wi-Fi service, but also help with wireless connectivity for ticketing, security, internal communications and more. That's where Cisco makes its big dollars, so that combo makes the Barclays deal more than just a Wi-Fi install.
The bonus kicker from our conversation was a claim by the Cisco folks that they might not be out of the running for the new San Francisco 49ers Stadium, currently being built in Santa Clara. Though Niners CEO Jed York has tweeted about a pending technology deal with wireless provider Brocade, there might be several such contracts before all is said and done. First of all, the Brocade folks told us earlier in the summer that an official announcement was pending… but it hasn't happened. And just this week the Niners announced a sponsorship deal with software vendor SAP, so it looks like there might be a bigger pie to divvy up when it comes to tech and the new Niners stadium.
Will Cisco get a slice? Stay tuned.