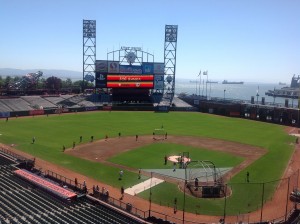 The San Francisco Giants are making a case for keeping thier unofficial title of having the best wireless networked ballpark by doubling the number of wireless access points and adding mobile-device charging stations at AT&T Park for the 2013 season.
Already easily one of the best un-wired sporting arenas, the home field for the 2012 World Series champs isn't resting on its tech laurels. According to an email from Giants CIO Bill Schlough, "the Giants and AT&T Wi-Fi Services are more than doubling the number of access points at the ballpark (760) to stay ahead of demand from our increasingly connected fan base." Schlough said the Wi-Fi network at AT&T Park hosted 980,000 gameday connections during the 2012 season, up 90% from 2011. Total data usage, Schlouh said, increased by 140 percent over the previous year, with more than 16 million megabytes sent over the AT&T Wi-Fi network during the Giants' regular and playoff seasons.
To better serve fans who probably burn out batteries sending tweets and Vine videos, the Giants and AT&T are helping make sure nobody has to crouch down by a concourse wall, looking for an outlet mid-game. According to Schlough, fans at AT&T Park will have access to more than 400 mobile device chargers throughout the stadium, with 10 mobile kiosks capable of charging 16 devices each. And perhaps most importantly, the Giants will keep their highest-paying customers well-charged, with four device chargers in each suite.
Schlough also gave us a Giants' point of view on the announcement last week about Qualcomm and Major League Baseball "working together" to bring more Wi-Fi networks to MLB parks. While we cynically tweeted that such deals don't mean much without monetary figures attached (I mean, the best way to bring Wi-Fi to the ballparks that don't have them is to BUILD NETWORKS), Schlough said the Qualcomm deal would only help build better networks.
In an email reply to a question about how the Qualcomm-MLBAM deal might affect the Giants, Schlough responded: "We've actually been working with Qualcomm and MLB Advanced Media to benchmark the work that AT&T has done here with our Wi-Fi and 3G/LTE DAS networks, in hopes that this we can A) identify specific areas within the ballpark to be targeted for continued improvement and B) potentially serve as the model that other ballparks can follow."
Charging stations sound like another good step in the fans' direction. Now if only airports and convention centers would follow suit.
Xirrus Brings Wi-Fi to Liverpool FC

Our friends at Xirrus scored another big stadium deal for their new-era Wi-Fi networking gear, bringing wireless services to Anfield Stadium, the home of the club since its formation in 1892. Here's a good writeup on the deal from TechWorld. We are guessing the ability for Xirrus's antennas to cover more space and provide more capacity per access point was a selling plus for the ancient Anfield Stadium; here's the official press release about the win.
ExteNet Bags Four Major Carriers for Barclays Center DAS
On the DAS (distributed antenna system) front the folks at ExteNet Systems scored a major win for their network at the new Barclays Center in Brooklyn. ExteNet, which builds DAS networks to improve in-building cellular connections, signed agreements with the big 4 U.S. wireless carriers — AT&T Wireless, Verizon Wireless, Sprint and MetroPCS — for the Barclays DAS, meaning that all the carriers will pay ExteNet to help bring better signals to their customers inside the arena.
Signing all four is a huge win for ExteNet, whose strategy of building "neutral DAS" networks and then acting as the middleman seems to be paying off not just for ExteNet, but also for cellular customers. By picking ExteNet, Barclays is putting the fan experience above the potential income of a single-carrier "exclusive" deal. Let's hope more stadiums think of ExteNet and other neutral DAS players first, instead of deals that leave two thirds of the cellular users without better connections.