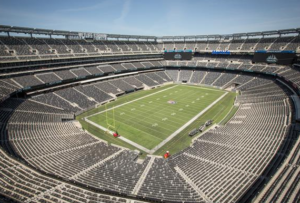 Add the New York Jets and the New York Giants to the list of NFL teams that won't have fans in the stands if games take place this season.
In a joint announcement the teams said that due to restrictions set by N.J. Governor Phil Murphy to deal with the Covid-19 crisis, a limit of 500 people at outdoor gatherings would apply to any games being held at MetLife Stadium. To comply with those restrictions the Jets and Giants said "we support Governor Murphy's decision in the interest of public health and safety and, until circumstances change, we will play our games without the benefit of fans in attendance." The teams also said that fans would not be allowed at 2020 training camp or practice sessions.
Rutgers University also said it would comply with the governor's restrictions, which would limit fans to 500 people at any games that take place. As part of the Big Ten, Rutgers is already looking at a potential season with only conference games. The first game currently on Rutgers' schedule is a Sept. 26 game at Ohio State.