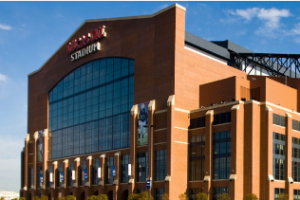 Sometimes we feel like a broken record when talking about data usage at big events — is the total ever going to stop growing? Not at the Final Four, apparently, where this year AT&T saw almost double the traffic on its in-stadium DAS, even at a smaller venue, the Lucas Oil Stadium in Indianapolis.
According to AT&T, its customers used a total of 1.52 terabytes of data on the in-stadium DAS at Lucas Oil Stadium during the three Final Four weekend games, a huge jump from the 885 GB of DAS traffic AT&T saw on its network at the last Final Four, held in AT&T Stadium. Remember, these numbers are for AT&T cellular customers only, and does not include traffic for any other wireless carriers or for the Lucas Oil Stadium Wi-Fi network. We have calls and emails in to the various players to see if we can get more numbers, but for now AT&T's almost-double growth is pretty interesting.
Normally we're not big fans of infographics but the one accompanying the AT&T press release about Final Four traffic is pretty interesting, since it simply shows just how much data use at big events keeps growing. AT&T's DAS traffic numbers for the last four Final Fours (New Orleans, Atlanta, Texas and Indy) start respectively at 376 GB for 2012, then jump to 667 GB for 2013, then to 885 GB last year and the 1.52 TB mark this year. Maybe the release of the new iPhones this past fall helped with the ever-increasing totals, or the fact that new rich media applications like Vine and Instagram are gaining in use? And with new livestreaming video apps like Meerkat and Periscope joining the fray, how will wireless networks at large venues hold up?
For AT&T, big events now mean lots of resources not just inside the building, but in the surrounding public areas as well, to better handle the big crowds as they move about the event locale. Like it did for the recent South by Southwest festival in Austin, AT&T brought its big-ball antenna to Indy for the weekend, and supplemented downtown coverage with outdoor DAS deployments and improvements to the outdoor Wi-Fi hotspots it built for Super Bowl XLVI held at Lucas Oil in 2012.